European ski school opens Beijing academy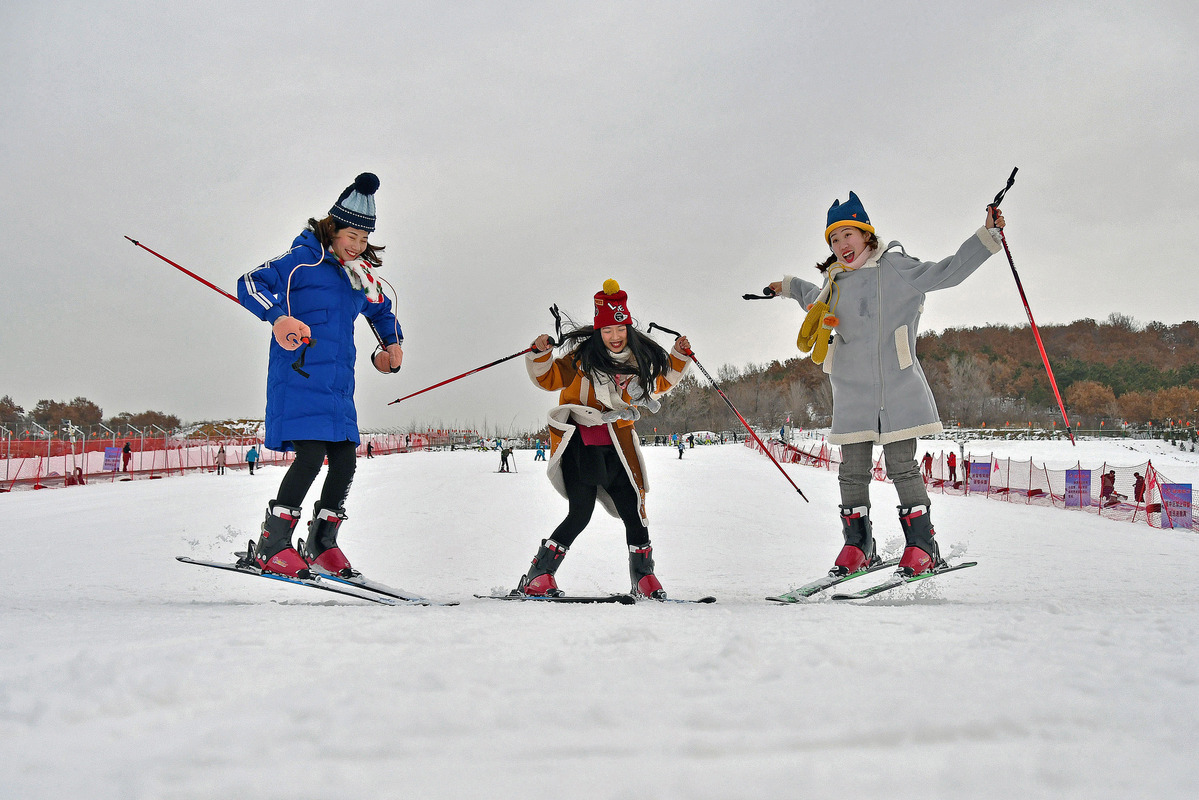 Ecole du Ski Francais offering courses amid wider snow sports push in China
Ecole du Ski Francais, a top ski school from Europe, has unveiled its academy in Beijing, adding one more choice for kids and adults in China to receive world-class, safe and quality courses starting this winter.
Gino Andreetta, CEO of Club Med China, an international holiday firm and the partner of ESF in Beijing, said the Chinese snow market was one not to be missed.
"We decided to support the country's plan to have 300 million people on the snow (by 2022), we know in China only 20 percent of people will come back after trying skiing for the first time," he said. "We think safety is a top concern, as well as experience, and that's why we created this academy with a very strong partner-ESF, one of the largest and oldest ski schools."
He said the group will continue to promote winter sports, as he observed Chinese millennial families are eager to embrace new experiences.
An active lifestyle is gradually becoming an increasingly significant part of people's lives. The government too sees it as an important strategy to raise both citizens' quality of life and generate new economic consumption.
In January, the General Administration of Sport and the National Development and Reform Commission released an action plan to increase sport-related consumption to 1.5 trillion yuan ($223 billion) by 2020.
Many see the goal as a golden opportunity, not least the snow sports industry.
An Fuxiu, founder of Sportbank, a Beijing-based sports industry consultancy, said both local authorities and investors see the entire sport industry as a very promising sector, with winter sports the most important part of that.
"We keep close contact with the GAS and various businesses, and we have seen the winter sport sector soar in recent years," she said. "Both the Ministry of Education and local authorities have beneficial policies, for example, in land supply or education programs in primary and middle schools."
According to research by Wu Bin, general manager of Beijing Carving Ski Equipment, and Wei Qinghua, chairman of Beijing Antaeus Ski, a total of 21 million visits to ski venues in China were made last year, up 14.4 percent from 2017. With 39 new ski venues opening, the country was home to 742 snow venues by the end of 2018.
The research found 75 percent of skiers tried the facilities as a one-off last year, while 22 percent of them, mainly locals, would come back frequently.
The report also observed some dramatic annual growth for some non-conventional winter sport provinces. Yunnan and Guangdong provinces saw 100 percent and 167 percent more trips to ski venues in 2018, respectively. Zhejiang province was also among the top six most popular ski destinations last year, along with the more traditional wintry areas of Heilongjiang, Hebei and other northern regions.
While the number of snow venues continued to grow, An anticipated the rate will slow in 2019.
"The growth rate for snow venues, total skiers and ski-related investment will keep momentum but at a slower pace," An said, adding that ice venues will continue to pop up, as they are much more cost-friendly and require less natural resources.
"The biggest bottleneck is energy consumption. For example, Beijing hasn't snowed yet this winter, so obviously all the Beijing ski venues were using artificial snow and burning energy to make them cold," An said. "Thus, it is a key strategy to build attractive ski resorts in places like the Xinjiang Uygur autonomous region and the northeastern provinces."
"Having real snow is a massive, unbeatable advantage, and it is an efficient way to lift the local economy-especially in rust belt areas in Northeast China," she said.
Andreetta also believed that snow sports can power the local economy in the Northeast region. Club Med owns two snow resorts in Heilongjiang and Jilin.
"In northern cities, one of the main businesses for locals is agriculture, which is not that productive in winter," he said.
"Working in snow resorts will give them new jobs in winter. We believe mountain travel can bring ecological achievement."