World's retail gets Chinese innovative edge
Share - WeChat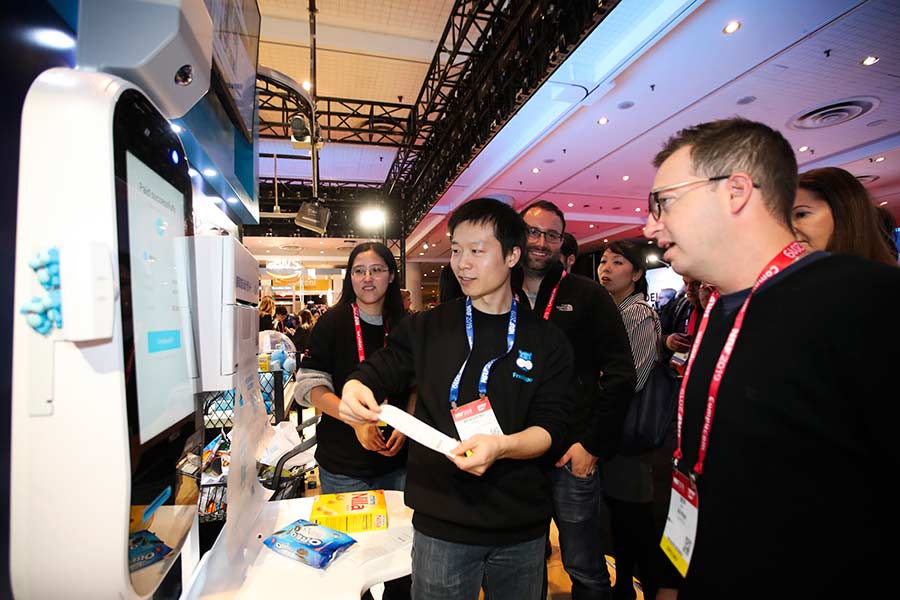 Mainland firms blaze a trail with digital tech that revolutionizes e-shopping, logistics and payments
Chinese e-commerce giants, gadget-makers and financial solution providers are now shaping the global retail sector, said industry leaders and market insiders at the Retail Big Show 2019, a retail convention and expo held earlier this month in New York.
"(In Sweden and rest of Europe), we don't see the kind of application of facial recognition technology in digital payments seen in China. It's so cool. It's really interesting," said Elisabeth Orn Sylve, an executive of Microsoft Corp in Sweden.
She made the remarks during her visit to the booth of Freshippo, a robot-driven restaurant and supermarket operated by China-based Alibaba Group Holdings Ltd.
Freshippo made its debut at the RBS 2019, organized by the United States National Retail Federation. It showcased its unmanned checkout devices that use features like facial recognition and camera surveillance.
"We have a number of advantages compared with other countries in the world" as China's mobile internet witnesses rapid development, said Xulin Guo, chief of staff and business assistant to the CEO of Freshippo.
Alibaba has rolled out more than 10,000 self-checkout machines at its own offline stores and stores operated by third parties since the launch of the product around a year ago, according to Freshippo.
It is estimated that a self-checkout machine would be able to do the job of three to six cashiers. Consumers could save 30 percent on time while paying for their shopping.
Alibaba has opened around 120 Freshippo-branded supermarkets in around 20 Chinese cities since the opening of the first store in January 2016. The expansion is seen as Alibaba's latest testament to the New Retail concept.
New Retail refers to the integration, or interlinking, of online and offline shopping using modern technologies, data and customer engagement techniques.
It is a faddish term coined in 2016 by Alibaba's charismatic founder Jack Ma. In his words, New Retail is blurring or even dissolving the distinction between shopping at physical stores and e-commerce.
"Although online retail will continue to grow, the share of shoppers' online spends in their overall spending is expected to remain at the same level," said Matthew Crabbe, Asia-Pacific research director of consultancy Mintel. "That means, online retailers need to combine online-offline offerings in order to continue growth."
Agreed Wu Weijia, an equity analyst who focuses on internet-based businesses at ICBC International Holdings Ltd. She said the inevitable slowdown in online shopping volumes has forced internet giants to march into offline retail, which accounts for roughly 85 percent of China's 36.6 trillion yuan ($5.3 trillion) retail market.
Internet giant Tencent Holdings Ltd also did a bit of tech muscle-flexing by pioneering unmanned convenience stores. It heralded cashierless retail through vending machine solutions like EasyGo, Miss Fresh and CityBox.
In the new format, a customer walks in, grabs an item, and leaves the store. A storefront scanner, meanwhile, reads information in a chip embedded in the product tag, and sends the bill to a mini program in the customer's WeChat app.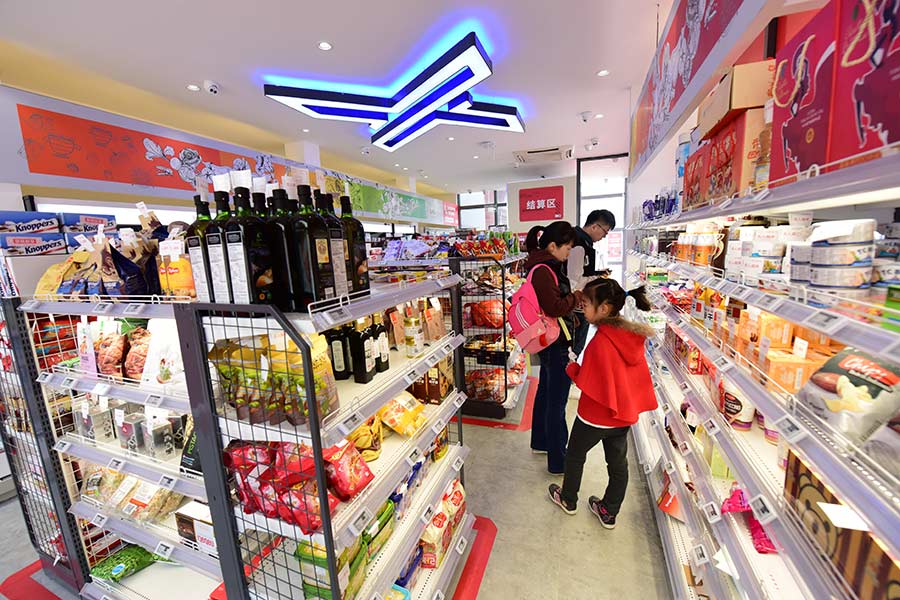 Consumers must also authorize WeChat at first to access relevant personal information and are advised to follow the brands' official account, a newsfeed service embedded in WeChat. This is a route commonly adopted by digital-based companies.
Tencent also invested an undisclosed sum in French supermarket chain Carrefour SA, and picked up a stake in Dalian Wanda Group, which owns commercial properties, malls and hotels around China.
As the third-largest internet firm in the world by revenue and a major e-commerce platform, JD has cutting-edge technological applications at more than 100 drone bases across China, said Harlan Bratcher, global business development head of JD Fashion, at an RBS 2019 dialogue.
JD has introduced pilot drone-enabled delivery of goods in mountainous areas in Southwest China, opened about 20 unmanned stores in China and another one in Indonesia.
Elsewhere, the rapid development of e-commerce in China and the US has given birth to a fast-growing business in cross-border payments involving e-commerce platforms and online stores.
Citcon, a payment partner of Chinese e-commerce payment giant Alipay and WeChat Pay in North America, said it has partnered with more than 5,000 top merchants in the US.
The transaction costs via Citcon would be as much as 40 percent lower than that by international credit cards, without fraud and chargeback liability for merchants to accept Alipay and WeChat Pay, according to the company.
Over the past two years, "we've witnessed how retailers in North America embrace and succeed with Chinese mobile payment solutions Alipay, WeChat Pay and UnionPay", based on QR code payments, said Citcon in a press release.
While Citcon works to enable international merchants to accept Chinese QR code-based mobile wallets in-store and online, a number of banks operating in the US are working with third-party payment companies to enable Chinese sellers to collect payments from US e-commerce platforms like Amazon, eBay, Wish and others.
Bank of China's New York branch launched a cross-border payment system named e-MPay in 2016 in cooperation with a third-party payment processor.
Chinese sellers with a presence on Amazon, eBay and other platforms only need to pay around 1 percent of commission fees now, lower than the previous 3 percent to 5 percent, while business cycles have shortened to one working day from one or two weeks, according to Bank of China's New York branch.
The fast-growing business also drew the participation of Citibank, according to industry insiders.
At the RBS 2019, Counect International Technology Ltd, a Beijing-based maker of data collection devices and offline mobile payment devices, showcased its flagship device Cube, which is designed to be installed at malls and stores.
"Cube drew great interest and good feedback from system integrators, governmental authorities," said Hans Yu, founder of Counect International. The device has been used by the Malaysian government to monitor sales and taxation, in addition to utilization in more than 60 Chinese cities, said Yu.
Chinese internet giants like Alibaba and Tencent are making strides in cross-border payments in a bid to facilitate Chinese tourists in their outbound travels. For instance, Alibaba's Alipay now accepts renminbi-denominated payments in 200 economies, easing people's hassle and reducing potential costs incurred by currency conversions.
China has been a leading force in applying artificial intelligence, robotics, drones and other cutting-edge technologies in different scenarios.
There is a lot to be learnt from technologies that are already applied on a large scale in China and there are implications for the US and Europe, said Rod Sides, vice-chairman of Deloitte LLP. (Sides also leads Deloitte's retail, wholesale and distribution practice in the US and its retail consulting practice globally.)
He said China's online economy scale of almost $1 trillion explains the massive adoption of digital payment systems in the country.
China is a world leader in mobile payments, according to projections by eMarketer. By 2021, 79 percent of smartphone users will be tapping, scanning and swiping at points of sale. By comparison, the US will have almost 31 percent of users doing so, and the corresponding figure will be 22 percent in Germany.
"I think China is the main hub of testing all the things in terms of innovations like AI technology. We have partnerships with Alibaba and other vendors. For us, it's going to be a lot of focus coming from China in terms of knowledge," said Edward H. J. Park, senior vice-president of North America operations of fashion label Guess Inc.
The next breakthrough for retail sector lies in 5G mobile telecom technology, said Joy Tang, CEO and founder of Markable, an AI computer vision company for the retail sector.
AI is making a lot of difference not only to the future but also to the workforce, customers and retailers, said Hui Cheng, senior director with the Silicon Valley Research Center of JD X, the innovation lab of JD.
As an online and offline retailer, JD has the opportunity to combine them and deliver new technologies in the store, Cheng said.
The next generation of retail would be characterized by decentralization, thanks to the flexibility enabled by artificial intelligence, machine learning, robotics and other technologies, according to Steven Blitz, chief US economist and managing director with investment research firm TS Lombard.
"Actually if you look out over the next five years, I would say the trends of manufacturing would be an absolute reversal of what we've seen over the last 100 years, which is that you move to a decentralization of production," Blitz said in an interview on the sidelines of the RBS 2019.
Xinhua contributed to this story.