Autonomous service vehicles gaining ground
Share - WeChat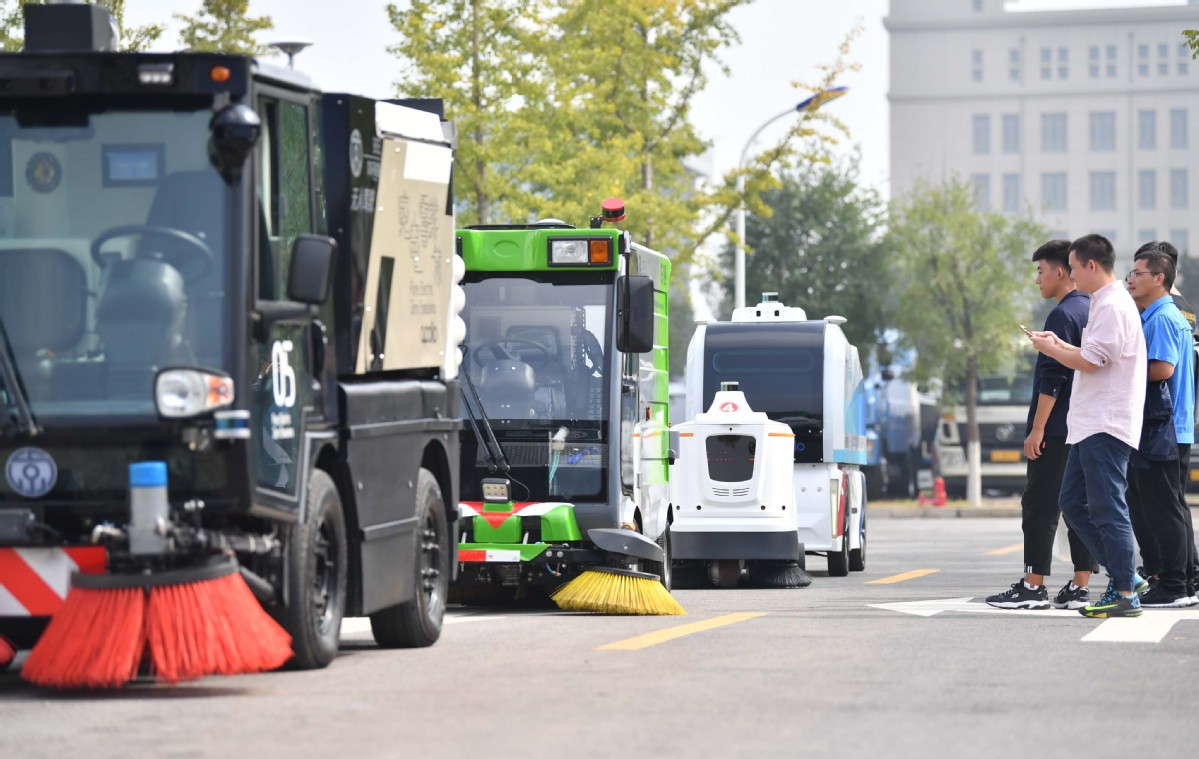 Future of mobility could be a reality sooner than thought, with industrial and civic uses likely to be implemented first
Large-scale commercial use of self-driving technologies could become a reality sooner than expected, as tech companies are promoting their use in public service sectors.
Last year, Chinese internet search giant Baidu Inc launched seven autonomous urban maintenance vehicles in partnership with Beijing Environmental Equipment Co, a subsidiary of Beijing Environmental Hygiene Group.
"By leveraging our capabilities in autonomous driving and AI technologies, we can develop comprehensive solutions that will greatly improve the efficiency of cities," said Baidu's chairman and chief executive Robin Li.
He added the year of 2018 marked the first year of commercialization for autonomous driving.
Based on Baidu's Apollo autonomous driving system, the seven vehicles are designed to fulfill various indoor and outdoor tasks, such as sweeping roads or public areas, and collecting and transporting garbage.
The vehicles will be put to work in shopping malls, high-speed rail stations, airports, venues, squares, industrial parks, pedestrian roads and community spaces.
Xue Zhendong, deputy general manager of Beijing Environmental Equipment Co, said: "These autonomous vehicles are powered by various technologies, including computer vision, image recognition, precise positioning and cloud computing, to increase cleaning efficiency."
The move marks another step by Beijing-based Baidu in applying its autonomous driving technologies to solve real-life problems.
The company plans to launch a fleet of 100 robo-taxis in Changsha, the capital of Hunan province, on 210 kilometers of city roads.
It will be China's first autonomous taxi fleet managed by Baidu's V2X system, which integrates smart vehicles and intelligent road infrastructure for the safe deployment of autonomous cars.
In July, Baidu announced it had launched volume production of the nation's first fully autonomous minibus, the Apolong, in partnership with domestic manufacturer King Long.
It intends to ship the buses to Japan early this year, in cooperation with SB Drive, the autonomous driving-focused subsidiary of Japan's SoftBank Group. The fleets will help to ferry workers to power plants and elderly people around their communities.
The Apolong is outfitted with Baidu's Apollo autonomous driving system and seats 14 people. It can complete self-driving operations such as avoiding obstacles, swerving and transshipment.
The buses will initially offer last-mile travel services at tourist hot spots, airports and other enclosed areas. It is set to enter commercial operation in Beijing, Shenzhen, Xiongan New Area, Wuhan, and Pingtan in Fujian province, among other regions, Baidu said.
The company's Apolong manufacturing facility in Xiamen, Fujian province, has achieved a production volume of 100 units as of July, a milestone that Li said shows autonomous driving is making great strides.
Baidu launched its Apollo platform in April 2017. So far, it has attracted over 130 global partners, and has been used by over 12,000 developers and partners worldwide.
The company has also worked together with Hongqi, a domestic auto brand of carmaker FAW Group, to launch passenger cars with Level 4 autonomous driving capabilities in 2019.
Level 4 autonomy means the car can drive itself in most conditions without human intervention. Mass production of the passenger cars will begin in 2020.
Baidu obtained the license to test its self-driving cars on open roads in Beijing in March, becoming the first enterprise to conduct road tests in designated zones in the capital.
In all, the country has now issued 101 license plates for self-driving vehicles owned by 32 companies across 14 cities, according to China Automotive Information Net. Baidu has obtained the most, with more than 50 plates.
Zeng Zhiling, managing director of LMC Automotive Consulting Co, said he is bullish on the application of self-driving technologies in public service sectors, as bus operating routes are relatively fixed, and personal privacy issues related to intelligent connected vehicles are less of a concern on mass transit.
Traditional car manufacturers are also ramping up efforts to promote the large-scale commercialization of self-driving technologies.
SAIC Motor Corp Ltd has signed a deal with Intel Corp to develop self-driving cars.
BYD is working on self-driving technologies itself, as well as in cooperation with Baidu.
Tencent Holdings Ltd received its first license from the Shenzhen government in May to test intelligent connected vehicles on designated roads.
Su Kuifeng, head of Tencent's automotive driving lab, said the license indicates the Shenzhen transportation authority's recognition of the company's self-driving technology.