Realty forecasts underline mild correction, overall stability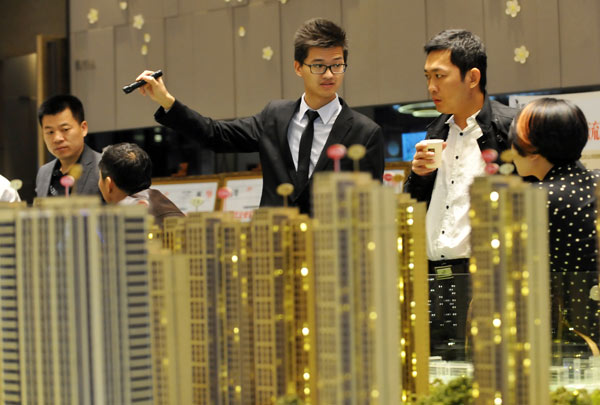 A moderate slowdown but overall a return to a healthier cycle - that, in brief, is experts' prediction for China's real estate market this year.
According to a research report from UBS, a Swiss financial services giant, the Chinese real estate market appears to be set for a moderate correction, having risen in 2017 and 2018.
UBS attributed its prediction to slowing contribution from the shanty redevelopment program and weak sentiment among prospective homebuyers.
"We expect a 5 percent decline in sales in third and fourth-tier cities in 2019 compared to 2018, while the first and second-tier cities will remain stable," said John Lam, who heads UBS' research of property in the Chinese mainland and Hong Kong. "The overall prices in third and fourth-tier cities are likely to drop by 5 percentage points."
Last year, China sought to cool the overheated market through yearlong stringent housing regulations, including a stricter ban on home sales and tougher access to mortgages.
This, coupled with rising interest rates and a feared potential economic growth slowdown, could affect sentiment among prospective homebuyers, the UBS report said.
"In third and fourth-tier cities, demand from property developers has two aspects: the shanty town redevelopment and investment purposes," said Lam, in explaining why he thinks this year will likely see cooling in the real estate market.
"Demand for investment was quite hot in 2016, 2017 and the first half of 2018 ... but such demand has ceased to exist, and I don't think it will come back in 2019."
But the expected down cycle may yet have a silver lining in that it will likely be demand-driven rather than supply-driven. So, demand can still be stimulated by government policy or mortgage rates, he said.
"We view this down cycle as less severe," UBS said in its report. "We think it (a demand-driven down cycle) will be easier for developers to weather than the down cycles driven by oversupply, as it can take a long time to digest inventory."
UBS said it expects a fine-tuning of the existing austerity measures this year due to slowing growth in prices and real estate investment.
The Chinese Academy of Sciences also predicted healthy and stable regulatory measures from the government this year. In its latest research report released this month, it predicted a 6.7 percent growth of the average national housing price this year, down 3.4 percentage points from 2018.
The report also forecast investment worth 12.7 trillion yuan ($1.88 trillion) in the property market by the end of this year, up 6.2 percent over 2018, with the growth rate down by 2.8 percentage points year-on-year.
"To stabilize growth and prevent risk - that will be the emphasis of 2019. The year will see stable and healthy regulation in the property market, a more rational land market and stable demand from third and fourth-tier cities," said the CAS in its report.
It further predicted the financing pressure on property developers will likely remain, with investment growing at a low or medium pace.
Liu Hongyu, head of real estate research at Tsinghua University, suggested regulatory measures this year should be consistent with the previous ones. "The consistency and stability of China's property regulatory policy is of vital importance to the sound and steady development of the property sector as well as preventing risks and curbing speculation."
Liu said overall the property market this year will be "healthy". He said "being healthy" is the current status of the market as well as the industry's goal.
"To ensure a healthy market, the authorities concerned need to apply different policies according to the situation," he said. "On the other hand, the industry and companies need to ditch the development strategy of the past that only pursued size rather than quality. "
He suggested property developers should slow down their reckless pace of growth.
Zhang Hongwei, an analyst with Tospur Real Estate Consulting, also predicted little chance of curbs tightening. But, mostly, different cities will adopt policies that best suit them.
"The (property industry's) growth rate has seen an obvious slowdown and the overheated market has cooled down, thus there is no room for tightening policies," he said. "To build a long-term healthy mechanism for the property market - that will be the major goal this year."