Helping China manage essence of life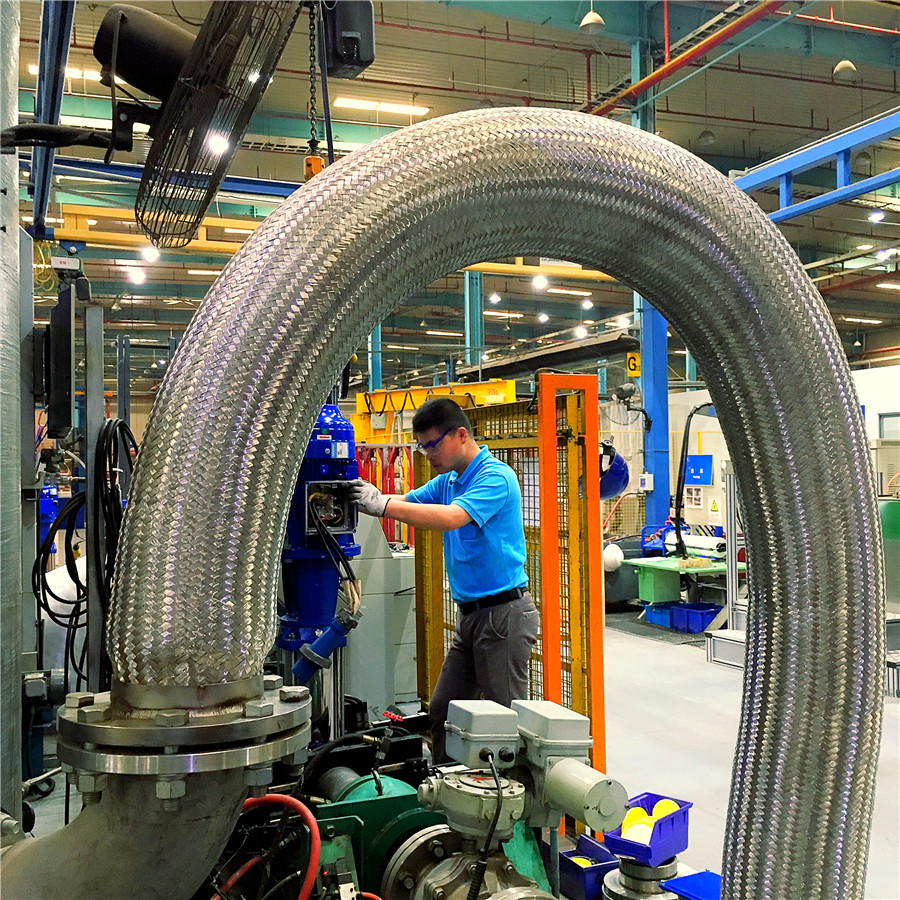 Water technology provider Xylem aids nation's development with its solutions
With more than 16,500 employees, global water technology solutions provider Xylem has a global footprint that spans 150 countries and regions. Headquartered in Rye Brook, New York, the company has been doing business in China for about 30 years, though it was known as ITT before 2011.
Xylem serves a range of sectors including public utilities, industrial, residential and commercial. It offers solutions in areas such as water treatment, smart meters and advanced infrastructure analytics.
Besides its China headquarters in Shanghai, Xylem also operates manufacturing facilities in Shenyang and Nanjing, as well as sales and after-sales service teams in Beijing, Nanjing, Xi'an, Wuhan and Guangzhou.
Xylem is widely regarded as one of the world leaders in water technology solutions, and over the past decades has played a crucial role in helping China with its wastewater treatment needs.
Xylem CEO Patrick Decker shared his thoughts with China Daily about the company's development in China, as well as how the nation's reform and opening-up could affect future growth.
Can you describe Xylem's performance in China?
When Xylem started in China in 2011(after being renamed from ITT), we were making $70 million in revenue.
We hit $225 million in revenue in 2018, 37 percent year-on-year growth, and this was the second consecutive year that we had achieved double-digit growth.
This speaks volumes of the leadership team and our employees in China.
When I first joined Xylem as CEO in 2014, I realized that the company was very focused on the United States and European markets.
I also discovered that the team here in China was the most mature in the company, so it was about empowering them to engineer and design products that are suitable for the domestic market, and not always relying on imported products.
China has always been a great market for us, but I think we have only just realized what we can offer here. Globally, China is our third-largest behind the US and the United Kingdom. China is also the fastest-growing market for us.
How can Xylem help with China's urbanization efforts?
The themes that we focus on globally and in China are: water scarcity, the affordability of water and resilience.
Experts have forecast that 25 percent of the world's population will face water scarcity by 2050.
Water scarcity is a big issue and it has an impact on economic development. Many governments will tell you that the number one problem they face is having no access to water. Industrial companies cannot do what they need to do without access to water.
As for the affordability of water, many utility companies or governments do not have adequate funding to invest in new water infrastructure, which is traditionally very expensive.
The third theme is resilience. We are getting major storms more frequently today and this has a huge impact on our current water infrastructure.
We feel we have a critical role to play to address these problems. Xylem has treatment capabilities. We are big in recycling water. We are involved in desalination.
The tech that we have acquired in the past couple years is all intended to help utility agencies to spend less by making existing infrastructure smarter and more efficient.
How will China's current development plans affect Xylem?
The Chinese government is very serious about its water issues and this in turn has driven a lot of funding toward the cause, which has subsequently fueled our growth.
The government has already issued a mandate for companies to deal with problems such as non-revenue water.
We are definitely benefiting from this, as we can help utility companies to optimize their metering and leak detection capabilities.
China is also increasing its focus on wastewater management and drinking water solutions. There are very strict requirements to be met for these areas, and Xylem is well-positioned to help the authorities come up with solutions.
We are also benefiting from China's Belt and Road Initiative. We have set up a team dedicated to this and they are already making great progress in working with Chinese contractors responsible for BRI projects.
We are only a year into this, but I think the BRI will be one of the biggest growth opportunities for the company.
What are your thoughts on China's policies regarding foreign investment and companies?
I have been encouraged by China's recent moves to further liberalize and be more transparent when it comes to foreign investment and companies.
The key for any investor is certainty. It is hard to make an investment when you do not know what the rules are. Anything that the administration can do to increase certainty and transparency would be good for foreign companies and investors.
I am also encouraged about the developments regarding the further opening-up of intellectual property protection. We all believe in the idea of a free and fair market for innovation, and you want to reward people who are innovative.
In terms of legislation, there are some rules that are not ideal for foreign companies, such as the current bidding policies. Favoring the lowest bid does not help foreign companies because they are naturally more expensive as they focus more on reliability than cost.
I think letting utility companies have more freedom in defining what is good value instead of just going for the lowest bid will go a long way.
How has the Chinese focus on innovation changed the industry?
What I have been most impressed by in China is that every utility company or governing body I have met, unlike in other countries, is very eager to understand what the best technology is out there and how it works.
What is also intriguing is that the Chinese contractors working on BRI projects are very focused on quality. They are deeply committed to debunking the stereotype that Chinese products are cheap and of inferior quality. I think this is something China can be very proud of.
China has gone from being seen as a nation that replicates other people's products to a hotbed of innovation. A lot of money is flowing into solving big problems today and this is subsequently channeling a lot of talent into the innovation sector. In fact, we are seeing more innovation coming out of China than from Silicon Valley.
What is crucial to the success of a company like Xylem?
Having a higher purpose. I truly believe that our employees take great pride in knowing that they work for a company that has a higher purpose, which is to build a planet in which everyone has access to safe and clean drinking water.
We are striving to reach out to the younger generation and raise their awareness of the water issues this world faces, so that by the time these people are in their 40s or 50s, they will not be facing the 25 percent water scarcity problem.
We have already invested $3 million to build water towers and solve water problems in remote locations in China. Over the past three years, our employees have put in more than 100,000 hours to volunteer in Xylem signature social responsibility projects around the globe.
It is the right thing to do for the community and I think this mantra will help us to grow our business in China.