Electric startup calls for focus on quality despite rosy sales forecast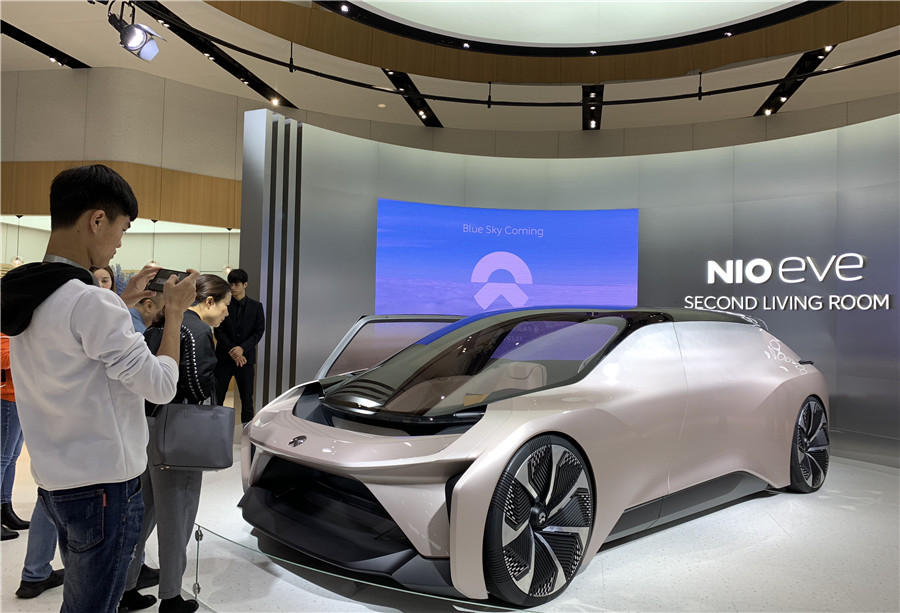 While most Chinese electric carmakers are positive about the country's new energy vehicle industry, Nio Inc - China's first electric vehicle startup that has delivered more than 10,000 cars - is calling on carmakers to stay vigilant when there are market uncertainties ahead.
Carmakers shared their opinions on China's new energy industry at a forum of the inaugural Haikou International New Energy Vehicle Show, which was held by China Council for the Promotion of International Trade, Automotive Sub-Council and China Chamber of International Commerce Automotive Chamber, from Jan 10 to 13, in Haikou, South China's Hainan province.
The new energy vehicle show is to be held annually in China, focusing on the latest and advanced technology. At this year's Haikou International New Energy Vehicle Show, more than 50 companies exhibited 197 cars. The brands included Tesla, Nio Inc and Xpeng Motors; China's independent brands SAIC Motor, Geely Holding Group and BYD as well as the international brands BMW and Mercedes-Benz.
In addition, the 2019 new energy vehicle show held a series of forums, which invited more than 5,000 industry insiders and experts in the fields of automobile manufacturing, components and parts, internet and finance to share their insights.
"The production capacity of China's new energy vehicle has kept the first place worldwide for four years in a row, holding more than 50 percent of the total volume of new energy vehicles," said Zhao Yang, vice-chairman of the China Council for the Promotion of International Trade, Automotive Sub-Council and the China Chamber of International Commerce Automotive Chamber.
In 2019, the production and sales volume of China's new energy vehicle is expected to increase to 2 million units from about 1.2 million in 2018, Zhao added.
His words echo the opinion held by the China Association of Automobile Manufacturers, which forecasts that China will sell 1.6 million new energy vehicles this year, a 33.3 percent growth year-on-year.
However, Zhu Jiang, vice-president of Nio Inc, holds a relatively reserved opinion. He said that the 30 percent growth may be achieved this year, but the uncertain market prospect should remind electric carmakers to stay alert and focus on quality.
"At present, China's new energy carmakers mostly rely on government subsidies for new energy vehicles and the government's restricted issuing of new car licenses and traffic restrictions in some megacities. However, a mature market will not be a market dominated by government policies," said Zhu.
"What we can learn from Tesla - the United States top electric carmaker - is that Tesla has relied on its product quality, rather than policies," Zhu added.
Zhu also mentioned that Tesla will shock the Chinese market with its Shanghai Gigafactory beginning construction on Jan 7.
The factory will be the first wholly owned by a foreign company in China's automaking industry after the country canceled the equity cap on foreign capital for new energy vehicles last year.
The initial construction of the plant is expected to be finished by summer. The factory's production capacity will be 500,000 vehicles a year.
By producing models in China, Tesla expects to lower its prices and therefore enhance its competitiveness.
"Shanghai Giga will produce affordable versions of 3/Y for greater China. All Model S/X and higher-cost versions of Model 3/Y will still be built in the US for WW market, incl China," wrote Elon Musk, chief executive officer of Tesla, on Twitter on Jan 7.
This is what concerns Zhu, who said that as Tesla produces vehicles in China and strives for a reduced price, it will intensify competition in the Chinese middle and low-end electric vehicle market.
Tesla's Shanghai plant is scheduled to start mass production by 2020. By then, China will have ended many government subsidies on new energy vehicles.
However, executives from new energy vehicle maker Aiways and Enovate, the high-end brand of Chinese electric car startup DearCC, have a more positive attitude.
"China has developed the new energy vehicle industry for almost 10 years. The customers have learned to buy electric cars, which will help expand the market," said Cai Jianjun, executive vice-president of Aiways.
"What we can see is that more customers from cities without any restrictions on issuing new car licenses or traffic restrictions prefer to buy new energy vehicles," Cai noted.
Xiang Dongping, director and chief marketing officer at Enovate, said that with the improvement of infrastructure like charging stations and Chinese electric carmakers increasing their quality, he has confidence in the country's new energy vehicle industry and market.