Apple cuts some iPhone prices to retain edge
Share - WeChat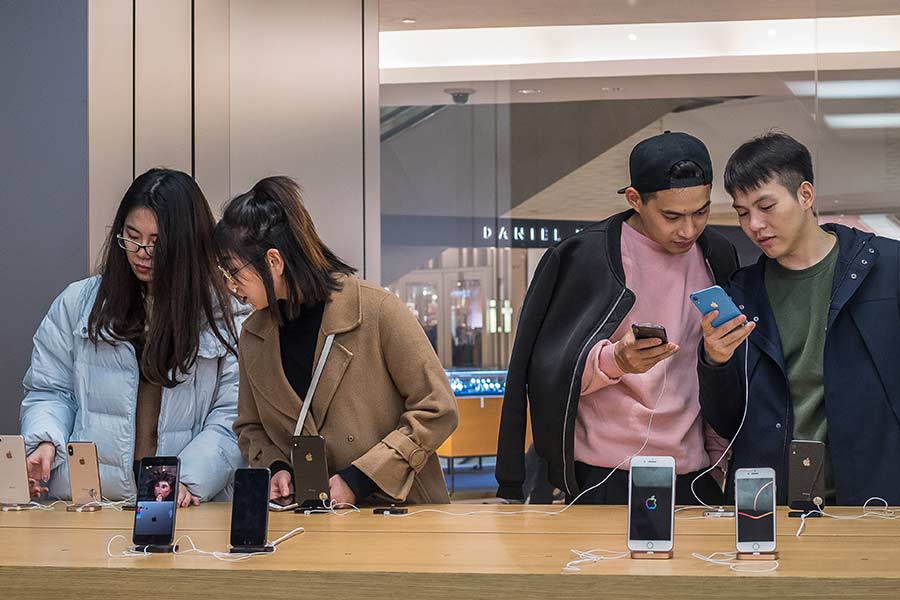 Firm looks to stay ahead of competition by making flagship devices affordable
Apple Inc has slashed the price of some its iPhone models by up to about 800 yuan ($118) for its channel partners in China after the United States tech giant lowered its revenue forecast partly due to a weak performance in the country.
JD, a major e-commerce platform in China, said it has received notice from Apple that the price of the iPhone 8 and iPhone 8 Plus will be reduced to 3,999 yuan and 4,799 yuan respectively, about 600 yuan and 800 yuan less than before.
JD said the price cut became effective on Friday and it is not a short-term promotion.
Suning, another online platform in the country, also said on Friday that it has considerably cut the price of the iPhone XR and iPhone X. The 128 gigabyte version of the iPhone XR, for instance, is now sold at 5,799 yuan, about 1,200 yuan less than the price on Apple's official online store.
The move came shortly after Apple slashed its revenue guidance to $84 billion for the quarter ended Dec 29, down from earlier estimates of $89 billion to $93 billion. This is Apple's first revenue forecast cut in almost two decades.
Tim Cook, CEO of Apple, has attributed the decline to a variety of factors including weakening demand from China and lower-than-expected sales of iPhones. But analysts said the real reason could be the mounting competition from local rivals such as Huawei Technologies Co Ltd.
Jia Mo, a research analyst with technology consultancy Canalys, said the high price tag of Apple's latest handset risks losing mass-market consumers to local smartphone vendors and making the California-based company a niche luxury brand in China.
"In China, it is always the most expensive iPhone model that sells the best. But less-expensive models or older models are losing to local brands' quality smartphones," Jia added.
According to him, Apple can maintain its brand appeal among its hard-core fans, and dominate the most high-end segment of smartphones priced above 6,000 yuan, but its popularity among mass-market consumers is likely to be reduced.
The global smartphone market is contracting, with worldwide smartphone shipments declining by 6 percent year-on-year in the third quarter of 2018, marking the fourth straight quarter of drops, according to data from market research company International Data Corp.
Investment bank JPMorgan research also indicated a sharp deterioration in China's smartphone demand in the fourth quarter of 2018, and said it expects 2019 to be another tough year for companies.
Fan Feifei contributed to this story.