Sustainability at heart of AkzoNobel strategy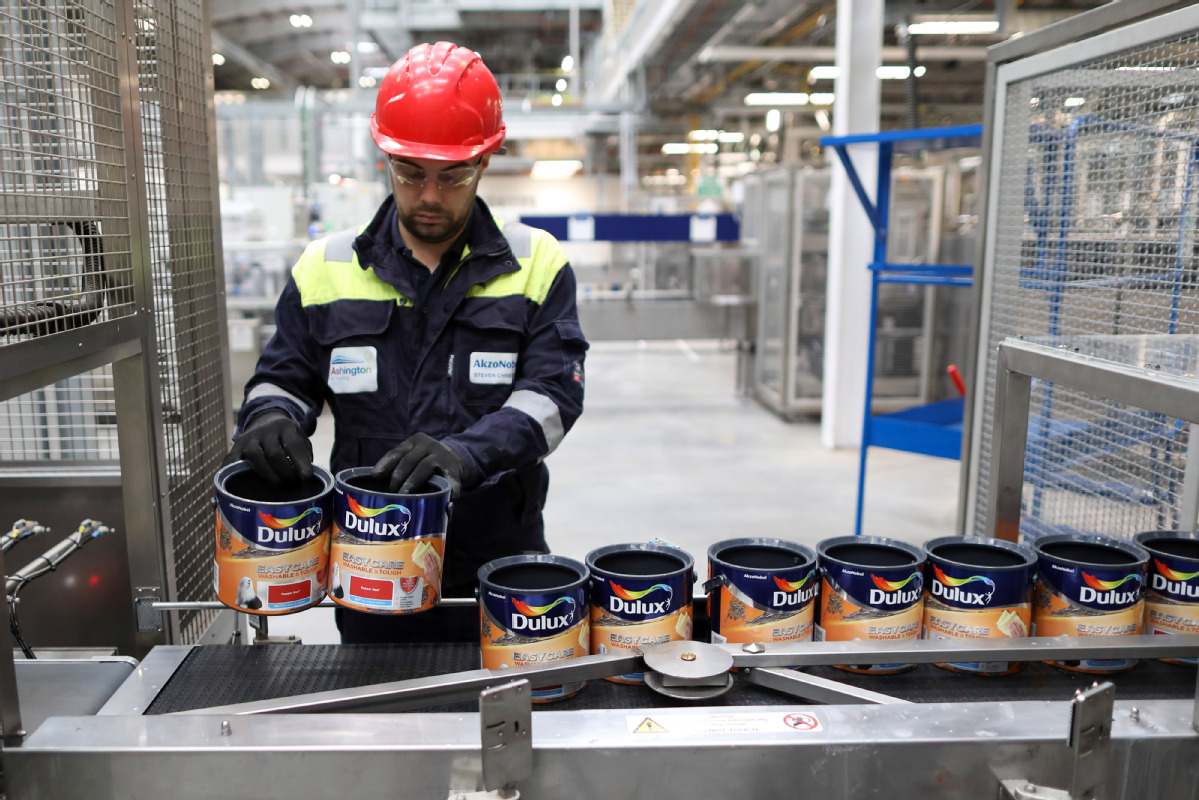 Dutch paints, coatings company offers global products, local solutions in China
New home sales in China have slowed down, but Thierry Vanlancker, CEO of the Netherlands-based paints and coatings company AkzoNobel, says he is not worried.
Despite the cooling of China's real estate market, the negative effect on the company's business in China has been limited, Vanlancker said during a recent business trip in Shanghai.
"Although sales of new homes have slowed down, the demand for repainting among Chinese consumers born in the 1980s and the 1990s is, on the contrary, increasing rapidly," he explained.
"Consumption upgrades are leading to higher demand for quality and environmentally friendly products, and we want to tap into these changing refurnishing habits."
In Western economies, homeowners repaint their property every three years on average, compared to at least eight years on average in China, but the gap is narrowing, according to the company.
"We are still confident in the Chinese market in the medium and long term, as the country's repainting sector has massive potential, with plenty of space to explore."
In an interview with China Daily, Vanlancker shared his views on China's paints and coating sector, further opening-up, and the company's investment strategy in the country.
AkzoNobel saw higher profitability in the third quarter of 2018. How did the Chinese market contribute to it?
China was a significant contributor to our solid performance last year. The country is already AkzoNobel's largest single market, with 22 manufacturing sites and more than 6,000 employees, accounting for about 17 percent of our global workforce.
Our performance in China has been strong, with much progress made. Last year, we opened a development lab for our Marine and Protective Coatings unit, our first-ever Dulux concept store in Shanghai, as well as our largest powder coatings facility in Changzhou in Jiangsu province.
We also contributed to many iconic projects in China last year, such as the Hong Kong-Zhuhai-Macao Bridge.
What are your best-selling brands in the country so far, and what is behind their success?
We have a comprehensive product portfolio, including powder coatings, coil coatings, protective coatings and decorative paints, all for different interior and exterior architectural purposes. For example, we have our prime decorative paint brand Dulux, as well as Levis, our premium decorative brand, to meet our consumers' different needs. We also have our world-leading International and Interpon brands, as well as Dulux Pro - the premium exterior wall paint.
As more homeowners in the country are embracing higher-quality and eco-friendly building materials, what opportunities do you see for your company?
Sustainability is at the heart of AkzoNobel's strategy, and we have a broad lineup of water-based and solvent-free products that are much more eco-friendly than traditional products.
China's rising sustainability standards encourage highly efficient, high-standard and large-scale companies, while discouraging the opposite. We see a lot of opportunities not only for home decoration paints, but also in performance coatings, and we think it will promote the healthier development of the overall industry.
How do you compete with global as well as local players? Who do you think is your biggest competitor in China?
We are experts in color, with our Color of the Year annually setting home decoration trends for the coming year.
We are also experts in protection. Our performance coatings can be seen on landmarks all over the world, from the Brooklyn Bridge in New York City to the Fuxing bullet train in China.
In addition, we are leaders in sustainability, localized research and production, and local distribution. Our strong supply chains allow us to meet customer demands globally with tailored solutions.
How would you describe China's paints market?
China is a large, rapidly changing country with wide diversity. For decorative painting, what looks nice in a small town in Northeast China may not work for metropolitan areas. Consumers look for best practices around the world and form their own aesthetic standards, so the trends are constantly evolving, while remaining unique.
The same goes for performance coatings. Different customers have different requirements. As Chinese customers keep innovating, so should we, to keep up with their demands.
Last year marked the 40th anniversary of China's reform and opening-up policy. How has the policy offered opportunities for your company in China?
AkzoNobel was one of the earliest Dutch companies to enter the Chinese mainland after its reform and opening-up commenced 40 years ago. We have been honored to witness the greatest economic miracle of the 20th century, and have many reasons to believe new measures will create new opportunities for international and domestic companies alike.
In the past 40 years, millions of miles of roads have been built; bullet trains and airplanes now make up a vast infrastructure network; high-speed internet is changing the way we live; and, most importantly, hundreds of millions of people have been lifted out of poverty and are embracing medium-income lifestyles. Reform and opening-up will only unlock new demand and new potential for the country. Just thinking about it makes me excited.
Do you think China's further reform and opening-up will elevate its business environment to new heights, and inject new strength into the international scope of the paints and coatings industry?
Yes, it certainly will. We have benefited hugely from China's reform and opening-up, growing our businesses along with our customers and partners.
No company could truly be international without China. We not only sell our global products here, we tailor products for China. We not only research local solutions but also elevate these solutions to a global scale.
China is a key market in our global footprint, and with a strengthened China, we are all strengthened together.
China will continue to proactively attract foreign investment and safeguard the legitimate interests of foreign-invested businesses. How will that benefit your business?
We feel very encouraged by this approach and are looking forward to the government's next steps to create a more favorable business environment. We can help to elevate China's paint industry to a more important role in the global supply chain and bring China's solutions to the entire world.
What's your vision for AkzoNobel in the next five to 10 years, and what type of role does the Chinese market play in that?
AkzoNobel will continue to concentrate on paints and coatings, acting as the world's reference point for color and protection.
I believe China will only become more important in the future. It will be a key powerhouse in manufacturing and research, further benefiting not only customers in China but also around the world. Our facilities in China will in the future set global standards in quality, sustainability and other aspects.
How do you think the global painting and decoration industry has evolved over the past decade, and how have Chinese consumers influenced that evolution?
The industry has changed a lot. We find Chinese aesthetics and Western aesthetics are becoming increasingly intertwined, and that influences our designs for color and protection.
By the latter half of each year, we make our predictions on the Color of the Year for the next year, and increasingly, we are considering Chinese aesthetics.