AkzoNobel announces student sustainability award winners
Share - WeChat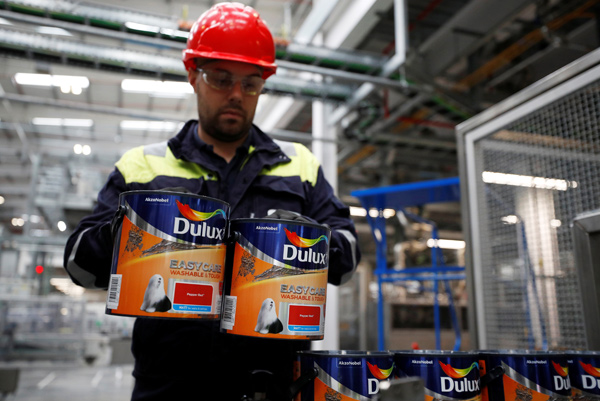 Leading paint and coatings company AkzoNobel has vowed to continue encouraging China's younger generation to take active measures with innovative approaches to create greater value for society through participating in social responsibility projects and community services with its China Student Sustainability Award.
The Netherlands-based company has recently announced the winners of the seventh China Student Sustainability Award, an annual event that recognizes excellent contributions by university students to communities and society at large.
Under the guidance of the School Department of the Central Committee of the China Communist Youth League, it is the first award in China to recognize university student groups' contributions to communities.
This year, the award, aiming at inspiring new ideas and encouraging university students to channel their knowledge to change the world, received 309 entries from 297 student societies of 130 universities across 55 cities. More than 30,000 university students invested 670,000 collective hours in practicing social responsibility, benefiting more than 210,000 teachers and students, said the company.
"As a focused paint and coatings company, we are dedicated to providing color and protection with the aim of creating a more varied and livable world," said Thierry Vanlancker, CEO for AkzoNobel.
"China is the largest strategic market for AkzoNobel globally. In addition to creating the best value for Chinese customers, we greatly value the realization of sustainable development together with local communities."
Award-winning programs this year spanned different regions and disciplines. Two Gold Award winners – the "Clear Water" Volunteer Association of the Harbin Institute of Technology -- visited 22 provinces, autonomous regions and municipalities to conduct over 260 investigations into local water quality.
Smile Service Team of Wuhan University secured the second Gold Award, bringing together dental medicine students and other volunteers to provide support for over 300 sufferers of cleft lips and palates.
Lin Liangqi, president of AkzoNobel China, said aesthetic education has a great influence on cultural enhancement and the power of beauty can inspire and encourage people to create a better world. The company is honored to be able to explore together with masters of the craft to enhance aesthetic education in remote areas in China.
"For many years, the company has supported the growth and development of university students, many of whom have become important driving forces for China's economic growth," said Li Ji, deputy director of the School Department of the Central Committee for the China Communist Youth League.
"We are sincerely thankful to AkzoNobel for joining our project to make outstanding contributions to China's educational development."