Internet-enabled driving era dawns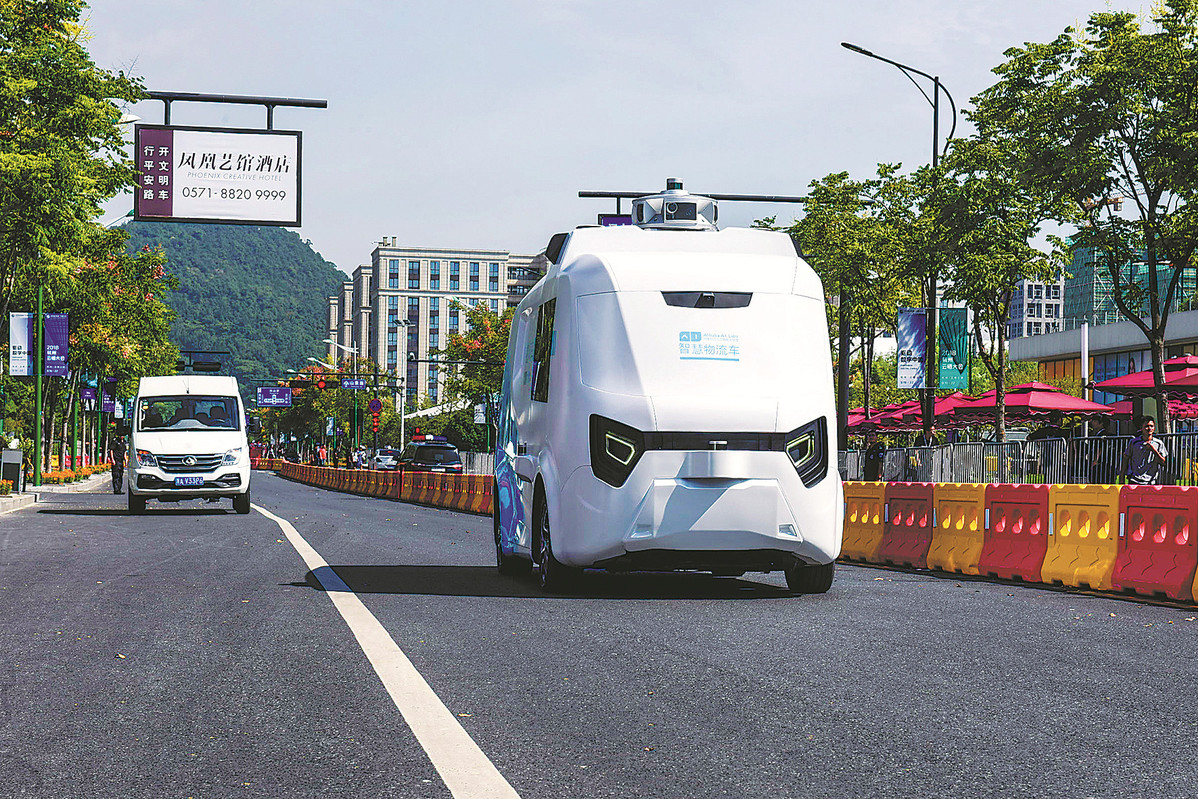 Imagine when you're driving in the city and looking for an empty parking space, your internet-connected car finds an available spot and tells you where to go to park.
That day is not as far off as you might think.
In the future, vehicles will "talk" to each other and to critical infrastructure. This connected vehicle technology could change our transportation systems by enabling safe, interoperable wireless communication among vehicles, infrastructure and personal communication devices.
Several years ago, the phrase "intelligent connected vehicles" might have been foreign to many people, but now it is regarded as the future of transportation. Automakers are throwing all kinds of efforts and money to achieve this goal, and they are collaborating with tech companies to develop smart-connected cars.
The market value of the intelligent connected vehicle industry and related sectors in China is expected to reach 100 billion yuan ($14.5 billion) by 2022, according to a white paper released by the Beijing Commission of Economy and Information Technology.
Some auto companies, such as Audi, Ford and Changan, are racing into the intelligent connected vehicles sector, in a bid to address the challenges involved in technical routes, data sharing and commercialization, and to speed up the development of the intelligent connected vehicle industry.
Audi China recently obtained a test license for Level 4 autonomous driving in Beijing. It was Audi China's second test license for autonomous driving after its first was granted in Wuxi in East China's Jiangsu province, during the World Internet of Things Exposition 2018 in September.
"As an important part of Audi's 2025 strategy, Audi China is intensifying its development of autonomous driving and intelligent connected cars. We aim to provide our Chinese customers with smart driving technology that is adapted to China's road conditions," said Thomas Owsianski, president of Audi China.
Audi China will launch another development and testing hub in Wuxi in the first quarter of 2019 to support testing of autonomous and connected driving technologies on-site.
In September, Ford Motor also conducted tests of Cellular Vehicle-To-Everything technology, also known as C-V2X, for the first time on China's public roads, accelerating the development and application of connected vehicle technology.
C-V2X is an advanced wireless communication technology that allows vehicles, road infrastructure, pedestrians and other traffic participants to connect and "speak the same language" in real time.
It is considered an important supplement to vehicle sensors that enables vehicles, stoplights, traffic signs, cyclists and pedestrian devices to share information about their status, location and next moves.
Ford has also conducted similar tests in the United States and Europe, helping the company to achieve its vision of building smart vehicles that serve a smart world.
"With fast, safe and secure communication between the components of a mobility network, we can achieve a more sustainable transportation system and more enjoyable experience for all," said Julius Marchwicki, director of connected vehicle platform and product delivery under Ford Asia-Pacific.
Meanwhile, automakers also are speeding up their collaboration with internet technology companies.
The CS35 PLUS, the first product from Chinese startup Uton, a joint venture between Changan Automobile and tech giant Tencent, has recently entered production in Chongqing.
Uton, with registered capital of 200 million yuan, is building an open platform for the internet of vehicles, big data and cloud computing to provide an overall solution for internet of vehicles.
The CS35 PLUS is equipped with the Tencent automotive ecosystem called AI in Car, which can integrate several services and resources from Tencent, and realize interaction between smartphones and automobiles.
In August, Autonomic, a wholly owned subsidiary of Ford Smart Mobility LLC and Alibaba Cloud, signed a memorandum of understanding to bring the Transportation Mobility Cloud system into the Chinese market.
The Transportation Mobility Cloud system, an open, safe and effective cloud-based platform developed by Autonomic for connected cars, will provide standardized data and infrastructure for developers to help them deliver better experiences.
Its services include helping residents to plan transit journeys, managing a large-scale fleet for a ride-hailing business, or even routing self-driving cars on busy streets.
Both companies have also agreed to explore new collaboration opportunities in the transportation and mobility sectors, with the ultimate goal of creating a safer, more efficient and sustainable transportation ecosystem in China.
"With the development of modern information technology, the cooperation between the internet and automobiles will be on the rise," said Simon Hu, president of Alibaba Cloud.