Chinese startup Knowbox hits over 40 million users
Share - WeChat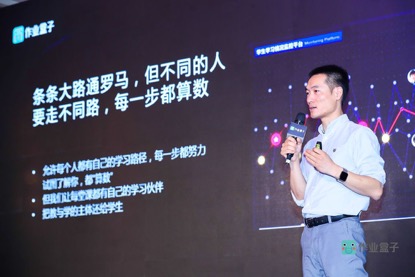 Chinese online education startup Knowbox has gained momentum by providing online education services to public schools, its CEO said on Wednesday.
Liu Ye, founder and CEO of Knowbox, said, that the company has hit over 40 million users by November this year.
Liu made the comments during the Global Education Summit 2018
The company's products and services are now used by 70 percent of Chinese primary schools to assign and correct homework, according to Liu,
"Over the past four years, we have make big steps in linking four major parts in public schools, including students, parents, teachers and deans," said Liu.
Unlike many online education startups focused solely on students, Knowbox offers a range of services to help teachers and parents work more efficiently.
One of its products helps teachers correct homework by taking photos, for example.
The Beijing-based company on Wednesday launched three new products as part of its efforts to use technology to build an ecosystem between home and school.
Jiaxiao Hezi, translated literally as "a box between home and school", aims to improve communication channels between parents and teachers.
Knowbox, founded in 2014, has raised $100 million in its latest round of financing in April this year, which was the startup's second round of financing within 120 days.