Making life better with innovation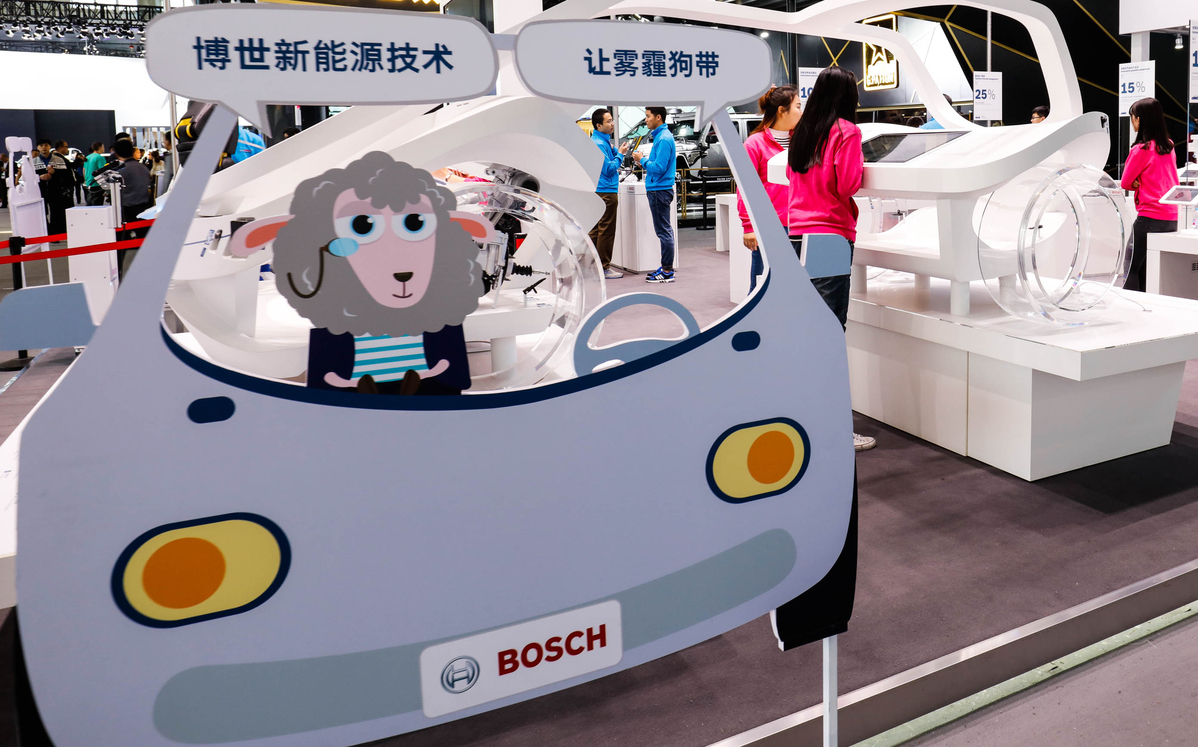 Bosch regards healthy competition as a sustainable trigger for improvement
Editor's Note: This year marks the 40th anniversary of China's reform and opening-up. China Daily interviewed top executives of well-known multinational companies for their views on the country's socioeconomic development.
Please use three words to describe China's changes in the past 40 years.
Development, openness and speed.
What are the biggest achievements in China since the adoption of the reform and opening-up policy 40 years ago?
The past 40 years has witnessed the surge of China's economic growth. Reform and opening-up released the power of a market economy and ignited the vigor for the country's economic development. Now China is the second-largest economy in the world.
The automotive industry in China has also grown along the way. Forty years ago, passenger cars were mainly allocated to government offices and few people had the opportunity to own a car. Now, China has become the largest automotive market in the world for nine consecutive years, with more than the half of the vehicles sold being Chinese local brands.
Besides economic development, we are also seeing a huge improvement in national education. More people get the chance to go to universities to pursue higher education. Studying abroad also gives Chinese people an international perspective and experience. Finally, increasing skills contribute to the economic development.
How has your company benefited from the country's reform and opening-up policy?
Bosch has been in China for almost 110 years. Creating innovative technologies and solutions to make life better is the brand's imperative. Today, Bosch in China employs close to 60,000 associates, operating 62 entities including 38 manufacturing bases and 23 technical centers. Now, China is Bosch's second-largest market in the world and employs the largest number of associates outside Germany. Bosch's automotive components and solutions can be found in almost all vehicle brands in China. Bosch's drive and control system supports the National Centre for the Performing Arts' stage lift, a Qinghai-Tibet Railway project, a 50-metric-ton crane in Yangshan port, the Five-hundred-meter Aperture Spherical Telescope and many major projects in China. Bosch home appliances offer Chinese consumers a good choice for their consumption upgrade. Bosch not only witnesses the Chinese's society's development, but is also a proud part of it.
Has competition intensified between your company and Chinese companies?
During the past 40 years, Chinese companies have developed significantly and their growth has propelled our momentum to strive for better. There is a saying in China "When the river rises, the boat floats high". When the whole environment strives for excellence, the whole industry navigates toward a better future. So Bosch advocates cooperation and learning from each other.
Bosch always regards healthy competition as a sustainable trigger for innovation and a company's improvement. For example, Bosch is now transforming toward becoming an internet-of-things company. Chinese companies are in the first fleet of digitalization. Instead of pure competition, collaboration and cooperation will be inevitable to build a new ecosystem. Bosch is open to and active in partnering with local players.
How do you view China's role in the world today?
China is already the second-largest economy in the world. And now it continues to grow at a more moderate pace under a new normal. The country is now playing an important role in many areas. For example, China is now the largest automotive market in the world, and the country has more than 220 million registered vehicles. China is also one of the biggest trade markets in both export and import. Besides, China is a big manufacturing nation, and it is also aiming to become a strong one in the coming future.
Could China's experiences and practices be used to solve global problems?
China is now the world's largest market for internet business, e-commerce, AI and new energy vehicles. These industries are the future trends. Now in China, and only in China, can people live cash free and credit card free. More than half of new energy passenger cars are sold in China. Many startup companies in China are innovating in manufacturing, technology development and new business models of Internet Plus businesses. And many Chinese brands are becoming world-renowned enterprises and blaze the trail for digitalized business. All these endeavors could be a reference for other countries.
What measures are needed if China wants to deepen reforms?
We appreciate the efforts and commitment the Chinese government has made to improve the business environment. We believe to further deepen reforms, we need to first keep and advocate the innovative spirit. Innovation in all and by all. To be innovative, talents are the core factor. How to develop talents, retain talent, and ignite their passion to contribute is very important. Besides, we also anticipate an even fairer environment and equal opportunities for foreign companies like Bosch, which has deepened our roots in this market. For manufacturing companies, we regard industrial upgrading as also an important element that should be further enhanced. The upgrade along the whole value chain will definitely bring strong synergy, and improve the whole industry's competence. We believe these will both be opportunities for our own growth and contribution to the Chinese economy.
Apart from economic development, what progress in other fields have you witnessed in China in the past 40 years?
Besides economic development, we also see increasing awareness of environmental protection in China. From the shutdown of small disqualified coal mines, to water pollution control, to the PM2.5 index national announcement and to the promotion of new energy vehicles, countless measures are being taken right now in China. We see the determination of the Chinese government to fulfill its commitment to environmental protection. It's a good phenomenon. We have been through a period when we sacrificed the environment for the sake of economic development, and now we realize we should seek a sustainable path. Bosch has also been dedicated to environmental protection and take it as our responsibility, and will further echo the Chinese government's call to continue green manufacturing and create green products and technologies.
What is the most unforgettable experience in your career?
In 2011, my first year of being president of Bosch China, Bosch inaugurated our headquarters in Shanghai and announced the establishment of the Bosch China Charity Center. From that time on, it has also been regarded as the headquarters of the Asia-Pacific region for our company, which demonstrates the acknowledgement of the importance of the Chinese market for Bosch group. The establishment of BCCC once again shows Bosch's resolution of taking social responsibility to be one of the company's core values.
What will be the country's "calling card" in the coming years?
The post-1990 and post-2000 and even the younger children are growing in a period when China is economically better off and has better resources. They have opportunities to see more in this world and gain more knowledge. The new generation will be the driver of future development. China is already on the fast track to digitalization, and we believe that Chinese companies have the competence to be innovative and keep leading the digitalized market in the future.