Carriers eye paid add-on services to lift revenue
Share - WeChat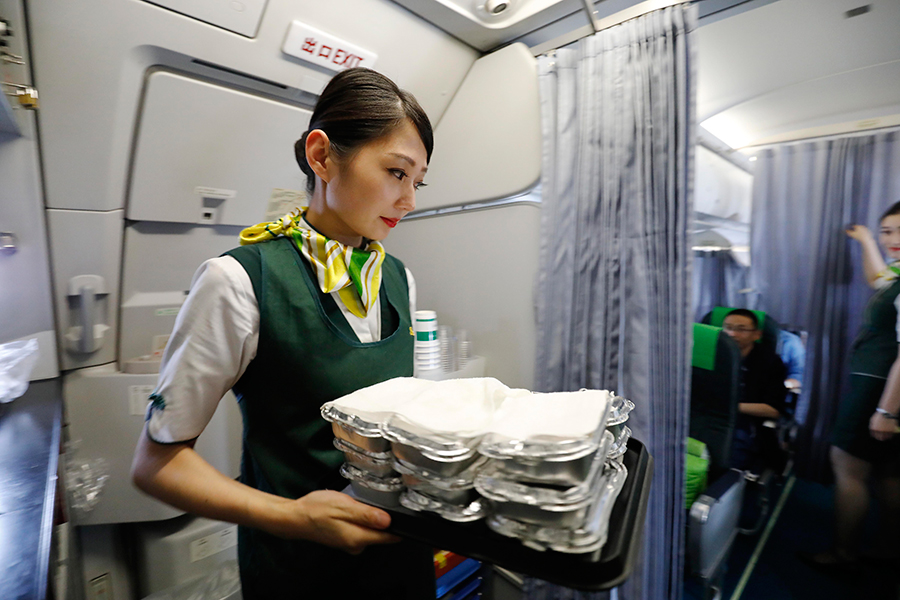 Cabin upgrades, pre-booked in-flight meals, paid priority security checks and boarding, and other additional services will soon become more commonplace for most passengers in China, according to industry experts.
Due to the more relaxed policies and regulations on paid ancillary services, carriers are expected to earn more revenues from such services, they said.
In China, smaller and budget airlines, such as Tianjin Airlines, Spring Airlines and Lucky Air, have been actively trying to operate more ancillary services, such as the prebooking of paid food and paid luggage check-in services. State-owned carriers, however, have been more cautious, and they only provide options like prepaid seat selection on international flights.
In the past decade, the ancillary revenues of the top 10 carriers with the biggest portion of such revenues surged from $2.1 billion in 2007 to $29.7 billion in 2017, at an annual compound growth rate of 30 percent.
United Airlines, Delta Air Lines, American Airlines, Air France-KLM Group, Lufthansa Group, and Air Canada, respectively, make up the top six, according to IdeaWorksCompany, a US airline consulting firm.
The ancillary revenues of State-owned airlines in China, including Air China, China Southern Airlines and China Eastern Airlines, make up 4 percent of their total revenues, lower than the average 10 percent for global carriers, according to consultancy firm Roland Berger.
"All the stakeholders are gradually showing more enthusiasm in providing ancillary services in China. The sector is expected to see a significant growth potential, driven by the rapid growth of the air travel market in the country," said Yu Zhanfu, a partner at Roland Berger Strategy Consultants.
"When taking flights becomes more common, just like taking subways and buses, and the number of travelers continually grows, demand will become more diversified. Carriers can increase additional charges and profits, by lowering flight ticket prices and refining and specifying products," Yu said.
For example, British Airway cooperated with British retailer Marks & Spencer, to provide more high-quality in-air food with better-designed packaging.
In addition, many carriers clearly guide consumers to book their in-flight meal beforehand online, which can help airlines to better manage the supply chain and increase revenues.
"There were some policy restrictions regarding the charging of ancillary services in the civil aviation sector, but the regulations are becoming more relaxed, which will create more opportunities for Chinese airlines," Yu said.
Meanwhile, a survey showed Chinese travelers are more than willing to pay for cabin upgrade services at the boarding gates or after they board planes, especially when they have purchased flight tickets with big discounts, yet many airlines don't provide enough such services, according to a survey by Carnoc, a major civil aviation website portal in China.
"The survey signals what kind of services can be made to better ancillary services, based on the thoughts of travelers," Yu said.