Survey finds smoking damages male fertility
Share - WeChat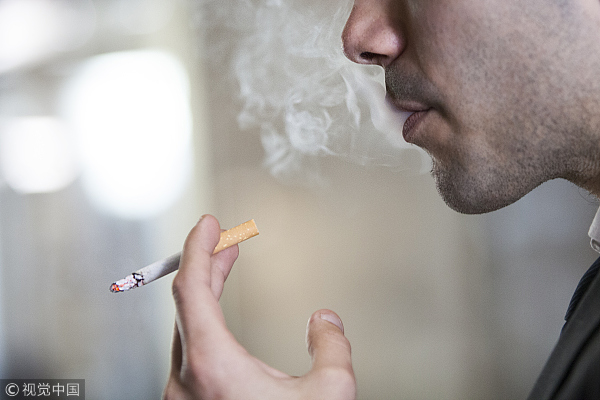 Male smokers are at higher risk of reproductive problems, including difficulty conceiving, abnormal sperm and partners who have miscarriages or deformed fetuses, according to a survey based on more than 4,000 male patients across China.
For example, 16.6 percent of all males surveyed-both smokers and nonsmokers-had abnormal semen, including a lower concentration of sperm. But abnormalities were found in 32 percent those who smoked, according to the survey, which was released on Thursday.
The chances of having a deformed fetus for nonsmoking males was 1.1 percent, but was 2.5 percent for smokers, the survey found.
The survey covered 4,364 male patients seeking fertility treatment at 25 hospitals and clinics in 16 provinces, autonomous regions and municipalities, including Beijing, Shanghai and Guangdong province. It was launched by the China Sexology Association and conducted by Peking University Third Hospital from August to October.
Of the males surveyed, 99 percent were between 20 and 50 years old, with 51 percent who were smokers. Most of the smokers-60 percent-had been smoking for more than five years.
"The result of the survey shows that the damage from tobacco to male reproductive health is more serious than we expected," said Jiang Hui, director of the Andrology Department at Peking University Third Hospital in Beijing.
Smokers' sperm is more likely to have abnormalities such as lower numbers and activity, as well as more deformities, he said.
These may have resulted from the harmful chemicals in tobacco, such as nicotine, that damage human cells, he said.
China is the world's biggest producer and consumer of tobacco, with more than 300 million smokers, most of them male.
The survey also found that while more than 86 percent of the males understood that smoking causes lung diseases, only 43 percent of them were aware that it can also damage reproductive health.
Liang Lirong, director of Beijing Chaoyang Hospital's smoking-cessation clinic, said quitting smoking is necessary to protect health, but most smokers in China try to quit smoking by willpower alone, which has a low chance of success.
"Many smokers fail to quit smoking because they did not find the right way," she said. "We suggest addicted smokers try to use proper drugs with the advice of doctors to improve their chances of success."