Tech city gives aviation sector wings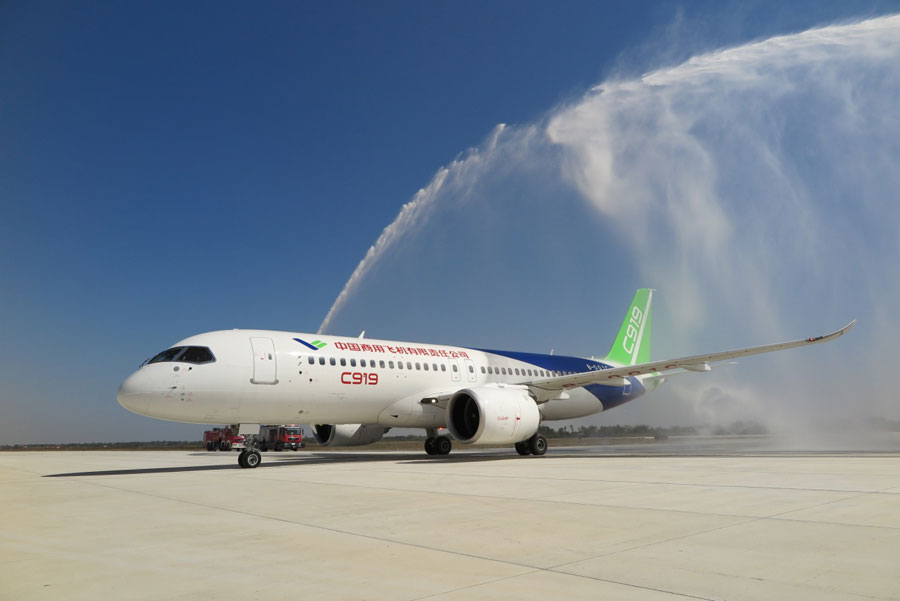 Mianyang played a crucial role in the C919 large passenger plane
Mianyang in Sichuan province has witnessed unprecedented development in science and technology since China adopted the reform and opening-up policy in the late 1970s.
Despite being far from any coast or border, the city has played a part in a variety of technological achievements, such as the first domestically developed large passenger plane, the C919.
The C919 made its maiden flight in Shanghai on May 5 last year. After 79 minutes in the air, the twin-engine plane landed safely at Shanghai Pudong International Airport at 3:20 pm, signaling the nation's entry into the global aviation market.
In 2007, the central government approved plans to develop a Chinese-built large passenger jet. Eight years later, the first C919 jet rolled off the assembly line.
The "C" in the name stands for China, while the number nine symbolizes "forever" in Chinese and 19 represents the fact the plane can seat up to 190 passengers.
With a standard range of 4,075 kilometers and maximum range of 5,555 km, the narrow-body jet is comparable with the updated Airbus 320 and Boeing's new-generation 737, according to aviation experts.
Brian Foley, president of an aviation consultancy in the United States, said the C919 could compete with the Boeing and Airbus duopoly, particularly if it became the preferred airliner of Chinese carriers.
The C919 has been hailed as a notable achievement in the development of China's civil aviation industry.
Many parts of the aircraft were made in Sichuan, including its nose, avionics system, in-cabin entertainment system, interior lighting and radio, according to the provincial government.
Sichuan Jiuzhou Electric Group in Mianyang made the C919 cabin's core system, including a public announcement system and cabin intercom, according to Li Yixun, one of its researchers.
The company also produced the cabin's lighting system, which features the so-called LED wall washer that creates the illusion of light rippling gently against the wall's surface, Li said.
Due to its technological advantage, in 2001, the central government approved Mianyang's plan to build the China Science and Technology City, which aims to convert the city's research resources into commercial products.
The government said it planned to make Mingyang a role model for civil-military integration, a hub for technological innovation, a center for technology exchanges, a base for innovative professionals and a destination for high-tech businesses.
As a result, the city was able to benefit from the same preferential policies enjoyed by Beijing's Zhongguancun Science Park, one of the nation's innovation hubs.