Sogou CEO: China's AI industry has embraced growth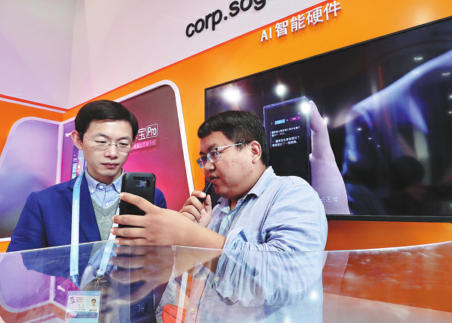 China's AI industry has embraced rapid growth in the recent five years, said Wang Xiaochuan, CEO of Chinese search engine Sogou, in Wuzhen, East China's Zhejiang province.
"At the basic scientific level, there is still a gap between China and the United States. While at the application level, China is able to become the world's leading experimenter," Wang said in an exclusive interview with China Daily website at the Fifth World Internet Conference.
China's large population creates advantages in big data, which is the key driver for the AI today represented by deep learning.
"The spirit of entrepreneurs, coupled with our previous low-level data accumulation and extensive application market, has taken China to an internet era and opened an opportunity to apply AI technologies. China can improve its competitiveness in the world and improve people's daily lives if we can make good use of this window to upgrade the AI industry," Wang added.
Beijing-based Sogou, which went public on the New York Stock Exchange in November last year, runs China's most popular input method and the second-largest search engine, as well as Sogou browser.
"Sogou has 500 million daily users of input method and 400 million daily users of search engine, so we are clear about application scenarios and data accumulation for AI development," Wang said.
Sogou's language-centered AI technologies have been widely applied in providing daily and simultaneous interpretation services.
"Language is still a barrier in today's globalization of information civilization," Wang said. "We took it up as a mission to solve the translation problem with AI technologies and big data."
"We believe that with the landing of translation technologies, the future era is not only informationzation, but the beginning of an intelligent civilization."
Sogou launched the world's first virtual anchor technology on the opening day of the internet conference, which began on Wednesday and ends on Friday.
The technology can create an AI avatar model based on a real anchor by using cutting-edge technologies, such as detecting key points on the face, extracting face features, facial reconstruction, lipreading recognition and emotion migration.
Synthetic video news with an AI avatar can be created by the machine after training and calculating video and audio materials from a real anchor.
President Xi Jinping recently called for stepping up efforts to develop the new generation of artificial intelligence technology and stressed that China will unswervingly encourage, support and guide the development of the private sector and support private enterprises to develop toward a broader stage.
"I feel so honored to be living in this time and we should work harder to live up to such an opportunity," said Wang.
To describe China's social and economic achievements after the country introduced the reform and opening-up policy 40 years ago, Wang said it brought earthshaking changes and offered "opportunity, prosperity and convenience" to all ordinary Chinese people.
"We live in an era of miracles. We expect more guidance from the government in the process of China's further reform and opening-up, which will encourage us for to innovate more," Wang added.
Sogou reported revenue of $276.57 million for the third quarter of the year.