Online technology provides valuable lessons
Share - WeChat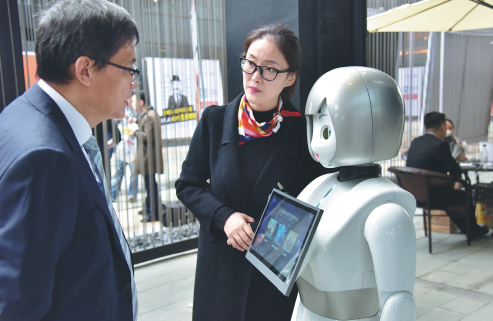 From apps to AI, parents turn to latest tech to give their children a competitive edge
On Nov 8, a smartly dressed news anchor spoke to a conference hall in Wuzhen, Zhejiang province.
But while he might have looked and sounded like a human presenter, it was in fact a wholly digital reconstruction, developed by the Chinese internet company Sougou and Xinhua News Agency.
Thanks to artificial intelligence-enabled voice technology, the virtual anchor can produce human-like visual and voice news reporting, from scripts fed into it.
In China, AI is being increasingly rolled out in fields including education, manufacturing, finance, healthcare and autonomous driving.
The push comes as part of Chinese efforts to develop the AI sector. Policymakers have said that accelerating AI's development is key if China is to seize the opportunities presented by the next round of technological revolution and industrial transformation.
The country aims to grow its core AI industries to over 150 billion yuan ($21.6 billion) by 2020, 400 billion yuan by 2025, and 1 trillion yuan by 2030.
Shen Nanpeng, founding and managing partner of Sequoia China, noted at the ongoing Fifth World Internet Conference that new technologies are helping different industries to transform and upgrade.
"Not only internet companies, but also traditional industries including education are in need of internet tools and solutions," he said.
It is not surprising that firms are exploring the use of AI in teaching. Online education is a huge business in China-sales revenue accounted for 281 billion yuan last year, and is expected to rise by another 24 percent this year.
Zhu Qing, a 39-year-old engineer from Beijing, said she is already seeing the impact that AI is having. A pen, an eraser and an exercise book were all she could use when doing her homework 30 years ago. But when it comes to her 9-year-old daughter, it is totally different.
The second-grade primary school student does most of her exercises on an online application. Once finished, the app immediately corrects all the mistakes and is even able to offer tips for future studies.
Homework, which for previous generations was a chore, has now become a more efficient and much happier task thanks to the faster-than-expected development of technologies in the education sector.
In addition, AI is offering more possibilities as livestreaming classes have become another major trend of online education.
VIPKid has built up its business in China by offering children one-on-one English tutoring online, enabling 500,000 children to learn English from 60,000 teachers based in North America.
In addition, two years ago it also launched Lingo Bus, a platform teaching Chinese children overseas.
The company is planning to set up branches and expand both its English and Chinese teaching business in 10 cities abroad including Seoul, Tokyo, London, Singapore, Madrid and Buenos Aires over the next three years.
"To make a world-class product will be a competitive advantage for a Chinese company, and will also be beneficial for children and parents across the world," said Mi Wenjuan, founder and CEO of VIPKid, during this year's World Internet Conference.
Liu Jiehao, an analyst at consultancy iiMedia, said government support, technological progress and a cultural emphasis on education have all contributed to a burgeoning online education market in China.
China has always identified education as a top priority. Since 2016, the government has been investing over 3 trillion yuan a year in education. This accounts for around 4 percent of GDP.