Online technology provides valuable lessons
Share - WeChat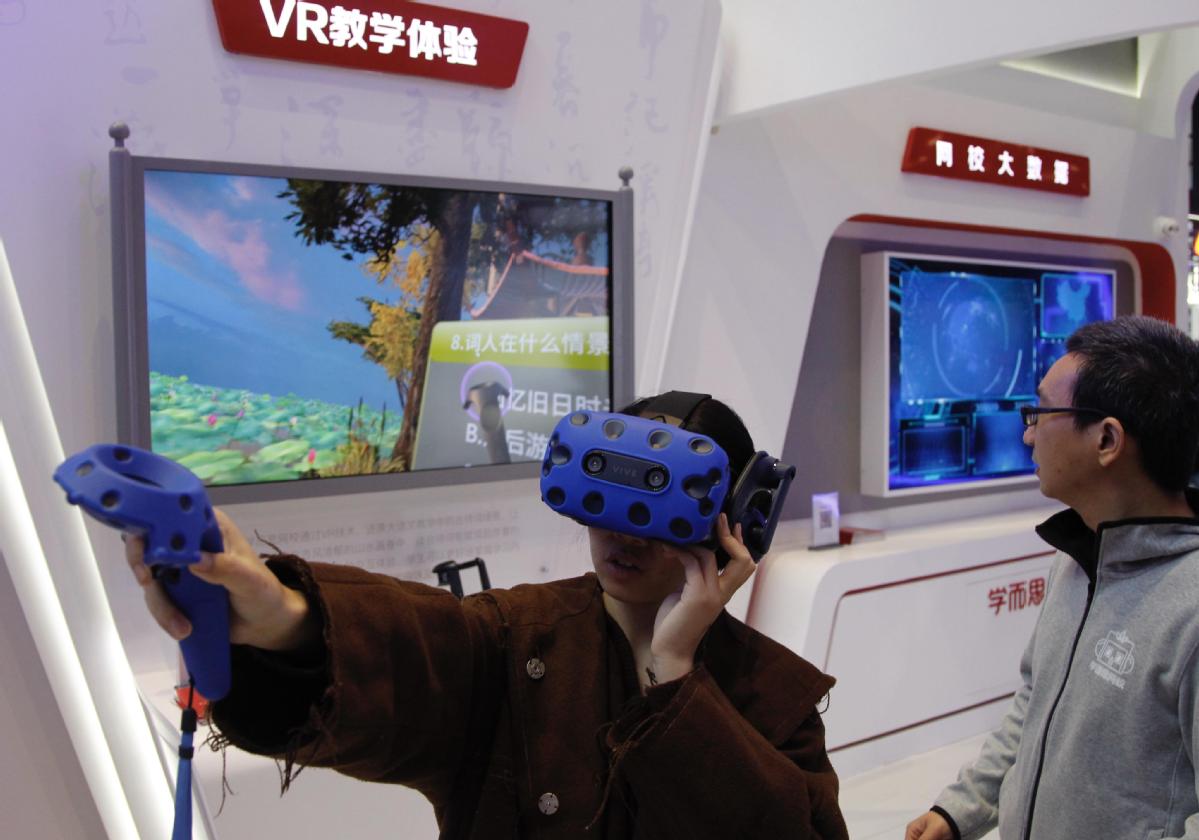 Though this combination of factors has given the country's online education a boost, analysts say Chinese parents are the key driver.
Jing Zhiqiang lives in Beijing. He is 42 and father to a 9-year-old son. He spent 10,980 yuan for a set of 72 classes for his child who attends four classes a week on an online education platform.
The family spends 2,400 yuan per month for an online English course. That's half of Beijing's average per-capita monthly disposable income of around 4,800 yuan.
For Jing, the main reason behind choosing the online course is that his child can take one-on-one personalized tutoring from native English speakers.
"Also, home-based tutoring is a great relief for both my wife and me as we don't have much time to send and collect the child to and from tutoring institutes," said Jing. "Particularly in Beijing where the traffic is often terrible, we actually save a lot of road time ... Time is money, isn't it?"
Not only startups are involved, as traditional companies like TAL Education Group and Sunlands Online Education Group are also establishing a major presence in online education.
TAL showcased its latest technology products and online solutions during this year's World Internet Conference, including a virtual reality product, which allows students to study in a digital world.
The company's online courses also integrate with the latest AI technologies. These can help recognize and analyze student responsiveness, as well as their ability to grasp lessons, which could help teachers adjust their teaching methods.
"The company is striving to advance education through technology, hoping to build a large-scale, low-cost and high-quality online education experience," said Bai Yunfeng, president of TAL Education Group.
Sunlands, another leading education company, is leveraging Mini Programs, part of Tencent's WeChat in-app function, to offer quick-study products. Students can take advantage of small chunks of time to study, either during the break or on the subway.
Liu Botong, CEO of Sunlands, said at the sidelines of this year's World Internet Conference that some educational apps are full of advertisements and complicated functions, and users often struggle to navigate them.
"Through Mini Programs, we aim to help users utilize the product in the shortest time possible since we believe that a good product should be one that can help save time," he said.
Online education isn't only restricted to basic classes but also has interest-oriented courses including online programming classes.
According to market researcher Jingdata, the average spending on programming classes totaled 6,000 yuan per person per year in China, driving the current market size to 10 billion yuan, and is expected to top 50 billion yuan in the coming five years.
The growth comes as education authorities seek to renovate after-school training institutions, and cut excessive academic burdens for primary and secondary school students.
"One reason that online programming is gaining momentum is because it is helping children to develop their abilities, including thinking, which has usually been ignored in the past," said Liu Yiyang, co-founder of Codemao, a Chinese online programming startup.
The industry's profound potential has attracted interest from the capital market. Total fundraising exceeded 15 billion yuan in the first half of this year.
VIPKid raised $500 million in its latest round of financing in June this year, which was the world's largest-ever fundraising drive for the online education sector. It also pushes the company's valuation to over 20 billion yuan, making it the biggest online education company globally.
According to a report by market research consultancy Big-Data-Research, financing in the country's online education industry in the first six months of this year can rival the total fundraising of last year.
A total of 7.4 billion yuan was invested in quality-oriented education in the first half of this year, accounting for 28.9 percent of total investment in the online education industry.
Sectors including language, K12, early education and professional training are some of the other popular areas that investors are looking at favorably.
"Frequent financing has accelerated the accumulative effect of the country's online education segment," said Lyu Senlin, founder and chief researcher at Learneasy Times Online Education Research Institute, an industry research consultancy.
"Industry leaders are contending for bigger market share and pushing small firms out."
Ji Liyin, vice-investment president of Founder H Fund, said at an online education conference: "For investors, they care more about the future direction. On a broader scale, only changes in policy will bring about more room for growth and new opportunities."
Thereby, emerging areas will be the first priority for investors, he said, adding that industries where technologies are lowering work burdens for humans will be a good direction for investment.