Italy's 'essence of excellence' continues to draw interest
Share - WeChat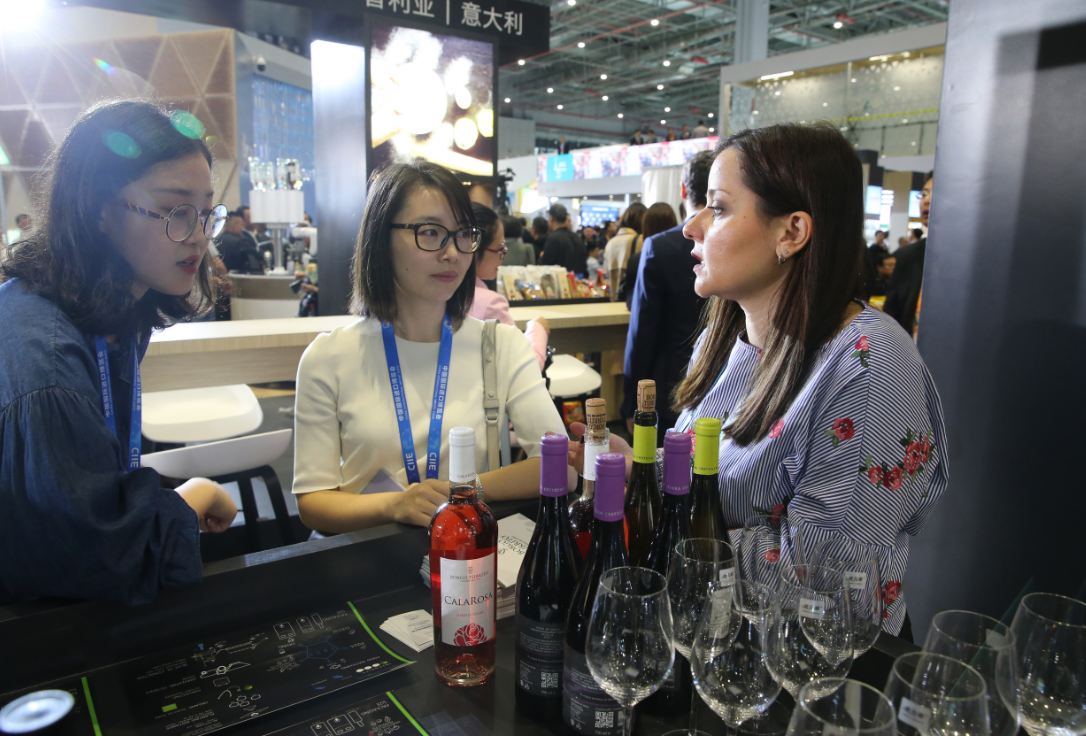 From Chianti wine and Parma ham to Emilia-Romagna cheese, Chinese consumers are in for a treat of authentic Italian flavor during the China International Import Expo as Italy heralds free trade for a more prosperous future.
During the expo, more than 80 Italian enterprises, led by the Italian Trade Agency, are showcasing their products in healthcare, consumer goods, technology and, of course, mouthwatering food - the "essence of excellence of Italy", as Giuseppe Mazzarella, acting president of the agency, put it.
"Italy is eager to strengthen its cooperation with China. We firmly believe this important occasion will serve as an ideal opportunity to celebrate the 40th year of China's economic opening-up and will take our bilateral trade relationship to a new level," Mazzarella said, adding that Italian fashion, food, coffee and wine are already popular in China, while furnishings and interior designs are also well-received.
To make Italy's essence of excellence more accessible, the trade agency signed a letter of intent with Suning Group and Alibaba-owned Hema, a fresh food supermarket.
This will unfold "a prosperous future, with two top multichannel innovative companies in China", he said. "The ITA will become the partner that helps Suning Group expand business in Italy and build a bridge between Suning and small and medium-sized Italian enterprises in China. It will also focus on helping a large number of food and agricultural products from Italy to expand on the Chinese market by working with Hema."
He said he expected the expo to bring more business opportunities and greatly increase exports from Italy.
"China is Italy's largest trading partner in Asia, according to Eurostat. In the first half of this year, the bilateral trade of goods between Italy and China amounted to $25.63 billion, increasing by 12.3 percent year-on-year, with Italy exporting $7.83 billion to China, up 10.7 percent year-on-year," he said.
Italian wine is one of the categories that has seen increasing popularity in China. Zhao Ping, director of the international trade research department of the Academy of China Council for the Promotion of International Trade, said that Italian wine costs less for the same quality, compared with red wine from traditional producers in France, and comes branded with culture and fashion.
Amedeo Scarpa, director of the trade agency in Beijing, said that in addition to the goods trade, it also promotes trade in other sectors.
"When you talk about the Italian wine Chianti, immediately you think about that specific territory in Tuscany; and when you think of Italy as a tourist destination, you also think about buying clothes in Milan," he said. "We call it integration promotion of products, tourism and culture."
Apart from renowned Italian food, Mazzarella said the expo was more than a window to showcase Italy's four "F"s - food, fashion, furniture and Ferrari - but also a wider range of offerings from healthcare to innovative technology.
"We noticed a series of measures that have been taken by the Chinese government, such as reducing the negative lists of foreign investment access and the reduction of tariffs," he said.
"It embodies the responsible spirit of China as a big country. In the near future, we hope that more and more Italian quality products will be available for increasingly sophisticated and demanding Chinese consumers."