Chinese get taste for imported foods
Share - WeChat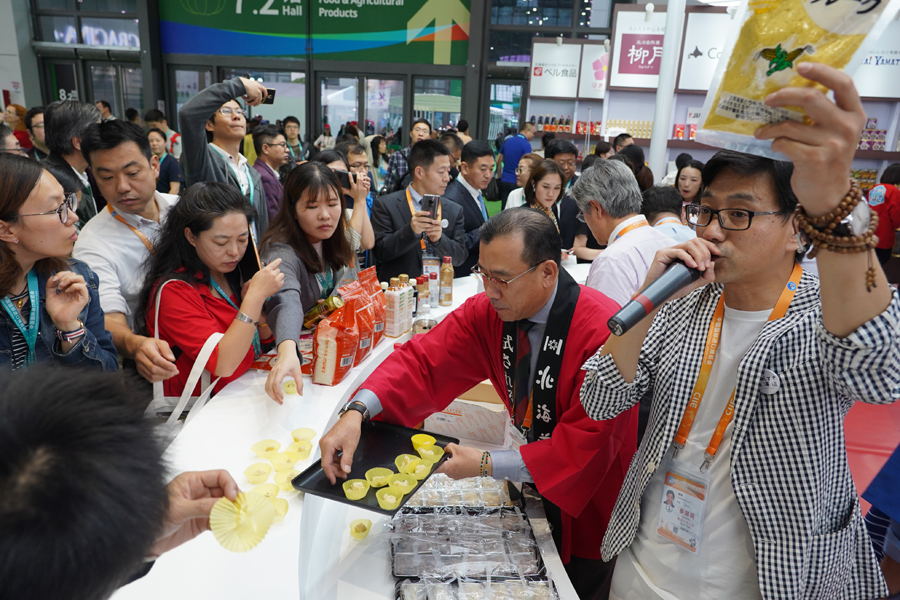 Nation tipped to become world's largest market, with e-commerce leading the way
At first glance Jiang Qin's small store in downtown Shanghai seems just like any other hole-in-the-wall, mom-and-pop grocery in China, if a little more cramped and messy.
But if you drop her nickname-"Avocado Lady"-you gain entry to the club of the city's savviest shoppers of imported produce.
After graduating from high school, Jiang opted not to go to university, choosing instead to help finance her younger brother's future college studies. To do so, she left Nantong, her hometown in Jiangsu province, and started trading as a grocer in Shanghai in the late 1990s.
In the past two decades, her shrewd observation of the increasingly refined lifestyles of residents in her community, mostly young locals and expats, has helped Jiang, now in her early 40s, to broaden her store's range of goods.
She has branched out from Chinese staples such as cabbage and soy sauce to imported foods like kale, Parmesan cheese and turkey. About five years ago, inspired by a French chef who lived nearby, she became one of the first people in the city to sell avocados.
Her skill in sourcing the fruit has made her famous, and attracted customers to her shop, which crams a vast selection of imported foods into less than 10 square meters of space.
In July, she was honored by Pro Mexico, a Mexican government body that promotes international trade and investment, for her contribution to the growing popularity of avocado in China, where sales have been rising faster than for any other fruit.
Jiang's story is an illustration of the way the imported food sector has boomed in China.
Customs statistics show the country imported 53.48 million metric tons of food last year, up 36.5 percent year-on-year and valued at $58.28 billion, a 25 percent rise.
The European Union, the United States, New Zealand, Indonesia and Canada were the top five sources of imports in recent years, and the US Association of Food Industries estimates that by the end of the year China will be the world's largest market for imported food.
"The upgraded need for a better and healthier life, made possible and more accessible by the ever-advancing technology of e-commerce, has definitely been the most powerful growth engine," said Li Xiang, senior analyst at the China Business New Data Center, who follows China's food and beverage industry.
"Today, it's almost a mission impossible to find a meal or a dining table that has everything from within China, be it the ingredients, the sauces and spices, or even the cooking utensils."
And it's not just the main meals that have changed. A report by Li found that the online snack market, which has been growing by an average of close to 30 percent annually is largely driven by imports, such as durian chips from Malaysia and almonds from California. The report noted that as cross-border e-commerce took off, the market share of imported snacks grew from 11 percent in 2014 to 24 percent in 2016.
As the snack market becomes more sophisticated, the number of retailers and brands has also been rising.
Since 2014, e-commerce giant Tmall has introduced 5,400 foreign brands from the food and beverage industry from 53 countries to China. Nearly 80 percent of the brands have never had a brick-and-mortar presence in China.
While the habit of eating local produce is an important part of traditional Chinese cuisine, imports are increasingly showcasing their adaptability.
"I don't think more imported food on our table or in our stomach means a Westernized diet, though everyone's plate is getting more globalized," said Shen Hongfei, one of China's best-known food commentators.
"For example, take the potato, which was introduced to the country in the 17th century. Chinese chefs have invented so many local dishes using the staple, aside from foreign chips, french fries or mashed potatoes."
The immense opportunities in China and the growth potential have attracted more foreign companies, a trend given further impetus by the ongoing China International Import Expo in Shanghai.
"Agreements and contracts on grains, animal protein and cotton will be signed during CIIE, and each order will be valued at more than $100 million," said Liu Jun, China president of Cargill, which has a 108 sq m exhibition space at the National Exhibition and Convention Center in Shanghai, where the expo is being held.
Exhibits on show include high-quality grain-fed beef, along with cocoa and chocolate. Liu said Cargill has doubled its investment in China since 2011, and will maintain its commitment to the market, which is one of the most important for the US agribusiness company.
Wang Ying contributed to this story.