Shanghai ready to host guests
Share - WeChat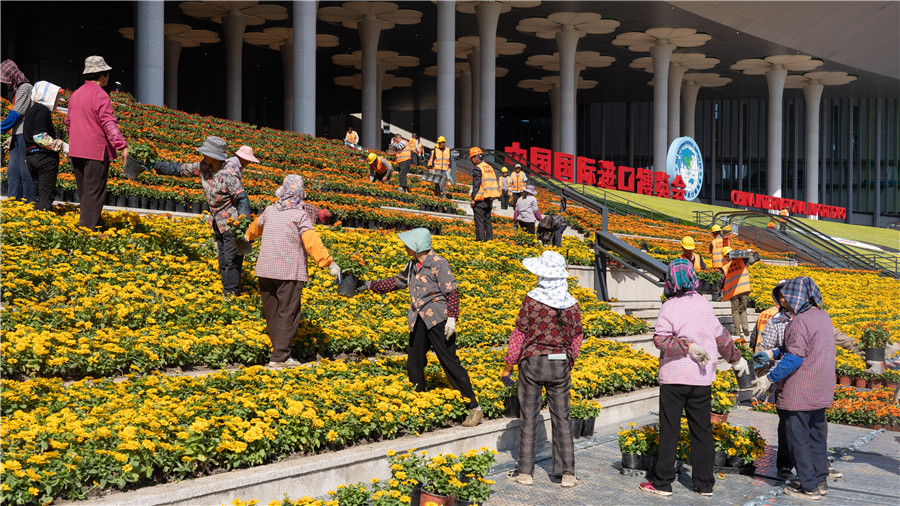 Import expo to serve as platform to strengthen international trade, boost economic globalization
From the revamp of landscape lighting along a 20-kilometer section of the Huangpu River, to the training of 5,000 volunteers ready to greet the crowds, Shanghai is ready to impress the world with the inaugural China International Import Expo.
With the slogan New Era, Shared Future, the world's first import-themed national-level expo is scheduled to open on Nov 5.
The event is set to gather more than 3,000 exhibitors from over 130 countries, as well as political dignitaries, business leaders and heads of international organizations from around 150 countries and regions.
"We are ready to work with all relevant parties and make concerted efforts to ensure the first China International Import Expo is a great success and a first-class international event," Vice-Minister of Commerce Fu Ziying told a news conference in Beijing earlier this week.
Running at the National Exhibition and Convention Center (Shanghai) until Nov 10, the CIIE is foremost an exhibition to strengthen business ties and provide foreign companies wider access to the immense Chinese market.
The latest figures from the Ministry of Commerce show that a total of 82 countries and three international organizations will showcase their economic and trade achievements as well as featured products in a combined exhibition area of 30,000 square meters at the Country Pavilion for Trade and Investment at the expo.
Twelve guest of honor countries will have their own characteristic pavilions, including the United Kingdom, Russia, Germany, Canada, South Africa and Pakistan.
"The UK is very excited about the possibilities the CIIE presents," said James Sassoon, chairman of the China-Britain Business Council, during an interview with the CIIE Bureau.
"So it has very good commitment from the government and business. And it's because we want to show off the best we have, whether it's in automotive, tourism, healthcare or creative industry, there is so much that the UK has to present right across the board," he said.
At the Enterprise and Business Exhibition, a long list of Fortune Global 500 businesses, among other overseas companies, will show off their eye-catching new products and state-of-the-art technologies over a total booth area of 270,000 sq m.
The area, already expanded twice from the original plans, will be equivalent to the size of 38 football pitches and can house more than 160,000 domestic and international buyers.
"CIIE, with strong support from the top Chinese leadership, will be a unique platform to guarantee a more open environment for international participation in China's economic growth by importing more of the latest technologies and ideas," said Kjeld Stark, president of Danfoss China.
Danish multinational Danfoss Group is a global leader in providing green solutions for the climate, energy, food and infrastructure sectors.
"CIIE is a good indicator that China will accelerate its development by adopting Western technologies at a faster pace. This gives us more confidence in China's economy," he said.
Meanwhile, Bayer's exhibits at CIIE will focus on health and nutrition, showcasing some of the German multinational company's latest research results and development concepts in pharmaceuticals, consumer health, crop science and animal health businesses.
"CIIE is a signature event for the Chinese government that highlights and supports China's policy and aim of further opening-up to the world," said Celina Chew, president of Bayer Group China.
"We expect to meet representatives of many diverse and exciting countries, companies, businesses and organizations with an interest in China, and look forward to exchanging ideas and finding opportunities for collaboration," she said.