Medical waste processing gets tech edge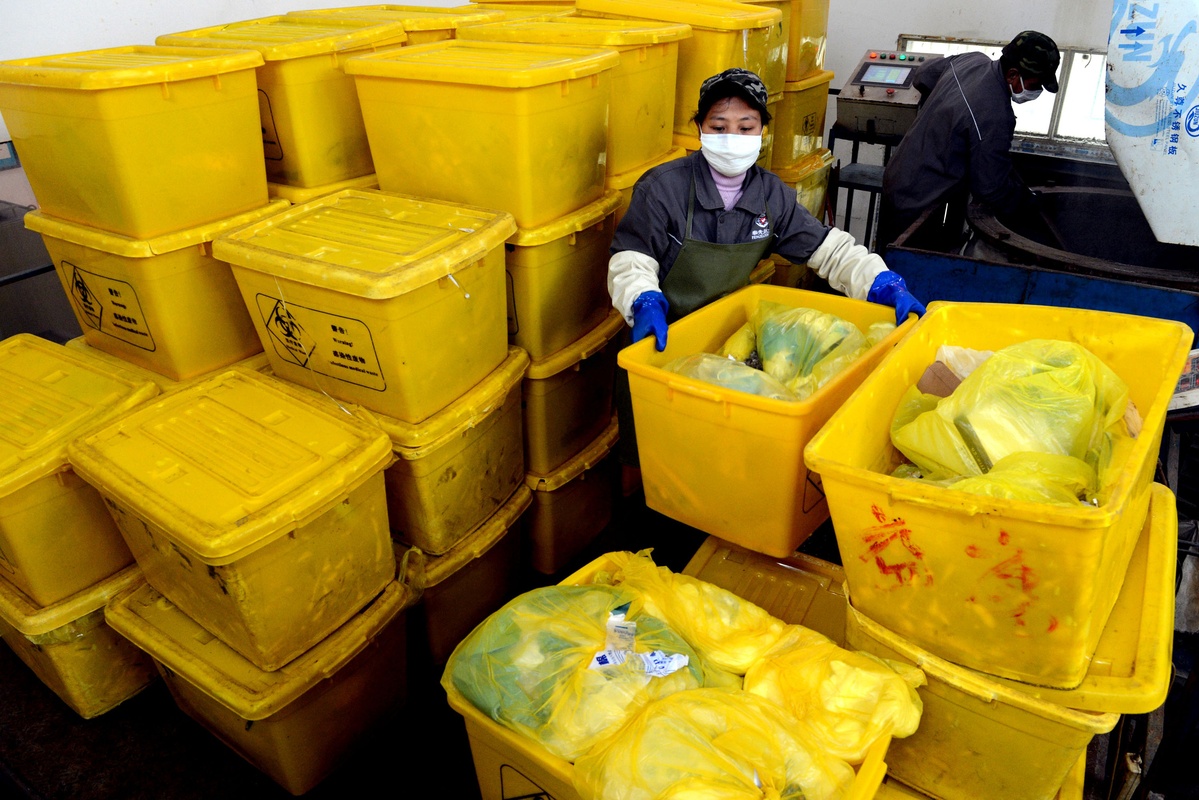 Online tracking, big data to help check unethical recycling, improve disposal efficiency
China's medical waste processing market's revenue is estimated to reach 10.7 billion yuan ($1.57 billion) by 2023 as 2.50 million metric tons of waste will be produced by then, a recent report said.
Released by industry information provider qianzhan.com, the report predicted that by the end of this year, China's total medical waste production will surpass 2.06 million tons, and it will cost 7.69 billion yuan to process it all.
The steady growth comes from the increase in surgeries that necessitate use of a wider range of medical supplies in bigger quantities.
Numerous laws and regulations that have been regularly enacted to tackle reckless disposal of medical waste, have proved inadequate. In some cases, medical waste was sold to recycling hawkers, or randomly discarded, or mixed with domestic garbage.
To tackle the problem, internet-based technology was introduced in medical waste processing, offering intelligent waste collection and supervision services for the whole process.
"The new medical waste tracking system uses digital technology for automatic alerts relating to production, transportation and disposal. Every bag of medical waste will be attached with a digital label when packed and sealed, and all related data will be uploaded to the cloud platform in the first place," said Cheng Jianchun, chief technology officer of Hofonet Tech, a Shanghai-based high-tech company that offers medical waste tracking system.
Cheng noted that each digital label has its unique code, through which the medical waste can be traced during transportation and storage. "Any bag of medical waste that is not circulated according to processing rules will trigger a system alarm, and the management director will get an instant notification."
Yang Wenya, a medical analyst with Beijing-headquartered think tank EO Intelligence iyiou.com, said: "Technology used so far was backward and insufficient. Traditional manual supervision made security vulnerable in China's medical waste processing industry.
"With the help of the big data-powered supervision system, the processing efficiency will be greatly improved, and costs will be lowered. Medical waste is prevented from flowing into the illegal market. In addition, it fills in loopholes such as an imperfect regulatory system, loose management, and loss of information," Yang said.
The new system is now promoted nationwide. In the first half of 2017, Suzhou in East China's Jiangsu province launched an "Internet Plus" medical waste management project, using technologies such as online monitoring system and mobile apps to track the whole process of medical waste processing.
Last February, the Suzhou government issued a guideline to set up a modern healthcare supervision mechanism, which takes advantage of the "Internet Plus" technology to monitor the key points of medical care online.
By the end of 2017, 240 medical institutions in Gusu district in Suzhou had completed online supervision trials, and the supervision system is planned to cover the whole city by 2020, including the dead zones overlooked by limited human and material resources.
Guiyang in Guizhou province launched a medical waste barcode tracking system based on big data technology. Under the system, after medical waste is weighed and classified, it will be transported to a processing center, saving the complicated middle-level procedures.
The future of the new supervision system, according to Yang, is promising. "However, certain problems should be considered when the system settles down. Hospitals, the environmental protection department and the supervision department should set up synergetic cooperation and share data with each other. The process needs time and monetary support.
"Besides, at the initial stage, some hospitals may make efforts to accept the new technology, while others may lack the motivation to do so. In the long run, however, internet-based medical waste processing system would help the whole industry to realize cost reductions and efficiency improvement."