Cultural inheritors concerned about passing on legacy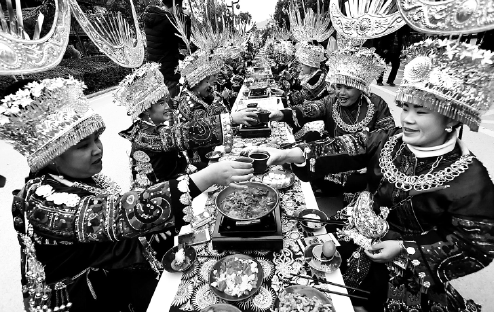 Ou Donghua, an officially appointed inheritor of Miao ethnic embroidery, a national intangible cultural heritage item, showed concern over the future of the traditional craft.
Growing up in a Miao village in southwestern Guizhou province, Ou said she wishes to pass on the skills of her people's embroidery - which can be traced back thousands of years - to future generations.
"I would like to teach anyone who wants to learn it," she told the People's Daily.
Yet nowadays, many of the young people in the village have left to work in the cities and few want to stay back to learn the skills, she said.
Ou was pessimistic about the cultural inheritance. "I regularly visit Miao villages throughout a year, only to find most of them empty - as young adults work in cities and children go to school, few youngsters feel like the ancient craft."
Silversmith Wu Shuigen from Taijing county, in the Qiandongnan Miao and Dong autonomous prefecture in Guizhou, shared Ou's concern. Wu is a representative of another national intangible cultural heritage item, the Miao people's silver craftsmanship.
At the prefecture, home to nearly two million Miao people, who account for roughly 42 percent of the total population, Miao costumes are popular and silver decorations are indispensable to a Miao bride's dowry.
A complete set of silver decorations in the dowry include a hat, bracelets, a collar and anklets, weighing six to nine kilograms in total.
It takes an experienced silversmith like Wu nearly two months to complete a set.
"Except for peak seasons in farming, I spend the rest of the year working silver. Even working overtime all the way, only 10 sets can be completed in a year," People's Daily quoted him as saying.
With the change in mindset and lifestyle, younger generations of Miao people flock to advanced metropolises and are rarely in touch with the ethnic group's traditional outfits and decorations.
Having engaged in crafting silver jewelry for 32 years, Wu has coached 18 apprentices yet many of them have quit, he said.
Xiang Zhaolun, vice-minister of culture and tourism, told the Beijing-headquartered newspaper that due to changes in the social environment and rapid flows of human resources, the traditions and customs of local communities and villages faced such challenges as a shortage of cultural inheritance and a reduced audience base.
Increasingly diverse information and communications and entertainment channels have also contributed to intangible cultural heritage's weakened role in education and entertainment, Xiang said.
On the other hand, the technological progress has also created opportunities for traditional craftsmanship to realize innovative development, experts said.
Guizhou boasts 85 national intangible cultural heritage items, according to government data.
Feng Jinguo, head of Taijiang's cultural bureau, said that both the old craftsmen and young people need communications.
"Using internet technologies to bring crafts to the market and the young generation's social networks will help the traditional culture to survive," Feng said.
Internet giant Baidu has initiated a charity program to promote China's intangible cultural heritage.
After analysis of data related to 150 million active online browsers on a daily basis, the program recommends content concerning intangible cultural heritage in various forms, such as videos, text and pictures, to targeted groups keen on traditional culture, according to the company.
In addition to Miao embroidery and silver jewelry making, more than 10 other intangible cultural heritage items have been promoted online, free of charge.
The program also uses virtual reality technology to demonstrate the making of woodcut illustrations and traditional kites. Shadow plays, Tibetan thangka paintings and kung fu, are also on the priority recommendation list.
To date, the program has received more than 15 million visits, according to Baidu.
Tian Qing, an expert on intangible cultural heritage protection, told the People's Daily that making full use of various forms of new media is key to promoting traditional culture.
Just depending on the government is far from enough, Tian noted. "We need to leverage the resources and forces from across our entire society and pool them into the promotion of the heritage.
"The internet, no doubt, plays a crucial part."