Online sticker makers eye off-screen opportunities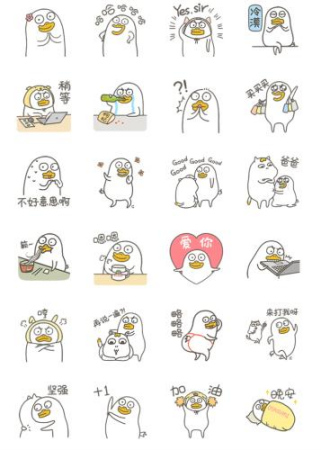 XIAMEN - Online stickers are not only a quintessential part of everyday life in China, but also a profitable business.
Lin Dongdong, CEO of Xiamen-based sticker developer Starmoly, often dreams of creating animated characters as famous as those made by Walt Disney. And it might just happen.
Rumi the panda, Moer the raccoon, and an egg named Waang are among the animated stickers created by Lin's company that have become online celebrities across China.
Stickers are groups of moving graphics used to communicate and express emotions by social media users. They generally comprise images, animated gifs, viral quotes, anime scenes, or TV and film stills.
Lin said that users, mainly on China's leading messaging and social media app WeChat, have made over 1.4 billion downloads and sent 40 billion Starmoly stickers to date.
Thanks to the development of smartphones and the internet, more Chinese are using instant message services. Tencent has reported that there are over 1 billion monthly active accounts on WeChat.
Lin said there was not a clear profit model for stickers at the beginning as most of them were free. Although some users gave tips to sticker creators, this was just a drop in the ocean for developers.
He started developing merchandise, such as cushions, toys and ornaments, decorated with popular stickers.
Sticker dolls were one of his first products.
"Many young people like to display dolls on their office desks or beds. On Dec 12, a shopping festival in China, we sold thousands of sticker dolls, and revenue of our online store was 300,000 yuan ($43,756)," Lin said.
The company also yields profits from its intellectual property.
In April, Starmoly earned 1 million yuan by granting intellectual property rights to furniture sellers on Taobao, a leading e-commerce platform.
One month later, it allowed a dairy firm to use Starmoly's stickers on its milk packaging, earning more than 800,000 yuan from the deal.
Another sticker company Manmao in the city of Fuzhou in Fujian province also took the same path as Starmoly. Their stickers are printed on pillows and table lamps.
The company also turned the stickers into dolls and put them in claw machines. So far, 24 claw machine stores use such dolls in various cities, including Hangzhou in Zhejiang province, Quanzhou and Xiamen in Fujian, and Guangzhou in Guangdong province.
"Almost everyone uses stickers when they communicate on chat apps. Stickers have gained popularity because they help spice up user messages that are best expressed quickly, not in words but through interesting or funny images," said Hu Liwei, CEO of Manmao. "A large population of social media users are potential consumers for our derivative products."
On Taobao, there are about 400,000 items related to stickers, covering categories such as toys, furniture, clothes and digital products.
"Now we are promoting an intellectual property protection program," said Meng Xiangyuan, who is in charge of Taobao's sticker business. "We have established a platform for sticker creators, through which they can authorize use of sticker intellectual property rights to sellers."
But Lin has bigger ambitions. To increase the popularity of his stickers, he has organized exhibitions, and plans to cooperate with eminent artists to manufacture products combining stickers and artists' works.
"The commercial value of stickers is beyond our imagination. We should render their artistic value to help them live longer in the public eye and people's hearts," he said.