Turning digital art into lucrative IP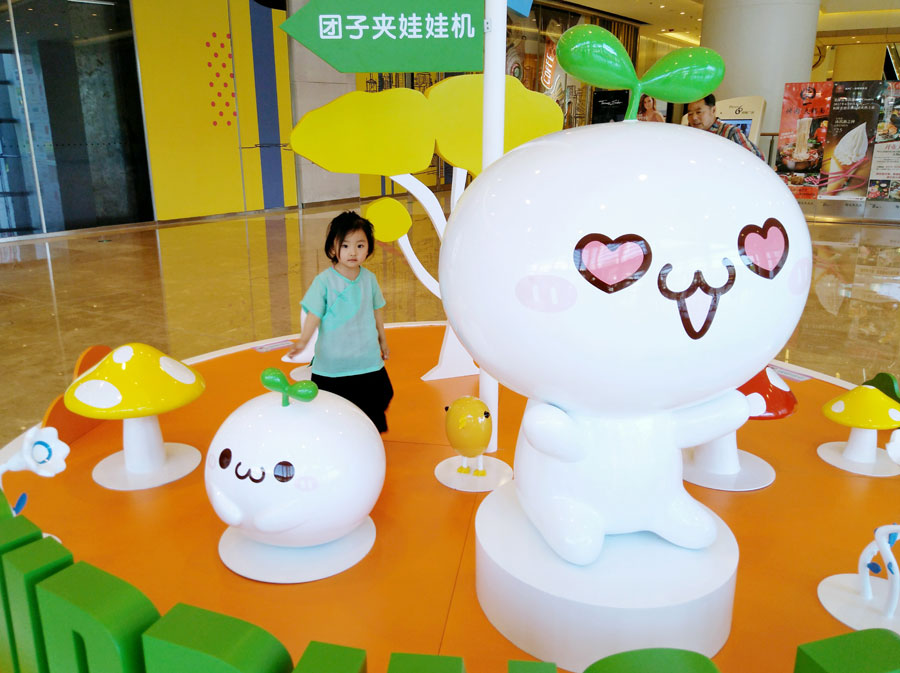 Block 12, a Beijing-headquartered, internet-based startup founded in 2015, is negotiating an uncharted territory for a Chinese business. It specializes in creating, marketing and licensing digital-age intellectual property or IP in the form of original content like comic characters, emojis and the like.
In December, it forayed into overseas market by licensing one of its emojis called Zhangcao Yantuanzi, or Budding Pop, to be displayed on the landmark Tokyo Tower in Japan. Zhangcao Yantuanzi is China's first IP rights-protected image to be exhibited on a tower abroad.
"It is a big step for made-in-China IP, which is now on the world stage. That Chinese-owned IP made it to a country with a long history of animation speaks volumes about the progress we have made so far," said Wang Biao, founder of Block 12.
The firm owns over 100 such popular emojis, including Zhileng Shaonyu or Freeze Girl. It employs over 50 emoji artists. Some of them work part-time. They create images, comics, videos and the like. Once its artists create an emoji, Block 12 promotes it on social media.
Next, it authorizes the emoji to an array of enterprises that use the creative content in themed dolls, cosmetics, accessories, jewelry, fashion, bank cards and other forms of merchandise. For instance, Block 12 joined hands with Chow Tai Fook, a Chinese gold jeweler, to develop six sets of pendants in the image of Zhangcao Yantuanzi.
"Customers may become crazy about an emoji in a short time but also move on to the next craze soon. This raises a question-how to make an emoji last longer?" said Wang. "That's why, we strive to develop a complete industry chain, or an ecosystem, to prolong the life of an emoji."
Block 12 said its emojis have been shared or forwarded 20 billion times. It has cooperation agreements with over 25 companies. "Different from traditional IP, our emojis change their costumes and status in different seasons and festivals. This makes their fans or users feel they are accompanied by the emojis all the time. Users identify with their favorite emojis," said Wang.
When Zhileng Shaonyu, or Freeze Girl, was created in 2014, she was cast as a student. Most of the images in the emoji portrayed scenes of school and study. With time, the Freeze Girl has grown up, a working woman, so to say. Much of the images in the emoji are about work.
Block 12 has also created a new form of retail by combining retail with emojis. It installed a claw crane, also called a teddy picker or a game machine that dispenses dolls, in Beijing's Sanlitun, a trendy business and lifestyle district. All of the toys and dolls in the machine are Block 12's IP.
"This is our trial on the way to establishing a well-rounded IP industry in a bid to increase the value of our IP," said Wang. "We'll endeavor to integrate more online and offline businesses to create more possibilities in the future."