Harnessing potential of emerging technologies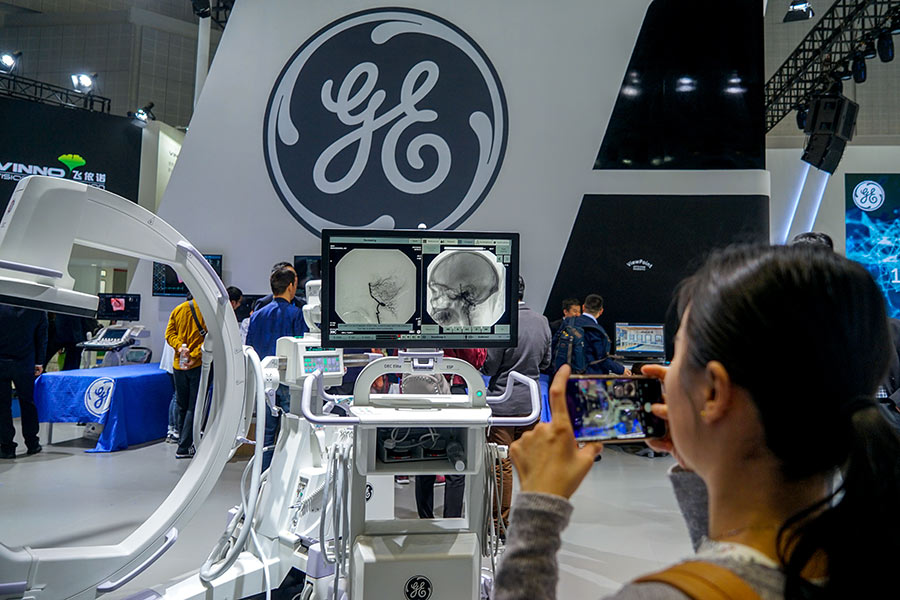 Editor's Note: This year marks the 40th anniversary of China's reform and opening-up. China Daily interviewed top executives of well-known multinational companies for their views on the country's socioeconomic development.
GE committed to assisting Chinese partners in digital transformation to lift productivity and upgrade industry
Please use three words to describe China's changes during the past 40 years.
Rapid, uplifting and powerful.
What are the biggest achievements in China since the introduction of the reform and opening-up policy 40 years ago?
Since its reform and opening-up, China has lifted over 700 million people out of poverty, and the quality of life and services across sectors has improved dramatically. At GE, we have realized that China's economic strength, resource aggregation ability and global influence are constantly improving.
In sectors with which GE is most concerned, including energy, aviation and healthcare, developments have been astounding on both a macro scale and individual project basis. In energy, electricity consumption per capita has increased more than 1,500 percent since 1978, and projects such as the Three Gorges Dam Hydroelectric Power Plant, to which GE provided 14 generation units, and the West to East Gas Pipeline, to which GE provided over 110 pieces of compression equipment, are marvels of engineering, as China is moving toward cleaner energy.
Meanwhile, as domestic air travel has grown to nearly 550 million passengers a year, the development of domestic airliners, such as the Commercial Aircraft Corporation of China Ltd's ARJ21 and C919, powered by GE engines, represents significant leaps forward in domestic capability. And in healthcare, the number of hospital beds has increased by 153 percent while fixed assets - of which GE technologies benefit over 20 million Chinese patients daily - have also increased rapidly, as life expectancy has risen approximately 10 years to 76 as of 2017.
What's the biggest challenge China faces today and how can the country overcome it?
Under the guidance of the "new development" concept, the dramatic changes taking place in China, including clean energy, affordable healthcare, urbanization and "Internet Plus", represent huge opportunities for future development.
This includes a power market that is expected to grow at an annual rate of nearly 5 percent until 2020, while moving toward clean energy such as natural gas; a healthcare market that is expected to grow as the number of people above 65 years will hit 170 million by 2020; and an air travel sector, which is expected to make China the largest aviation market globally in terms of passenger flow within 10-15 years.
One overarching challenge, which will affect nearly all industries, is harnessing the potential of emerging technologies, such as machine learning, 3D printing and connected devices, to unleash a new age of productivity. Companies must embrace these new technologies and effectively deploy them across their organizations in ways that generate the greatest value. At GE, we are leveraging our unique combination of deep industrial domain expertise and software competence to assist our partners in their digital industrial transformations by connecting machines, software and data analytics to unlock industrial productivity, and upgrade China's industry.
How has your company benefited from the reform and opening-up policy?
GE has enjoyed rapid development in China for the past 40 years as a witness, participant and beneficiary to its reform and opening-up, while pursuing in-depth localization, partnership and digitization.
Today, GE China houses over 20,000 employees, 30 manufacturing bases and more than 30 joint ventures, with a presence across more than 30 cities in the country, along with R&D teams in eight cities. In 2017, GE's orders in China amounted to over $8 billion.
China is now GE's largest single country market outside the US, and the most important driver of growth.
Could China's experiences and practices be used to solve global problems?
China's experiences and practices are already helping to solve global problems. For example, Chinese EPCs (engineering, procurement and construction companies) have been working on projects in developing markets for years, with additional growth spurred by the Belt and Road Initiative.
GE has worked together with Chinese EPC companies for over 20 years, lending our experience in overseas risk control, investment and financing to provide technical support, local market expertise and overseas on-site support to Chinese EPCs. Meanwhile, these EPCs are leveraging their expertise in rapidly implementing infrastructure projects at scale to provide power generation facilities and other important assets to other developing countries that have been previously underserved.
GE is also developing solutions in China for the world. One-third of GE's ultrasound probes, half of our MRI machines and two-thirds of our CT machines sold globally are manufactured in Wuxi, Tianjin and Beijing respectively.
How do you view China's role in the world today?
China is now the world's second-largest economy and the world's second-largest importer. This is why it is hosting the China International Import Expo for the first time in November. The expo, in which GE will participate in the high-end intelligent equipment exhibition area, aims to give firm support to trade liberalization and economic globalization, and actively open the Chinese market to the outside world. Such efforts position China as a key driver of global growth - a role that China will continue to play well into the future. Reflecting on the prosperity brought by the past 40 years, we look forward to continued efforts by the Chinese government to expand its openness and deepen reforms.
Apart from economic development, what progress in other areas have you witnessed in China in the past 40 years?
Talent development is one major area. Today, over 75 percent of our executive team and 98 percent of our whole team at GE China are comprised of local talent, which is the driving force behind our development in China.
Meanwhile, cultural events that place China on the global stage, such as hosting the 2008 Beijing Olympic Games and the 2010 World Expo in Shanghai - both of which featured GE as a proud sponsor - are some of the most prominent non-economic achievements. Such events showcase China's participation in the global community and provide the outside world an excellent glimpse of what China has achieved.