China-ASEAN trade set to soar
Share - WeChat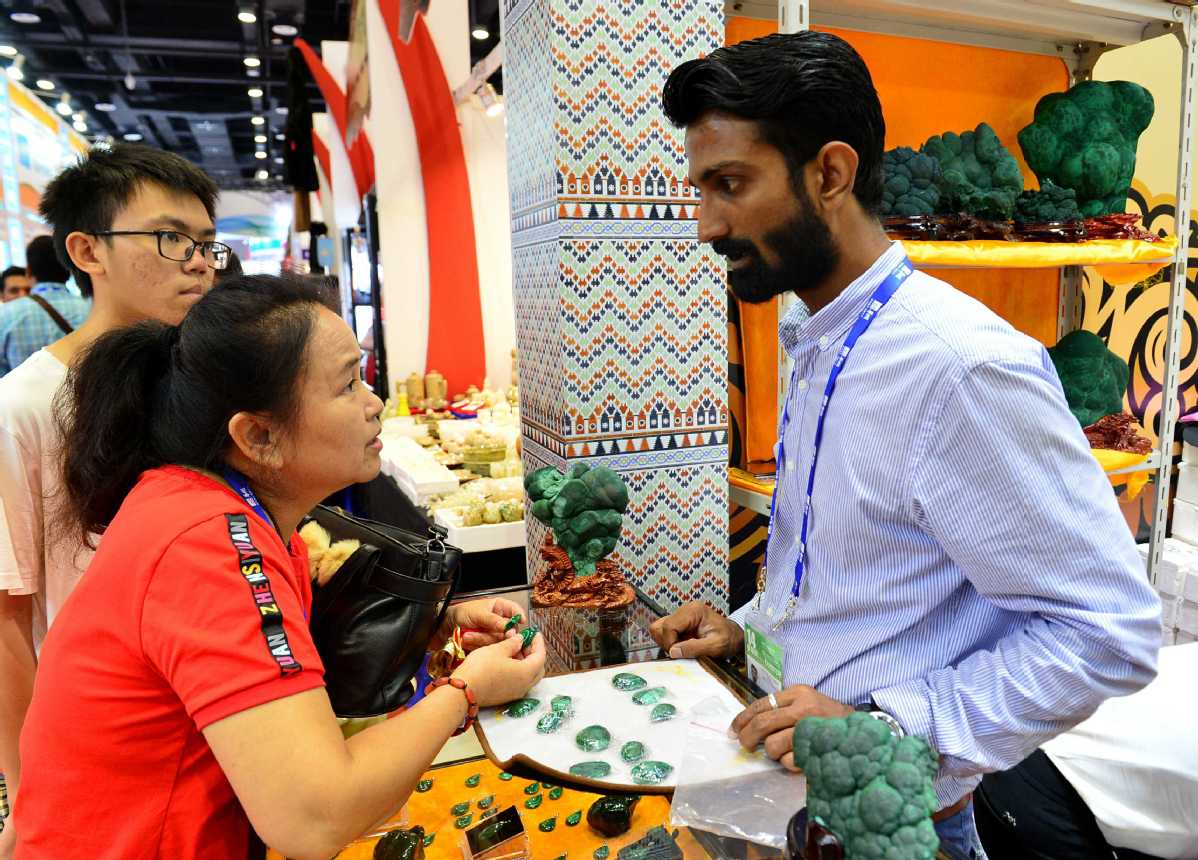 Region likely to emerge as 'growth pole' on freer flow of investment and deepening ties
The Association of Southeast Asian Nations, a bloc that constitutes China's third largest trading partner, will exploit a variety of opportunities to further tap China's market, given the encouraging bilateral trade performance last year, an official said.
"ASEAN expects more opportunities to export products like some agricultural products to China. Thailand, for instance, hopes for more exports of frozen seafood and beverages to China as tariff on the two kinds are already reduced but exports are still low," said Sakarn Saensopa, consul (commercial) at the Royal Thai Consulate-General in Nanning, capital city of the Guangxi Zhuang autonomous region.
"Thailand is also interested in exporting other products from the service and manufacturing sectors to China, like auto parts," Saensopa said. "We also promised to open more of our market by cutting more tariffs in order to have a freer flow of trade and investment."
According to Saensopa, the combined ASEAN-China region today offers an impressively large market, boasting a massive 1.8 billion consumers.
"Working together in a truly win-win partnership, ASEAN and China can attract trade and investment from all over the world and make the ASEAN-China region a new 'growth pole'," Saensopa said.
Bilateral trade between China and ASEAN economies reached $232.64 billion in the first five months this year, up by 18.9 percent year-on-year. Last year, trade hit a record high of $514.8 billion.
"The credit (of trade growth) must go to China's Belt and Road Initiative. Amidst the global economic instability, the Chinese government introduced the Maritime Silk Road which has led to greater connectivity and cooperation among the economies along the route," Saensopa said.
The Belt and Road Initiative, or the Silk Road Economic Belt and 21st Century Maritime Silk Road, was launched in 2013 to promote trade and economic cooperation among economies along the Belt and Road routes, and to further open up markets in a mutually beneficial manner.
Many economies involved in the initiative are having an infrastructure renovation, which is enhancing logistics and boosting cross-border trade.
"China and ASEAN have great trade potentials other than areas of tropical fruits and seafood, now that the initiative broke regional barriers by renovating infrastructure and facilitating communications," said Lin Guijun, trade expert and professor at the Beijing-based University of International Business and Economics. "The energy sector, for instance, has seen increasing trade and cooperation."
Yan Bingzhong, director of the China Renewable Energy Engineering Institute, told chinanews.com earlier in June that clean energy like solar power will be a field that has great potential for cooperation, as some ASEAN countries have abundant energy resources but lack technology to develop.
China Southern Power Grid Co Ltd, for instance, has funded the Vinh Tan 1 thermal power plant located in Vietnam's southern Binh Thuan province, together with China Power International Development and the Power Corporation of the Vietnam National Coal-Natural Industries Corporation.
According to Li Qingkui, chairman at China Southern Power, the plant will offer about 8 billion kilowatt-hour electricity per year and meet the electricity demand for 1.25 million local residents.
"There is also a surging need for trade in the energy sector," said Huang Ge, director at China-ASEAN Expo Secretariat.
The China-Myanmar crude oil pipeline, for instance, has carried a total of 8.9 million metric tons of crude oil into China after one year of operations, according to Xinhua.
"We will enlarge booths for exhibition in the energy sector by 48 percent for this year's China-ASEAN Expo," Huang said.
The China-ASEAN Expo is a regional summit that promotes bilateral trade. It will be held from Sept 12 to 15 in Nanning. Neighboring Vietnam, Guangxi is seen as China's trade pathway to ASEAN countries.
"We hope to see more logistics companies presenting their products and techniques at this year's expo for more business opportunities and cooperation," said Huang, adding cooperation in logistics has increased since the development of the Southern Transport Corridor.
The Southern Transport Corridor is a transport artery linking China's western provinces with ASEAN countries through the Beibu Gulf in the southern Guangxi Zhuang autonomous region.
"Also, as China is increasing its import of seafood, tropical fruits, and beverages, there is a huge need in cold chain and multi-channel logistics because fruit and seafood transport has special requirements like low temperature and time-bound delivery," said Huang.
China-Malaysia Qinzhou Industrial Park, a business incubator mainly for logistics companies, was co-funded by Chinese and Malaysian governments and seeks to offer services for companies in these sectors. The park's total output surpassed 3 billion yuan in 2017 and is set to surpass 10 billion yuan this year.
Countries like Singapore, a global logistics hub and a financial center located in South Asia, has also been active in facilitating bilateral trade.
In addition to cooperating with China in the Southern Transport Corridor project, Singapore launched the world's first trade blockchain that allows trade documents to be shared among port operators, shippers and business owners.
"We believe our blockchain technology can help create greater trust among cross-border traders in ASEAN and countries participating in China's Belt and Road Initiative and the Southern Transport Corridor. Trade between ASEAN and China would become the single largest transaction between the two regions and we hope to facilitate this," Eugene Wong, chairman of CrimsonLogic, developer of the platform, told CNN.
In addition to energy and logistics, textiles, electrical appliances, and car accessories will have the potential to further energize the growing cooperation between China and ASEAN," said trade expert Lin Guijun of the UIBE.
"We are also promoting cross-border e-commerce at this year's China-ASEAN Expo," said Huang. "We see it as an inevitable trend that will bring an upgrade to trade forms."
Lin said: "The key to future trade growth lies in two aspects: further efforts to deepen China's opening-up process like cutting tariffs, and an upgrade of ASEAN's production and manufacturing so that more ASEAN goods can reach China."