Celebration of creativity picks up in Chinese cities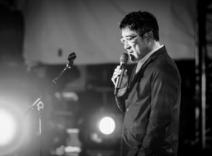 "I have been writing songs my whole life because that's what I love to do. I hope that the Simple Life Festival is a place for you to encounter beautiful things, become inspired and be creative," says Lee.
For the three new cities the Simple Life Festival is heading to this year, Chia has a clear idea about each location's creative industry. For example, he notes that Chengdu, the capital city of Sichuan province, has a strong base for indie music and people are educated about underground music. Meanwhile, Xiamen, a costal city in Fujian province, has a large number of bars and cafes and a relaxing atmosphere that is conducive for cultivating local talent.
"I travel a lot and with each city I visit, I go to the most popular live music venues and places that gather local creative products, because they show the vibrancy of the local young people and their tastes," Chia says.
"We combine local bands with creative brands in the Simple Life Festival. People expect to see how the vibrant local art scene blends together with the lovely spaces we choose for the festival."
Music fan Ma Le, who first attended the Simple Life Festival in Shanghai in 2017, is already looking forward to this year's event.
"I am looking forward to the festival in Shanghai, which runs for seven days and has a variety of events. I also want to see how it presents the theme of 'simple fire' in Wuhan, a new city it will visit this year," says the 29-year-old who works in Guangzhou, Guangdong province.
"There were both new musicians and established stars, and there is a variety of styles of music. I was also surprised to run into some old friends there."
Huang Jiashi, 37, has been attending the Simple Life Festival in Shanghai since 2015. She was first drawn to the musicians featured, especially singer-songwriter Ding Wei, who had withdrawn from the limelight for years before returning to the stage to perform at the festival in Shanghai in 2017.
"When I actually arrived at the festival, I found out that it was more than just music. I was surprised to see some original and creative products. I made some new friends there," Huang says.
Contact the writer at chennan@chinadaily.com.cn