Wuxi rolls out incentives to spur growth of new industry
Policies released to prioritize the role of internet of things
Wuxi has given priority to the internet of things industry, to develop strategic emerging industries and promote the upgrade of other local industries, according to Li Xiaomin, Party chief of the city in East China's Jiangsu province.
Li said that the operating income of the IoT industry in Wuxi last year was 243.7 billion yuan ($35.6 billion), accounting for approximately 50 percent of the sector's total of Jiangsu province and 25 percent of the whole country in this field.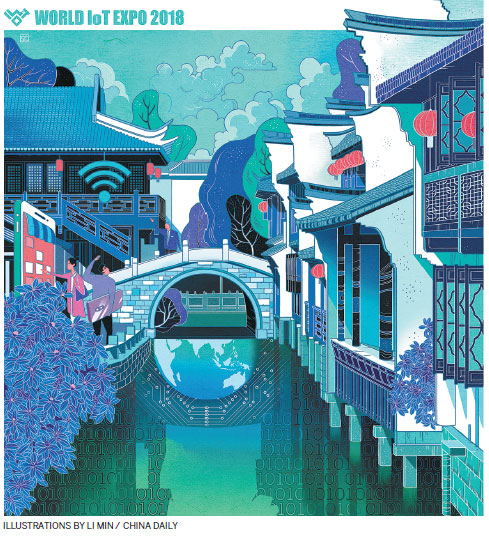 Covering design, manufacturing, data collection and transmission, intelligent applications and services, Wuxi's IoT industry has formed a relatively complete industrial chain, Li added.
The number of IoT companies in Wuxi has exceeded 2,000 to date, and they currently employ more than 180,000 people.
Wuxi has also become a gathering place for IoT institutions and professionals, with 44 key R&D facilities in this field, and a total of 13,000 high-caliber professionals, including 75 members listed in the One Thousand Talent Plan, a national program for attracting high-level overseas professionals, Li added.
"To create a sound business environment for the IoT industry, Wuxi has implemented a number of policies to support its growth, and accelerated the construction of all kinds of public service platforms and information infrastructure," Li said.
Li said the new policies for IoT industry announced by the Wuxi government in February have expanded support for a range of fields, and highlighted a comprehensive support system that covers development, innovation, application and promotion, and industrial ecology. Eligible IT companies in Wuxi will be able to enjoy the benefits of these policies.
More efforts will also be made to improve people's quality of life with internet of things technologies in Wuxi, improving public service in terms of transportation, sports, culture, tourism and education, Li added.
Li said that the city's government will make more efforts to collect and share data and create overall strategies to manage administrative and social data resources, aiming to build the city into a highly efficient, energetic and safe city.
Wuxi set up the National Sensor Network Innovation Demonstration Zone in Wuxi High-tech District in 2009, which is the only IoT innovation demonstration zone in China so far, indicating the leading role of the district, said Wang Jinjian, vice-mayor of Wuxi.
Wang added that the output value of the IoT industries in Wuxi High-tech District exceeded 140 billion yuan last year, and the year-on-year growth rate reached 16.4 percent in the first half year, as it continued to maintain a rapid development momentum.
"To support the development of the emerging industries in Wuxi High-tech District, we have set up a new development fund of 5 billion yuan this year and more than 1,100 enterprises have received financial support up to now," Wang said.
Zhu Yijun, general manager of adSage, a Chinese digital advertising technology company, said that it is an important move for the company to enter the market in Wuxi, helped by the great innovation support from the Wuxi city government and the innovative service centers in Wuxi High-tech District.