Nation helps others restore heritage sites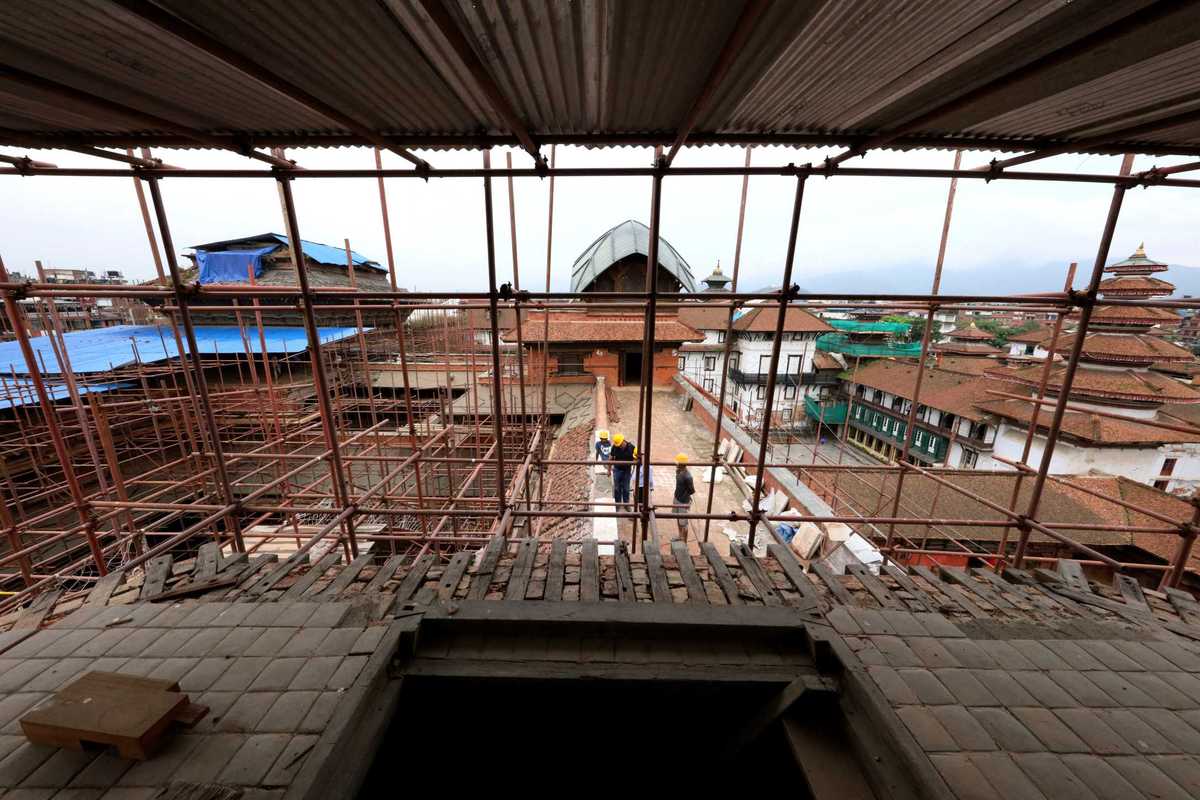 More projects on the way
More places in Asia are now benefiting from the academy's expertise.
On April 25, 2015, a devastating earthquake hit Nepal, leaving the World Heritage sites there in danger. According to research by the academy, 17 percent of the architecture in Kathmandu Durbar Square in the Nepalese capital collapsed or was destroyed by the quake. When UNESCO called for different countries to join hands to restore the relics, China responded quickly.
Restoration of the nine-story Basantapur Tower, which dates to 1770, began last year and is scheduled to last for five years. The site, covering 5,600 sq m, housed a former royal palace, but the tower was in ruins when Yuan arrived.
"It has heavy religious, cultural and political significance," she said. "Every step needs frequent coordination with the local authorities and rigid adherence to local culture. Still, it is a precious opportunity for us to unveil the roof of the Nepalese palace."
One courtyard in the complex was open only to Hindu pilgrims. Although experts from the academy wanted to include it in the restoration work, they decide to respect tradition and leave it untouched.
Sometimes, contradictory ideas arise, but some obstacles can be overcome through negotiation.
One beam was added in the 20th century to strengthen the palace structure. Nepalese restorers wanted to remove it to reveal the original facade, but their Chinese counterparts feared the stability of the building would be effected if it was taken out.
To resolve the situation, administrators of the relics were invited to Sichuan province in July to see how cultural heritage destroyed in the 2008 Wenchuan earthquake had been restored. "We also organized an international symposium to find the best solutions," Chai said.
As there is not enough room in Kathmandu Durbar Square for a new construction framework to be erected for the tower, this will be done at the National Museum of Nepal before being moved to the square.
"The interesting thing is our working procedure there has become a live exhibition," Yuan said. "It's good for people to know how we restore architecture."
In Uzbekistan, the ancient city of Khiva, a UNESCO World Heritage site built between the 17th and 19th centuries, is another example of the academy beginning restoration work. The Amir Tura Madrasah and Khasahmurad Mosque are among the first sites in the city being restored in the project, which began in 2016.