Nation helps others restore heritage sites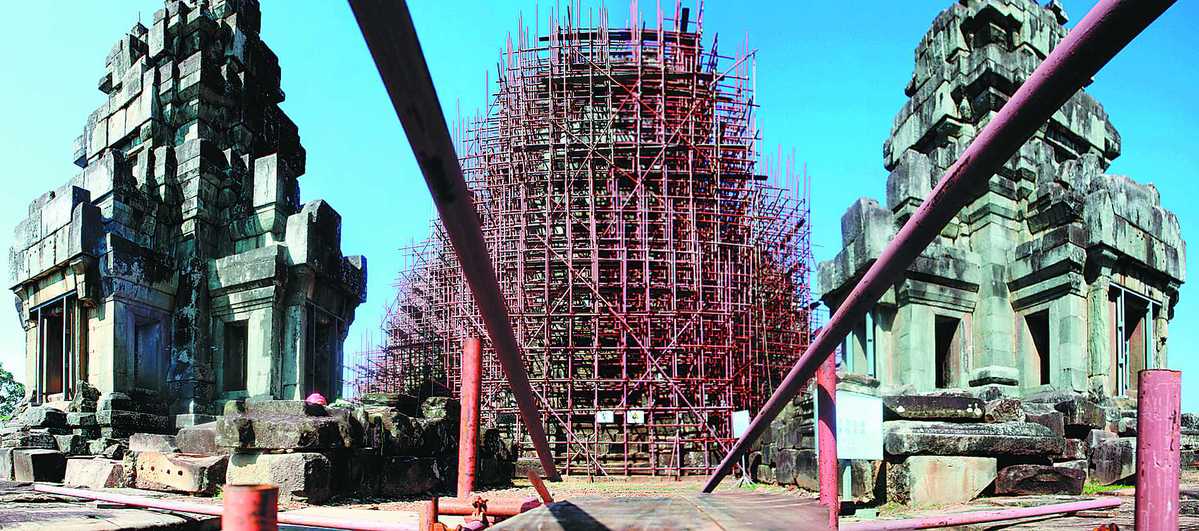 Step by step
Ta Keo is not the first site at the Angkor complex to be restored by Chinese.
From 1998 to 2008, the academy restored Chau Say Tevoda, a smaller temple covering 1,600 sq m. This was the first time China had been involved in international cooperation to conserve cultural heritage.
Chai Xiaoming, director of the academy, said China at that time was not experienced enough to take on a major project such as Ta Keo. ICC-Angkor was presided over by France and Japan, and both countries were given several major sites to restore, as were other Western countries such as Germany and the United States.
"It was more like an engineering project in the case of Chau Say Tevoda," Chai said. "We consolidated the construction and saved it from falling apart."
Only a small archaeological research project was carried out in this case, mainly to check whether the restored architecture was in the right position.
"Nevertheless, as our experience has grown in the past two decades, the restoration of Ta Keo became a comprehensive research program," Chai said. "It cannot be compared with fixing a house. We have to consider far more."
After detailed research, restoration of the temple was divided into 24 tailored projects, each covering a specific area of the building.
Apart from restoring the architecture, improving the environment played a crucial role, because damage caused by a poor sewage system and heavy vegetation posed safety concerns.
Ideas on the restoration of cultural relics vary among countries. Plenary sessions of ICC-Angkor were held once a year, and as any major restoration plan at the Angkor complex had to be discussed by the international committee, there was often lively debate among the different nations.
For instance, experts from other countries often tend to use chemicals to fix loose stones because such work is hard to see with the naked eye, while Chinese experts prefer to use traditional materials along with physical labor.
"It's our responsibility to tell tourists once some areas of the temple have been fixed," Chai said. "It's also important to avoid further damage being caused through using unproven methods. We have to fully elaborate our plans and make them better understood by others."
For Yuan, coordination with different countries is also an important part of their daily work. "Experts come from different countries," she said. "But they all come here to save Angkor relics. So, we often help each other."
She said all the stones needed for restoration work at the Angkor complex had to be dug from a single quarry. A shortage of labor as well as the weather conditions during the rainy season made this work more difficult.
"Then, we would borrow stones from other nations' teams," Yuan said. "The next time, they may also borrow some from us."
As France has conducted in-depth studies on the complex since the late 19th century, Chai said cross-border academic communication is indispensable.
"We cannot just shut the door and repeat research that has been done by others," he added. "It's great to have a good atmosphere in Angkor for close cooperation. French experts provided us with many valuable files."
These studies help the restoration work as well.
The construction of Ta Keo was never completed. French studies in the 1950s indicated that work was halted because the temple was hit by lightning, and the ruler considered this a bad omen. Chinese experts have respected the temple's history, leaving the uncompleted part as it was.
Many Chinese studies on sites at the complex have been carried out over the years.
In 1296, Chinese diplomat Zhou Daguan arrived in Angkor, the capital city of the Khmer Empire, and wrote The Customs of Cambodia, detailing his observations of Khmer society over a one-year period.
Now, an ongoing project by the academy aims to study Sino-Khmer relations through the evidence found at the complex that echoes observations made in Zhou's book.
Chai also expects to establish China's own systematic knowledge of Angkor studies through viewing the Buddha images, stone sculptures and other relics.
"On the one hand, we help to restore relics in Angkor," he said. "On the other hand, we are also helped greatly by being exposed to another culture."
Chinese experts who have proved their ability through their work at Ta Keo will soon have a larger stage on which to display their talent.
According to an agreement between the academy and the Cambodian management body, the Authority for the Protection and Management of Angkor and the Region of Siem Reap, commonly known as APSARA, the ruins of the Royal Palace of Angkor Thom have been opened for Chinese conservators to work at the site.
Preliminary archaeological research on the site, which covers 130,000 sq m, has been carried out by using high-tech approaches such as 3D-modeling and aerial photography by drones to prepare for the restoration.
"This large relic will mark another important step for us," said Chai, who estimates that more than 100 people from the academy have taken part in Angkor conservation programs.
Inspired by the system used to protect Angkor, a similar international joint framework was launched at Preah Vihear, another UNESCO World Heritage site in northern Cambodia, on the Thai border.
The International Coordination Committee for the Temple of Preah Vihear, which was founded in 2014, is now presided over by China and India. The academy has done some preliminary research on the site as well.