WeBank to build blockchain-based business ecosystem
Share - WeChat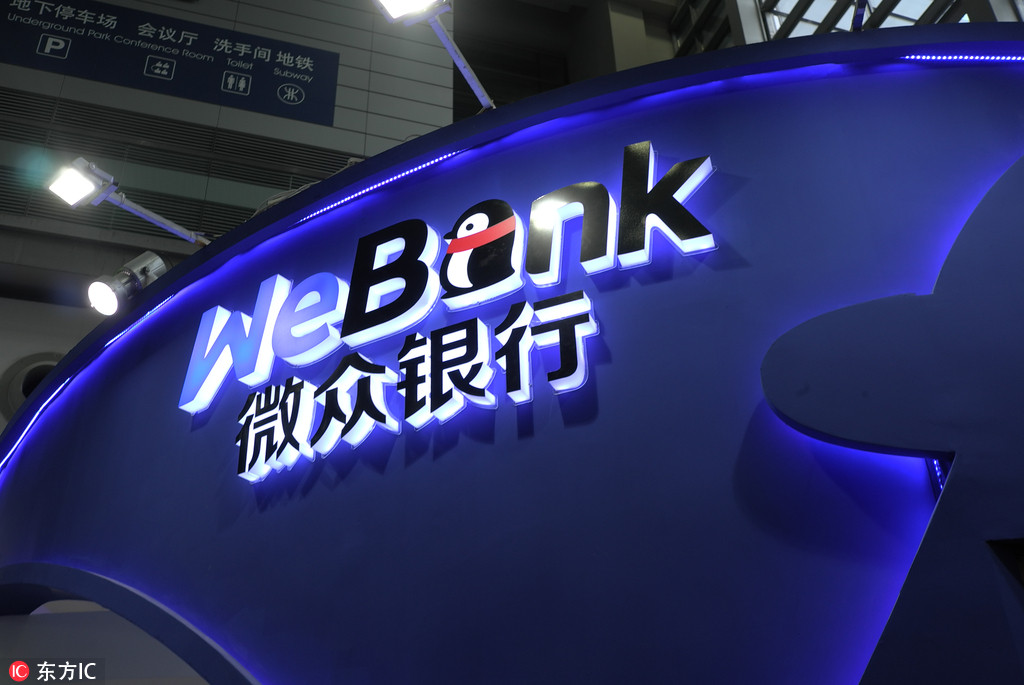 WeBank, China's first private and digital-only bank, said it plans to build a world-class blockchain-based business ecosystem, as the world's leading financial institutions start to explore feasible applications for the cutting-edge technology.
Henry Ma, vice-president and chief information officer of the Tencent Holdings Ltd-backed e-bank, promised open-source code, free software and an open interface, in order to bring in partners from all industries.
He said the key for widespread adoption will be new business models.
The digital bank announced its Collaborative Business Infrastructure strategy recently, integrating its artificial intelligence, blockchain, cloud computing and big data technologies.
Blockchain has been a buzzword for years, but few real-life applications have been implemented at scale, except for cryptocurrencies. That situation looks set to change.
Worldwide blockchain spending is expected to hit $1.5 billion in 2018, double the expenditure in 2017, and is set to reach $11.7 billion in 2022, according to a report from global consultancy International Data Corp.
Xue Yu, a research manager at IDC China's industry and new technology research department, said the issues enterprises care about are changing from "what is blockchain" or "why use it", to "how to use it".
More real life applications will emerge in 2018, helping the market to mature, Xue said.
Major investors in the sector will come from the United States and Western Europe, representing 70 percent of the world's total, according to the report. China will likely rank third, it said.
Some of the world's most notable blockchain consortiums come from the US, such as R3 and Hyperledger, which have attracted JP Morgan, HSBC, IBM and hundreds of other top firms.
Although many Chinese companies remain skeptical, pioneers have risen up. Wanxiang Blockchain Lab initiated a noncommercial organization, China Ledger Alliance, while China's internet giants, Baidu Inc, Alibaba Group Holding Ltd and Tencent, are also stepping up efforts to commercialize their blockchain technologies.
Alibaba's Ant Financial Services Group announced blockchain money remittance services for its AlipayHK wallet in June. The firm said it is the first of its kind globally.
"Blockchain is a significant opportunity for Chinese companies. It is as important as computer operating systems or databases, but these traditional technologies have long been dominated by foreign software providers," Ma from WeBank said.
He said the bank has laid a strong foundation and now aims to take its blockchain platform to the international stage.
One of WeBank's major applications of blockchain technology is its interbank reconciliation platform for its micro-loan product Weilidai, inserted into Tencent's popular social networking app WeChat. Given about 80 percent of its loans are provided by other banks, significant work in terms of clearing and settling is generated.
Traditionally, banks must each keep their own records of every transaction and check each other's books. But with blockchain technology, information is encrypted on one network and updated simultaneously on all sides in just a few seconds.
By the end of August this year, 15 million interbank reconciliations had taken place through blockchain networks with three banking partners since going live in August 2016.
WeBank's total profit surged 261 percent year-on-year to reach 1.4 billion yuan ($205 million) in 2017, with 80 percent coming from Weilidai.
The digital bank started to expand its blockchain implementation after initiating the Financial Blockchain Shenzhen Consortium in 2016, which has developed into one of China's largest. Dozens of applications, covering finance, supply chains, intellectual property and property management, have been carried out based on the consortium's open-source blockchain platform, FISCO Blockchain Open Source.