Electric car startup charging ahead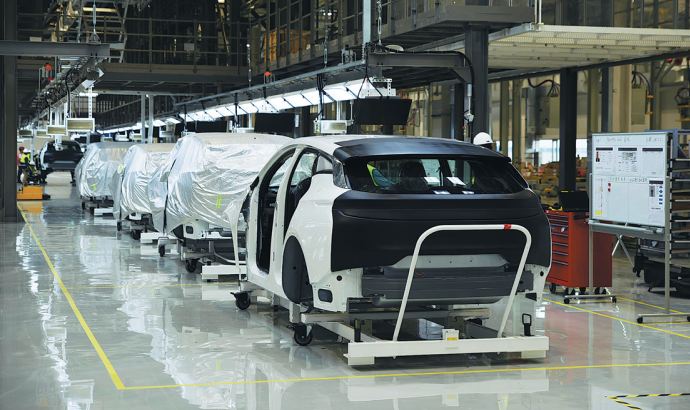 Electric car startup Byton is charging ahead on its path to roll off its first model, an SUV, in late 2019 as construction is well under way on the first phrase of its plant - with a designed annual capacity of 100,000 units - in Nanjing, Jiangsu province.
The trial production workshop at the 11.07 billion yuan ($1.62 billion) plant has been operational since April, and other units ranging from pressing to assembly are expected to be roofed by the end of this year, the carmaker said last week.
The first drivable engineering prototype was finished in late August at the plant, and the first model, called M-Byte, will be launched in the fourth quarter of 2019, said Duan Lianxiang, head of Byton's research and development in China.
The company has started to take orders for the model, which Byton said will have at least 85 percent of the features found in the concept car.
The concept SUV, which made its global debut at the Consumer Electronics Show in Las Vegas, the United States earlier this year, caught people's attention with a number of innovative features, most notably the 49-inch dashboard display.
Duan said electric startups must have innovative products and mass production capabilities if they want to survive and thrive in the country's competitive market, which has been a magnet for brands from around the world.
From the very start, Byton has envisioned its models as next-generation smart devices and aspired to turn driving into part of living with pleasant onboard experiences. Based on such an ambition, its first model, among other things, features a display that is much larger than those found in models currently available in the market.
But Duan said the display has more important features than its size.
"A big display is pointless if it is nothing but big. What is more important is the digitalized content we have been working on to offer customers a better experience," he said.
Duan did not elaborate on the details, but said more than half of the engineers at Byton work on user interfaces, man-to-machine interaction, as well as autonomous driving; the percentage of workers in such fields is usually no more than 15 percent at traditional carmakers.
In terms of mass production, however, Duan said electric car startups have to learn from their established rivals.
"The ability in mass production is even more important than products. In this aspect, there is no alternative to traditional carmakers' step-by-step methods. You can never bypass some steps. Otherwise you cannot ensure mass production as scheduled," he said. He said Byton will test hundreds of trial produced cars under all kinds of conditions to ensure the quality before the first model will be mass produced.
"Our difference from traditional carmakers is we can do it faster as we have only one model. We focus all our resources on its development and finish all validation processes efficiently, without bypassing any of them."