Auto startup in $500m fundraising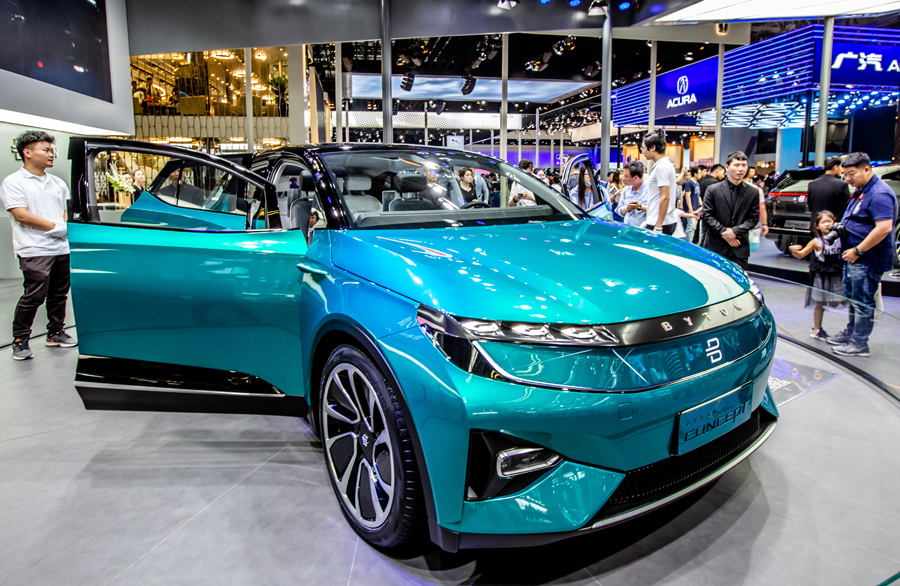 Investment to be funnelled into Byton's flexible vehicle manufacturing platform
Thanks to a recent $500 million B round of fundraising, automobile startup Byton will accelerate its production, and research and development of China's first vehicle to feature an all-screen dashboard.
Two-year-old Byton announced on Monday that the fundraising was led by its strategic partner FAW Group Corp and TUS Holdings Co Ltd. Contemporary Amperex Technology Co Ltd and the Jiangsu Belt and Road Initiative Investment Fund were also among the major investors.
Carsten Breitfeld, CEO and co-founder of Byton, said the company was "very happy" to attract such names in the fundraising, and that FAW Group contributed more than half of the total amount.
"The majority of the funds will be invested into a flexible manufacturing platform. This will now put us in a position to move forward at a high speed to industrialize our product," he said.
The company's flexible manufacturing platform will be capable of producing at least three products, including its first SUV, a sedan and a multi-purpose vehicle, according to Breitfeld.
The startup's first three mass produced cars rolled off the assembly line on Monday at its Nanjing, Jiangsu province, manufacturing base, ready for crash testing in Tianjin in the next several days.
The first product, a fully electric SUV, will feature a 49-inch (124 centimeters) curved screen dashboard, gesture and voice control, and facial recognition technology. It will be capable of level-three eyes-off automated driving, which is mainly used on highways, and will later be upgraded to level-four, known as minds-off automation, according to the company.
New autonomous driving vehicle makers are enjoying enhanced reputations among Chinese customers, according to Andy Zhou, a Shanghai-based partner of Deloitte Consulting.
"Chinese consumers are pinning their highest hopes on new autonomous driving vehicle companies, with their trust based on their technologies' reputation. Their trust in new autonomous driving vehicle companies is about twice that for traditional carmakers," Zhou said.
However, Li Shufu, chairman of Zhejiang Geely Holding Group Co Ltd, said last week at the Global Automotive Forum in Chongqing that a newly established automobile company might need hundreds of billion of yuan in constant investment to transform itself into a profound and renowned automaker.
The sales volume of fully electric and plug-in hybrid cars surged by 125.6 percent in May from a year earlier to 102,000 vehicles. Total sales of new energy vehicles rose to 328,000 units for the first five months of the year, up 141.6 percent on 2017, according to the China Association of Automobile Manufacturers.
Released on Monday, the association's data showed the Chinese auto market continued its expansion in May by 9.6 percent year-on-year, with 2.29 million vehicles sold. Total vehicle sales in the first five months of the year climbed 5.7 percent year-on-year to 11.8 million units.