China's Evergrande becomes world's most valuable property brand
Share - WeChat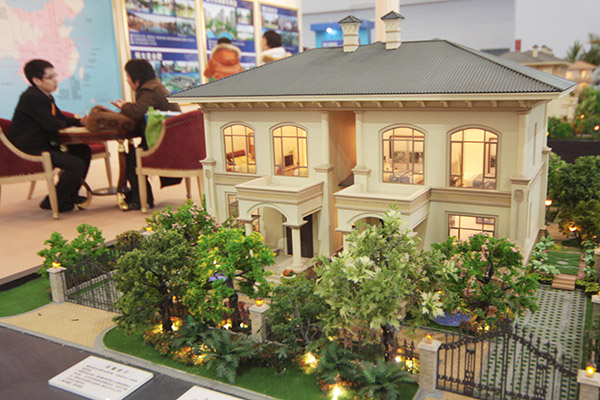 Chinese property heavyweight, Evergrande, has become the world's most valuable real estate brand with its brand value more than doubling over the last year to $16.2 billion, according to a new report.
Brand Finance, a London-based brand valuation consultancy, has evaluated the 25 world's most valuable real estate brands of 2018.
Its research revealed that Chinese real estate brands account for nine of the world's top 10 most valuable brands.
Evergrande is China's second-largest property developer as well as the owner of the Guangzhou Evergrande Taobao Football Club, which won both the Chinese FA Super Cup and the Chinese Super League championship last season.
In addition to becoming the most valuable real estate brand in the world, Evergrande has also emerged as the fastest-growing brand in the list last year at an eye-watering 118 percent increase in its brand value.
David Haigh, CEO of Brand Finance, said "Evergrande's superb results can be attributed to fruitful net profits over the past year, a credit to the company's tactical cost cutting, delivering properties of a larger square footage area and in turn generating higher sales."
Other fast-growing brands included Longfor Properties (up 78 percent to $4.8 billion), China Merchants Shekou (up 67 percent to $1.3 billion), and Sun Hung Kai Properties (up 60 percent to $3.9 billion), even though each grew from a lower base.
Dalian Wanda Commercial Properties fell significantly by 8 percent to $7.8 billion, losing the number one ranking and dropping to third. This change of fortune coincided with the brand's movement away from property development toward a focus on alternative business opportunities.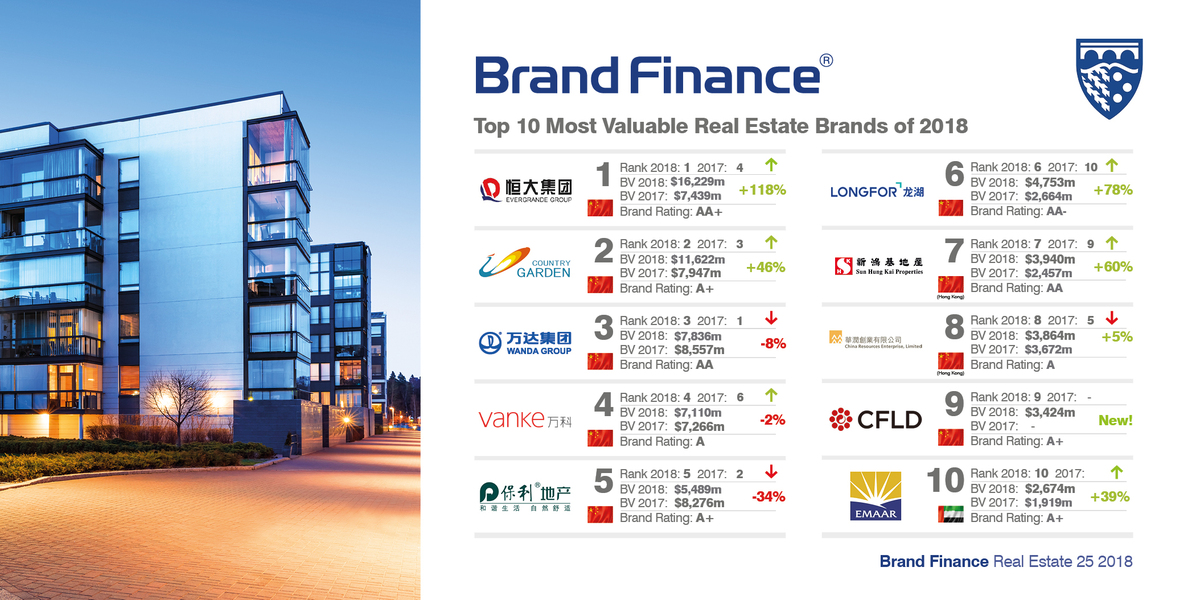 "The global property market has endured cycles of boom and bust, and the Chinese property market is unlikely to be substantially different in the future," Haigh said, "Evergrande is posed to ride the surge, but Dalian Wanda's move away from traditional property development represents an effort to build the value of their brand outside the cyclical nature of this industry.
The Brand Finance Real Estate 25 ranking as a whole features 17 Chinese brands, including ten brands from Chinese mainland, and seven from Hong Kong.
Haigh pointed out that these brands have experienced sky-rocketing revenues due to the boom in the Chinese market in recent years, but there are some indications that the boom is coming to an end.
The National Bureau of Statistics for China observed a housing prices contraction in tier-one cities such as Beijing, Shenzhen, and Shanghai, and a slowdown in the growth of prices in tier-two and tier-three cities.
"In a bid to pre-empt a sense of crisis or a property market crash, the authorities have warned in recent months against speculation in the residential market," Haigh said.
Beyond the Chinese brands, the most valuable real estate brands in the world are the United Arab Emirates' Emaar Properties, with a value of $2.7 billion, followed by US brands Simon Property Group ($2.1 billion) and CBRE ($1.9 billion).