Weather, visa-free entry are attracting tourists
Share - WeChat Chinese tourists are increasingly flocking to Africa for vacation, with the number up 70 percent year-on-year from January to July on Ctrip, a major online travel agency in China, according to its figures.
Visits to the continent by Chinese travelers rose 60 percent last year over 2016, with most heading to Egypt, Mauritius, Morocco, South Africa and Kenya, latest numbers from the company show.
Promotional policies such as visa waivers have played a key role in the tourism boom, according to Hu Wenyu, Ctrip's regional manager for the Middle East, Africa, Australia and New Zealand.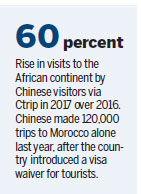 For example, in 2017, Chinese made nearly 120,000 trips to Morocco via Ctrip after the country introduced a visa waiver for tourists from China in June 2016, Hu said.
"The number of visits reached 100,000 in the first five months of 2018," she added.
African countries, especially those in the eastern and southern parts of the continent, have emerged as popular destinations for travelers looking to avoid summer heat waves, according to Ctrip.
"Australia and New Zealand were traditional destinations for Chinese for summer holidays, but Africa has become a popular choice in recent years," Hu said. "Kenya, in the east, has an average temperature of 17 C year-round, which is ideal."
Huang Yan, general manager for the central and eastern Africa region at China Youth Travel Service, said Kenya attracts tourists through its wildlife migrations in July and August, which is when schools break for summer on the Chinese mainland.
She said a growing number of Chinese are heading to Africa to avoid summer heat waves, particularly Kenya, Tanzania, Tunisia and Morocco.
Prices for summer tour packages from China Youth Travel Service range from 14,000 to 36,000 yuan ($2,050 to $5,270).
"The diverse climates in Africa also offer choices to tourists in winter," Huang added. "Egypt, for example, is more suitable for traveling in winter as the lowest temperature is about 10 C, while countries like Tunisia and Morocco enjoy pleasant weather year-round."
She said tourism between China and African countries will benefit from deepening cooperation in economic and cultural sectors, and predicted more quality travel packages focusing on cultural heritage and cruises will be developed to further boost the tourism market.