Black Panther fans can find glimpses of Wakanda in Africa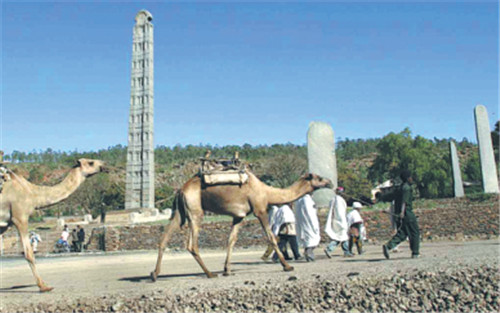 Want to go to Wakanda? The blockbuster success of Black Panther has created a new, compelling vision of Africa as a continent of smart, technologically savvy people with cool clothes living in a futuristic city amid stunning landscapes.
The hidden, high-tech kingdom is fictional, of course. But the movie successfully weaves together many different aspects of the continent to depict Wakanda. For fans who long to visit, there are many real places to consider.
"The movie references a lot of different African cultures and tribes," says Meruschka Govender, a Black Panther fan who blogs about travel at MzansiGirl.com and calls herself an "African travel activist".
"I loved the Afro-futurist costumes, production and black-consciousness themes. I really hope that it changes the narrative of African travel and inspires people to travel more the continent," she adds.
Johannesburg
In South Africa, Johannesburg is a good place to start. "Joburg" is a dynamic, cosmopolitan African city, full of commerce, high-rise architecture and nightlife that is redolent of Wakanda.
The high-speed Gautrain can whisk you from O.R. Tambo International Airport to Johannesburg's shiny financial center Sandton, with its modern skyscrapers. The train is quick, clean and pleasant.
Joburg's Braamfontein district is hip, edgy and fun. University students and hipsters frequent the coffee shops, restaurants and boutiques. By night there are fun bars and jazz clubs.
The striking Nelson Mandela suspension bridge leads to gritty downtown Johannesburg. Braamfontein has come up in the past 10 years from a derelict, dangerous spot to a great place to visit.
Rocky Street in Yeoville is a bustling, hustling strip full of people selling their wares. South Africans, as well as Zimbabweans, Congolese and people from all parts of Africa are there.
Security is a concern in Johannesburg, but if you are alert and careful-don't flash your phone or cash-it can be a manageable city.