Carving out a niche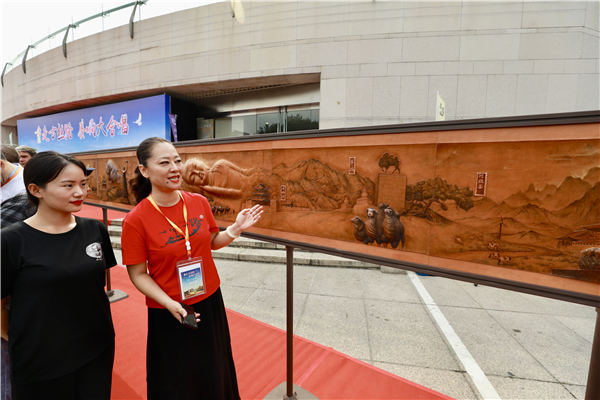 A group of artisans spent a year creating an expansive leather tableau depicting places on the ancient Silk Road.
Jia Yufeng was more than thrilled when a scroll of leather carvings she had spent a year working on became the center of attention for visitors to Ordos in the Inner Mongolia autonomous region in late August.
The 27-year-old from Beijing played a significant role in bringing the 8.8-meter-long embossed artifact to life, which saw deserts, camels, reclining Buddhas and architectural landmarks vividly carved out of dark brown cattle hides to form one expansive, three-dimensional tableau.
The elements represent 17 cities from 10 countries on the ancient Silk Road, including China's Dunhuang and Hungary's Budapest.
Each scene appears to take on a life of its own and jumps out from the animal skin, thanks to the delicate concave and convex contours and the artful application of color and highlights.
"It was really surprising to see an icon of my hometown appear on a Chinese artifact," says Mellate Dilnar, who comes from Almaty, Kazakhstan, when she saw the monument that commemorates the country's liberation depicted in the scroll.
"I personally felt elated when I saw it," she says.
Dilnar is currently studying comparative literature and cross-cultural studies in Beijing.
"The leather carving is just one of the many Chinese cultural elements that amazes me."
The sculpted hide was presented as an example of intangible cultural heritage from Inner Mongolia at the start of the Ancient Silk Road tour that kicked off in Beijing on Aug 28.
The tour was initiated by the Chinese People's Association for Friendship with Foreign Countries, which aims to promote trade and cultural exchanges around the world.
It is set to continue through Sept 29, covering significant sites in seven countries in Asia and Europe.
Business talks, youth forums, cultural exhibitions and sport exchanges will be staged during the tour.
Seeing a positive response from audience members like Dilnar and their love for the ancient art of leather carving, Jia felt that all her team's hard work and effort were well worth it.
It took her a year to finish the leather carving with six of her colleagues.
"Making the scroll was physically demanding, but the work was a labor of love," Jia says.
They had to keep their eyes trained closely to the hide to ensure precision, and they changed positions from time to time to work on different areas of the vast artifact.
In winter, water had to be sprayed onto the hide every 10 minutes to keep it supple enough for sculpting, Jia says.
Their hands soon became chapped because they had to wash their hands every two hours to prevent the hide from absorbing sweat and oil over the winter months.
"What's more, we couldn't wear too much because thick clothes would often get in the way of precision carving," she adds.