'Lady Messi' weaving magic to justify hype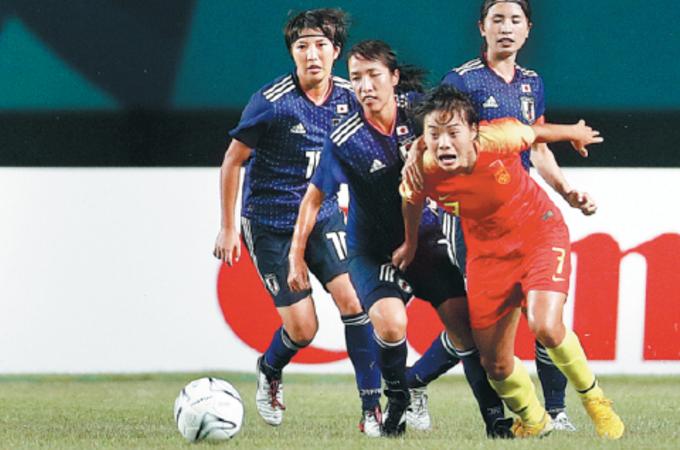 The cream of China's female soccer scene in recent years have affectionately come to be known by nicknames referencing their male counterparts-"Lady Wayne Rooney" (Ma Xiaoxu) and "Maradona in a skirt" (Sun Wen) being the most well known.
Now rising star Wang Shuang has earned arguably the most flattering moniker of all-"Lady Messi".
The homage to the Barcelona megastar certainly befits Wang after she was thrust into the global spotlight by joining European giant Paris Saint-Germain on a two-year deal before grabbing more headlines over the last two weeks by lighting up the Asian Games in Jakarta.
Wang's six goals, including a hat-trick in the 5-0 quarterfinal win over Thailand, helped fire China to a final meeting with Japan. Her playmaking prowess has also been key to reviving China's fortunes, with her fine pass unlocking the Chinese Taipei defense to set up Wang Shanshan's winner in Tuesday's 1-0 semifinal triumph.
The 23-year-old's stellar form has made a mockery of pre-tournament concerns that her high-profile transfer to France might distract her from the business at hand in Indonesia.
"After all, the national interest is above everything," said Wang. "The Asian Games is an urgent duty call. It's my only priority and I have put all my attention on the Games. "My ambition is to help the national team to top honors. We thoroughly prepared for the challenges we've faced and confidently displayed our dominance in Asia."
Coach Jia Xiuquan's grueling "hell model" training camp whipped Wang and her teammates into shape before the tournament kicked off.
The team's serene progress to the final-five wins without conceding a goal-made the pain all worthwhile for the PSG ace.
"He is a very strict coach who does not tolerate a single mistake," said Wang. "For skills, tactics and positioning, he focuses on every detail, and that's the reason why we are confident and have played so well.
"I really want to thank him for coming to coach us. Of course, there is pressure playing under the coach. To be honest, he's probably the toughest coach I've ever had.
"We have to spend three hours on strength training and six hours training in total each day. Altogether, we might run 15,000 meters a day. But it's paying dividends."
After the Games, Wang's focus will shift to PSG.
The transfer is a major milestone for Chinese soccer, making her the nation's only female player plying her trade in a big European league.
The experience she will garner at PSG will likely be extremely important for Team China's chances at the 2019 FIFA Women's World Cup in France.
"It's a new club for me, and I will try hard, given I'm an Asian player in Europe," said Wang.
"I will not put too much pressure on myself. I will do it step by step. I'll try my best to prove myself and try to earn the trust of the coach.
"Getting used to Paris one year ahead of time will be a big help for my World Cup campaign. I have strong faith in this team."
Wang revealed she has received some tips from the now-retired Sun Wen, who played with the Atlanta Beat in the United States from 2001-02.
"She told me a lot about the difficulties she faced when she was in the US," said Wang. "The toughest part is being alone. She told me to stay focused and take advantage of the opportunity to learn more because it will be a huge help to me in the future."