Plugged into the dawn of a new age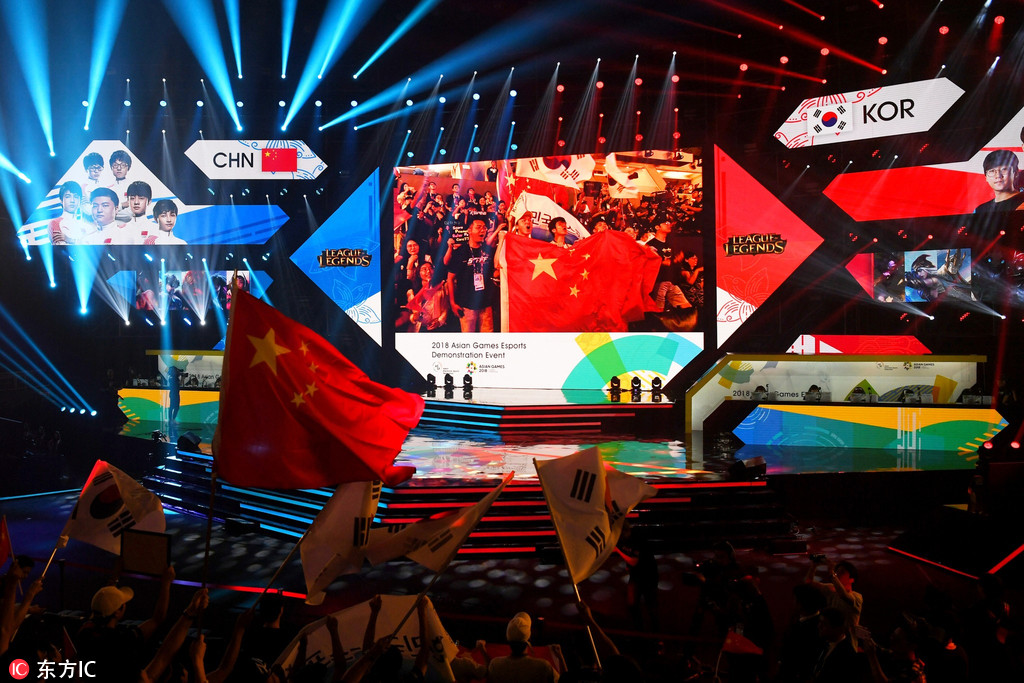 China's gamers at the forefront of global push for acceptance
For the first time ever, the Asian Games on Wednesday raised China's national flag and played the national anthem in honor of video gamers.
With e-sports joining the Asian Games for the first time as a demonstration sport in Jakarta, China won two gold medals and a silver in three of the six events: League of Legends, Clash Royale and Arena of Valor-the latter of which is an international version of China's homegrown hit King of Glory.
It's a win-win situation for both the Asian Games and e-sports, as the Asiad has long coveted the attention of the younger generation while e-sports had been seeking recognition as a legitimate competition.
Since the start of these Games, e-sports coverage has been a hot topic on Chinese social media, with all platforms flooded with billions of likes and reposts-including from those who formerly considered gaming an enemy of kids and students.
"E-sports is no longer a subculture of kids playing games in the basement," said Kenneth Fok, president of the Asian Electronic Sports Federation.
"It is true sport, practiced in a professional, systematic manner. And our athletes require the same physical and mental capacity as athletes in traditional sports."
Convincing others of that hasn't been easy.
Jian Zihao-aka Uzi-is considered the best League Of Legends player on the planet. But the 21-year-old captain of Team China's LOL squad was not encouraged by his parents when he decided to pursue his e-sports dream.
"My parents even dragged me out of an internet bar where I was playing in order to spank me because they did not understand my choice and tried to stop me from playing," said Jian.
Jian's experience exemplifies the challenging journey of the entire industry.
"Adding e-sports to the Asian Games was much tougher than we thought," said China's Wei Jizhong, honorary life vice-president of the Olympic Council of Asia.
"After long negotiations, we agreed on three principles: no violence, making sports games a priority and guaranteeing fairness. E-sports is a popular trend among young people. We can never cut this connection with the young."
Another crucial factor is the huge fanbase and mammoth industry.
China's e-sports market value reached 5 billion yuan ($750 million) last year and is expected to hit 8.48 billion yuan this year according to the China E-sports Development Report published by Chinese tech giant Tencent, which owns three of the games included in the Asiad competition.