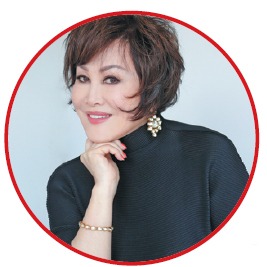 Yue-Sai Kan
TV host, producer and entrepreneur
EARLY LIFE:

Yue-Sai Kan was born in 1946 in Guilin, now part of the Guangxi Zhuang autonomous region, and grew up in Hong Kong. In the late 1960s she studied piano at Brigham Young University in Hawaii.

TELEVISION WORK:

In 1972, she moved to New York, where she formed Yue-Sai Kan Productions and created her first major TV production, a weekly series called Looking East.

In 1984, PBS invited her to host the first live broadcast from China to coincide with the 35th anniversary of the People's Republic of China.

In 1986, the bilingual television series One World was produced and hosted by Kan and aired on China Central Television, the State broadcaster. Kan's other US TV credits include the ABC documentary China: Walls and Bridges, which earned her an Emmy Award.

BUSINESS VENTURES:

In 1992, she launched the Yue-Sai makeup brand, which became China's leading cosmetics company.

In 2008, she created lifestyle retail brand House of Yue-Sai with the aim of bringing style, elegance and inspiration to Chinese consumers.

Since 2011, Kan has served as national director of Miss Universe China and has championed Chinese creativity via her annual China Fashion Gala in New York.

HONORS:

To acknowledge her contribution, the Shanghai Soong Qing Ling Foundation sanctioned the establishment of the China Beauty Charity Fund and appointed Kan as ambassador and chairman.

In 2006, she started serving as chairman of the invitation committee for the Shanghai International Film Festival. Her title was changed to SIFF international ambassador in 2015.
TV host and fashion icon who introduced China to the world
Yue-Sai Kan broke the mold with her '80s travel show before launching an inspirational cosmetics line
WANG LINYAN
Today, Chinese people travel and study abroad, watch blockbusters at cinemas, order international fashion brands online, and do business with people from other countries.
But 32 years ago, in 1986, Chinese people mainly saw the outside world only by watching television at home-starting with Yue-Sai Kan's One World.
The 15-minute show, which aired twice a week in Chinese and later in English, was the first travel program on Chinese TV. It brought Western society to an audience of 300 million Chinese.
Viewers saw the pyramids in Egypt, the Acropolis in Greece, the River Thames in Britain, baseball games in the United States, and much more. The show was also packed with ideas and issues.
"In those early years, we talked about ecological problems, environmental problems, housing for the poor, equal rights for women in Sweden. I talked about things like that, which they (Chinese people) hadn't even started to think about at that time," Kan said. "The goal was to give a global view to the Chinese audience."
The show lasted a year, running for 48 episodes on China Central Television, the State broadcaster, and covering 14 countries. It made Kan the most-watched TV personality in the country.
The most remarkable part, Kan said, was that so many Chinese had not seen anything about the outside world before her program. It changed "the vision and mindset" of the Chinese people, she said.
"So many people would say to me, 'I never knew the outside world was like this. You really inspired me.' Sometimes when I walked in New York, women would come up to me and say, 'I want to thank you. I'm here because you inspired me to do this.'"
The program put her in the spotlight, winning rave reviews in the media and countless letters from fans. One magazine called her a modern-day Marco Polo, while The New York Times wrote, "Yue-Sai Kan's work augurs well not only for China and the US but also for the rest of the world."
"During my trips to China in the past year, I have been greeted with such great hospitality and affection, as if I were a returning relative or a long-separated friend," Kan wrote in her memoirs, also titled One World.
"Everywhere I went, I was deeply touched by the genuine warmth I encountered."
The book, published in 1987, came after Ai Zhisheng, then minister of radio, television and film, asked her to write about how she made the TV program.
"He said, 'We don't know how to make TV shows. This book will teach the Chinese people how to,'" she recalled. At the time, CCTV broadcast for just six hours a day, "so that's one of the most outstanding things I'd heard", she added.
Before the One World TV show received a green light from the authorities, Kan had to do three pilot shows. She wore a shirt and black jacket and little makeup, trying to "be very polite" and following the style of Chinese broadcast journalists of the day.
Kan recalled that, after watching the pilots, Ai asked her, "Did you dress like that in the US?" He encouraged her to present the program like she would in the US, "because we want to learn from you".
"That's amazing, you know," Kan said with a grin.