Alibaba, Amblin start filming 'A Dog's Journey'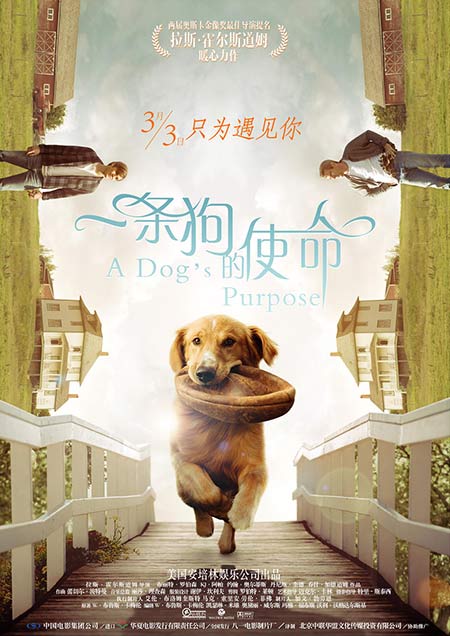 China's Alibaba Pictures announced on Monday it would work with Steven Spielberg's Amblin Partners and Walden Media to make a sequel to 2017's beloved "A Dog's Purpose".
"A Dog's Journey" reunites Dennis Quaid as Ethan with his cherished dog, Bailey, voiced by Josh Gad, who also returns. Marg Helgenberger, Betty Gilpin, Kathryn Prescott and popular Chinese Canadian singer and actor Henry Lau have joined the film, with director Gail Mancuso at the helm.
Both films are based on the best-selling books by award-winning author W. Bruce Cameron. The screenplay was written by W. Bruce Cameron and his wife Cathryn Michon, along with Wally Wolodarsky and Maya Forbes. Gavin Polone will produce the film.
"Our mission is to be a gateway for Hollywood into China and help great universal stories with positive energy maximize their potential with audiences in China and around the world," Alibaba Pictures president Zhang Wei said. "'A Dog's Purpose' was embraced by audiences globally with great storytelling and a heartwarming message. We are excited to build upon the success of that film by working with our partners at Amblin and Walden to bring the next chapter of this film to audiences around the world."
"With visionary director Gail Mancuso, we can't wait to share another beautiful story about the special bond between humans and their treasured dogs," said Amblin president and co-CEO Jeff Small.
Frank Smith, Walden Media's President and CEO, added, "'A Dog's Purpose' beautifully conveyed the unconditional love dogs bring to our families and lives, and we are excited to be portraying this unbreakable bond once again with 'A Dog's Journey'."
Published by Forge Books, "A Dog's Journey" spent weeks on the New York Times Best Sellers list and has been released in 36 countries around the world. The producers announced today that it has begun principal photography on "A Dog's Journey".
"A Dog's Journey" is the next chapter of the beloved best-selling series by author W. Bruce Cameron. The family film told from the dog's perspective serves as the much-anticipated follow-up to the soulful story of a devoted dog who finds the meaning of his own existence through the lives of the humans he teaches to laugh and love. "A Dog's Journey" will be distributed by Universal Pictures in the US and select international territories. Alibaba Pictures will distribute it in China.
"A Dog's Purpose" was a dark horse success in March 2017, grossing 606 million yuan (US$88.87 million) in the Chinese market, beating its US$64.5-million-gross in North America, and received rave reviews. It is also the first film imported into the Chinese market after Alibaba made a deal with Amblin in October 2016. Its box office success in China was one of the reasons that Alibaba Pictures decided to participate in the sequel.
The film is scheduled to hit US theaters on May 17, 2019, but the Chinese release date has not yet been determined.