Peppa Pig to celebrate Spring Festival on big screen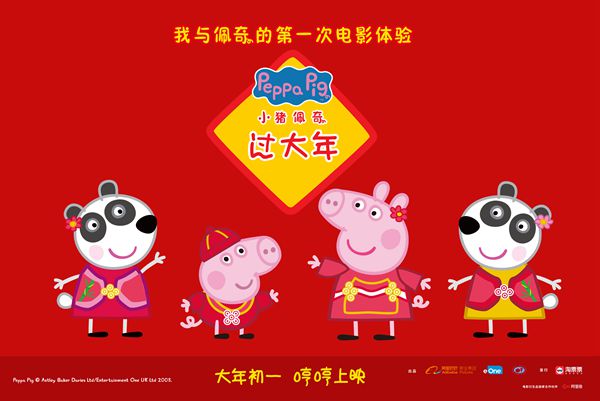 The beloved animated character Peppa Pig of Entertainment One (eOne) will appear on the big screen to celebrate Chinese New Year in a newly developed film project by the company and China's Alibaba Pictures Group.
Peppa Celebrates Chinese New Year, will be a feature-length adaptation of the popular children's TV series.
It will hit Chinese screens on the first day of Chinese lunar New Year, also known as Spring Festival on Feb. 5, 2019 -- China's most lucrative box-office season. Also, it is the first day to mark the Chinese Zodiac's Year of the Pig.
"This cooperation is an important opportunity to promote cultural exchange between China and the West," said Zhang Wei, president of Alibaba Pictures.
"Alibaba Pictures is excited to share China's traditions and culture with the rest of the world with a new, fun-filled storyline featuring a character as popular as Peppa. We hope this family film will pave the way for further development of films for young audiences in China."
Alibaba said it is developing limited-edition Peppa Pig merchandise to exclusively release through its licensing and merchandising business Ali Fish.
"There is a huge fan base for Peppa Pig in China, so we're thrilled with the prospect of bringing the brand's first-ever theatrical release to cinemas in the region in early 2019," said Olivier Dumont, president of family brands at eOne.
"We've worked closely with Alibaba Pictures to create content and cinema-themed merchandise with special cultural significance that will resonate with Chinese audiences. We look forward to delighting Chinese families with an unforgettable cinema experience when the film opens next year."
He added that "Peppa Celebrates Chinese New Year" will also hit global markets as a significant release to showcase China's cultural exchanges and interactions with foreign countries.
The new film will integrate live-action and new animated hybrid content, according to the press release.
The film's storyline is developed specifically with Chinese New Year in mind and will demonstrate traditions such as dragon dancing and dumpling wrapping. There will be new characters including "Panda twins."
Created by Astley Baker Davies, the original Peppa Pig animated TV series premiered in the United Kingdom in 2004 and later became a favorite among preschool-aged children around the world with five seasons broadcast in over 180 countries and regions. It has also been a hit since its debut on China Central Television in 2015.