More than just a retailer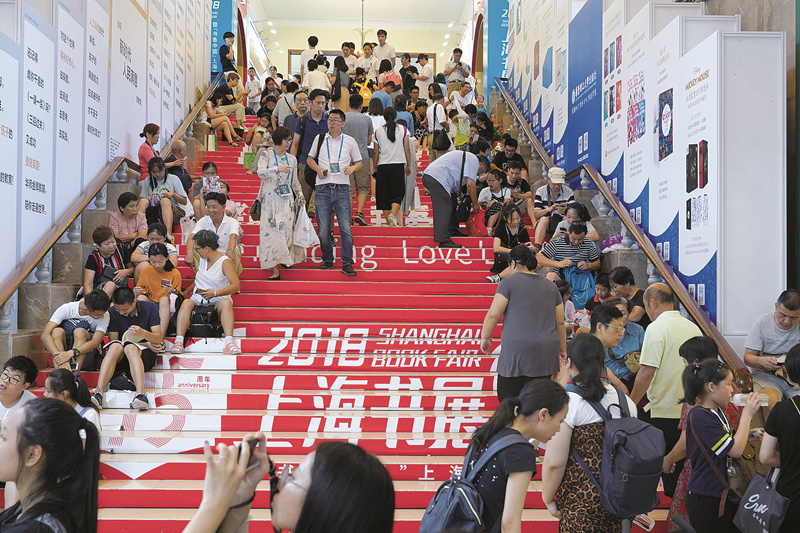 Brick-and-mortar bookstores were once said to be on the verge of extinction, but the recently concluded Shanghai Book Fair has shown that consumers appreciate the human touch and the value-added experiences that these stores can offer
More than 1,000 events took place at about 100 venues across the city, including 78 bookshops, during the Aug 15 to 21 Shanghai Book Fair, signaling that brick-and-mortar business is making a comeback, according to industry insiders.
"In the past few years we have witnessed the revival of brick-and-mortar bookshops in the city," said Xu Jiong, director of the municipal administration of press and publication, at a forum on the creative development of physical bookstores during the Shanghai Book Fair. "More than 40 new bookshops, each with distinctive aesthetics and specialties, have emerged since 2017, even in suburban areas such as Zhangjiang and Lingang."
Xu noted that many of these bookstores have special spaces reserved for book signings and reading events, making them ideal venues for hosting activities during the Shanghai Book Fair. For example, the JIC Bookstore, which is located in a new high-rise building on the northern Bund area overlooking the Huangpu River, has hosted a large number of the events for the Shanghai International Literary Week, which is part of the book fair.
Liu Xiaokai, the former director of the print and distribution division under the State Administration of Press, Publication, Radio, Film and Television, said at the forum that the function of brick-and-mortar bookstores have also expanded from being just a retailer to a "provider of public service, architect of spiritual homes, defender of social values and creator of market values". He attributed the revival of brick-and-mortar bookstores in China to support from the government, changes in the consumption patterns of the middle-income group, and the "perseverance of the 160,000 bookstores in the country".
According to Liu, the growth of brick-and-mortar bookstores in the nation hit a roadblock following the emergence of online bookstores and digital publishing platforms about six years ago. The government has since launched a series of policies supporting the development of bookstores, providing some 1.1 billion yuan ($160 million) in financial aid to them between 2013 and 2017. The government also introduced a policy in 2013 that exempted VAT taxation for the sales of books. This policy will be in effect till 2020.
Liu added that the capital market has been supportive of the resurgence of bookstores as well. He cited a survey released in January which found that mall operators in China usually offered preferential rental rates —sometimes more than 50 percent lower — to bookstore tenants.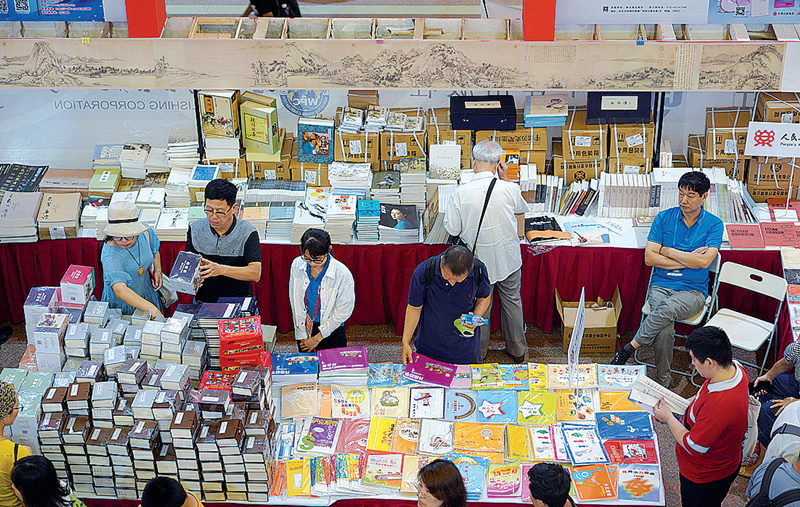 He noted that the retail industry is currently evolving in this digital age and this would create great challenges and opportunities for bookstores and mall operators. As such, both players need to change their strategies and help one another.
"Each shop has to find its niche market or competitive advantage, create a distinctive brand, and develop a sustainable business model," Liu said.
One example of a bookstore with a distinctive brand is Shanghai-based Da Yin (The Great Hermit). Founded in 2016 in the historical Normandie Apartments, the bookstore franchise is easily distinguished by its decor which features Chinese aesthetics.
Like what Liu mentioned, Da Yin has become more than just a place where people buy books. The brand also regularly holds events promoting Chinese culture such as bamboo art and flower arrangement courses as well as and Guqin concerts. In 2017, Da Yin hosted 350 events across its bookshops. It also took 400 events to other corporations and institutions that were attended by almost 400,000 people.
He Xuan, general manager of Da Yin, said during the forum that the brand's activities have proven to be popular with consumers and have created a new revenue stream apart from just book sales.
Da Yin currently operates eight stores in China, with another scheduled to open in Chengdu of Sichuan province by the end of this year.
"Landlords of the first four Da Yin bookstores are all State-owned cultural institutions, and we have shouldered the mission and responsibilities of serving the public, and hosting public cultural events," said He.
According to Huang Yuning, an editor at Shanghai Translation Publishing House, though the majority of books today can be bought online on sites such as JD and Dangdang.com, it is still important for titles to be displayed in brick-and-mortar bookstores. Employees at publishers are also taking on new roles in the evolving industry.
"We editors used to stay behind the curtain, but it is now important to interact with readers. Sharing our experience of working with books has brought new readers and created greater public interest," she said.
The reception of the Shanghai Book Fair has also shown that consumers aren't just looking for the convenience of buying a book online. Despite the sweltering heat and the occasional rainfall brought by the tropical storm Rumbia during the Shanghai Book Fair, the Shanghai Exhibition Center — it was the main venue for the event — was always packed.
One of the main reasons why people attend book events is the chance to meet their favorite authors.
"I fell in love with Mr Ye Xin's books 20 years ago. Now, he has created a new book about Shanghai, which is our shared home city, and I don't want to miss it," said Wang Zhiqin at the launch of the author's new book The Biography of Shanghai on Aug 17. Wang had also brought with him a few copies of Ye's previous novels so that the author could autograph on them.
Zhu Yu, a 31-year-old white collar worker, pointed out that brick-and-mortar bookstores and events like the book fair provide consumers with a very different experience from online shopping.
"You have to search for specific book titles online, but here at the book fair, you get to discover interesting books and authors you've never come across before," she said.
Zhu also said that physical books offer a tactile experience that e-books can never replicate.
"The physical contact with books has helped me to appreciate the book bindings and graphic designs. This is an experience you can never get from reading a book on Kindle or other digital devices," she added.
Contact the writer at zhangkun@chinadaily.com.cn