Investing globally for knowledge
Share - WeChat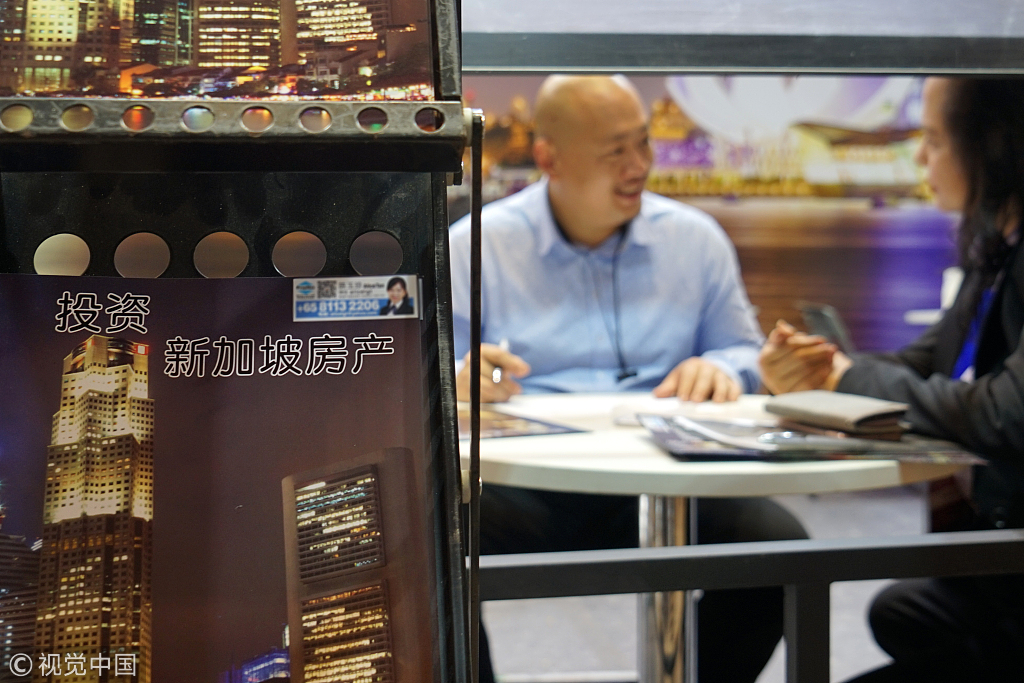 Chinese parents with school- and college-going children snap up properties overseas
From times immemorial, Chinese families attached great importance to education. In the digital age, education has grown into a highly valued service, proximity to which can send residential property valuations sky high.
But that's not an entirely new trend. A story tracing back to 365 BC goes that the mother of great Chinese philosopher Mencius moved home three times to ensure an environment conducive to her son's education.
Chinese parents continue to desire apartments adjacent to high-ranking public schools; and such properties, be they in China or overseas, command premium tags, industry insiders said.
In recent years, well-off Chinese families have been buying homes overseas. Such investments not only secure stable returns but help investors' children enroll into reputable schools abroad, they said.
Hao Yue, a realty agent with Douglas Element Property in New York, said her team has handled up to 20 home deals in the second quarter, about 20 percent more year-on-year.
Buyers of all the New York homes are Chinese people from the Chinese mainland and Hong Kong, with a few from Taiwan and Singapore.
Hao credited the growth to the increasing demand from Chinese families with children who have reached the age (11-18) of studying abroad.
"Only a few elementary or middle schools offer boarding, so buying a home in a district with good schools is a natural choice for Chinese parents who like to plan their children's education in advance," said Slevin Wang, director and joint head of international residential projects, CBRE China, a property services firm.
The skyrocketing home prices in the Chinese mainland, coupled with prospects of stable returns on investment in overseas properties, have fueled the demand. "The return on overseas housing investment can recoup part of the tuition fee, so why not purchase a piece of property in the UK or the US? Well, that seems to be Chinese parents' thinking these days," said Zhou Yu, director of Savills China's international residential sales.
"About 10 percent of the overseas students I know have their own property," said Lisa Weimin Liu, general manager and realtor of Long River Realty, which deals in property trading business in Maryland, Virginia and Washington.
According to Liu, it takes more than $1,600 to rent a room near the University of Maryland, and some students chose to buy a house and share the rooms with other students.
CBRE data showed that Singapore is ranked as the most expensive city in rental, costing $2,960 per calendar month, or pcm, on average, trailed by London ($2,810 pcm), Abu Dhabi ($2,558 pcm), Los Angeles ($2,544 pcm), Rome ($2,497 pcm) and New York ($2,422 pcm).
To be more specific, annual home rents in New York can reach 53.6 percent of a middle-income family's earnings, and that in San Francisco and Los Angeles can reach 48 percent and 44.3 percent respectively.
It will cost nine years' salary to buy a house in Washington, and a median new house in the US is sized at about 200 square meters, or more than 230 sq m on average, according to the official microblog of the US Embassy in China.
In 2017, more than 600,000 Chinese studied abroad, the largest such community globally, according to data from the Ministry of Education. In the past four decades, a total of 5.19 million Chinese had studied overseas.
Among all destinations, the United States is the most popular country where 350,000 Chinese studied at universities and colleges between 2016 and 2017, up 6.8 percent year-on-year, according to a report from the Institute of International Education.
Liu Yiqi, head of international residential property services with JLL Shanghai, said the uptrend started in 2010, and in the past two years, the volume of properties bought overseas by Chinese doubled year-on-year.
Previously, most of the properties overseas were bought by high net-worth individuals or HNWIs, but recently middle-class Chinese have been more interested in overseas property, either for investment or for kids' education.
In addition to the rising number of deals, the time taken by a Chinese client to clinch a residential property deal is also becoming shorter, realty agents said.
Earlier, negotiations would last almost a year. Now, deals are done over just a couple of days, said Hao. "Recent buyers had done good homework before they came to us, and they know exactly what they want.
"I still remember, three years ago, only 10 percent of my clients sought to buy residential properties. The rest intended to lease. Now, buyers have more than doubled to 20 percent plus."
Another change is that Chinese parents who decided to let their children study abroad are becoming more sophisticated, as they shift their focus from caring about rankings of the school to caring about the interests and advantages of their own children, said Liu of JLL.
Factors that influence property purchases in an area are high density of good schools, English-speaking people, state of the country's economy, and whether or not local education is valued highly across the world.
So, the United States, the United Kingdom, Australia and Canada have emerged as some of the most popular destinations for Chinese students for overseas study, according to Teng Zheng, deputy general manager of the Shanghai CIIC Education International Co, a consulting company for overseas education.
The blue book of global talent on China's overseas education said the top destinations are the United States, Canada, Australia, Japan, South Korea, and the United Kingdom.
Among them, public schools in the US and the UK are popular as they share some similarities with primary and middle schools in China.
Under China's nine-year compulsory education system, consisting of six-year primary schooling and three years of education in middle school, an entrant is not allowed to pick public schools, and can only enroll in a school nearest to his or her home.
In the US, neighborhoods are viewed in terms of fixed school districts, which can be divided precisely to street level or even as per house numbers. For example, there are about 15,000 school districts across the United States, and the majority of them have good-quality education ranging from kindergarten to 12th grade, or middle school.
Homebuyers need to pay a property tax for owning a property in the United States, which ranges from 1.2 percent to 2.5 percent annually from region to region, according to Liu of JLL.
The property tax in a district with good schools will likely be higher, as the extra tax is collected to fund expenses like school buildings' renovation, facilities, and wages for top-quality teaching staff.
Families in England pay a house price premium of almost £44,000 ($57,200) on average to make sure their children live within the catchment of primary schools rated "outstanding" by Ofsted (the Office for Standards in Education, Children's Services and Skills of the UK), according to an analysis of the catchment areas of 50 state-funded English primary schools conducted by online estate agent HouseSimple.
Analysts warn school-minded Chinese investors may face certain risks when buying residential properties overseas.
Lisa Weimin Liu said properties in districts with good schools are more like a hedge whose value remains stable even during a bear market. "The outlook is positive for the foreseeable future," she said.