Overseas students seek study, internship experiences in China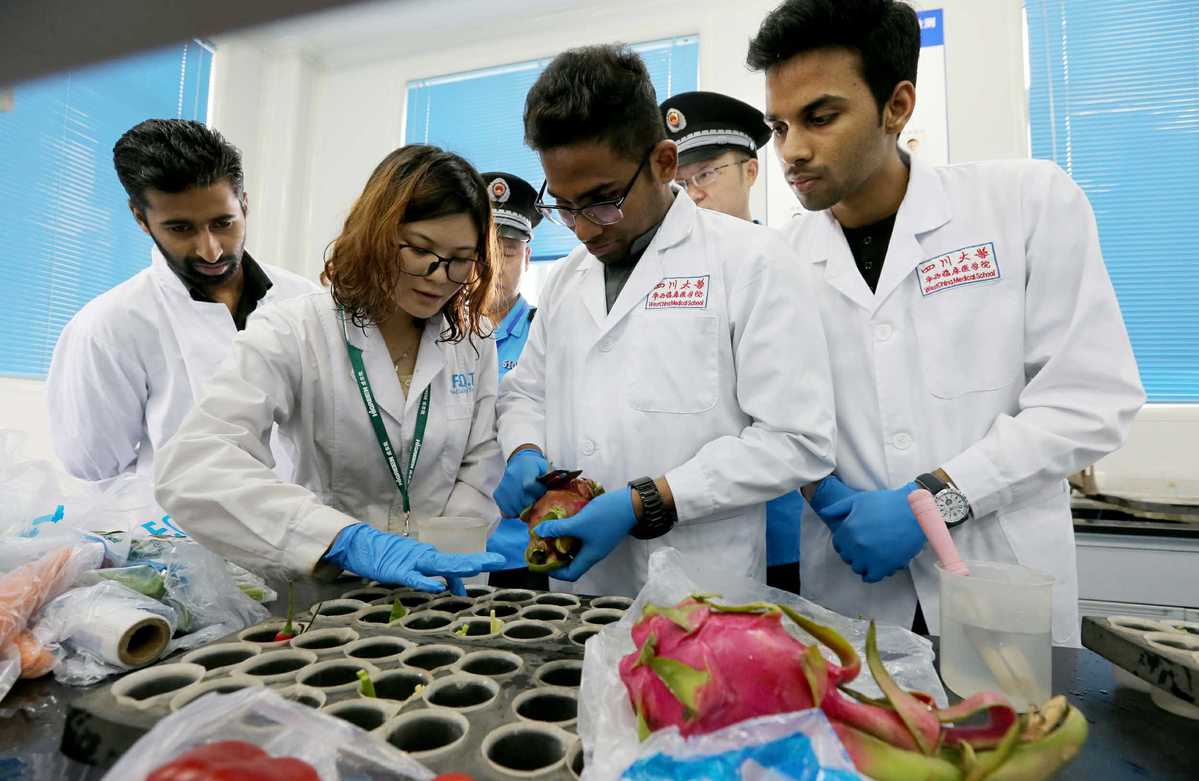 Overseas students are looking to learn and intern in China to experience the country's vast economy and rapid development pace first hand.
According to the Ministry of Education, China became the most attractive destination for overseas students among all Asian countries and regions in 2016, with the number of international students in China topping 440,000 that year, up 11 percent year-on-year.
French business school HEC Paris signed a strategic partnership with China's Southern University of Science and Technology in late June. Under the agreement, students from HEC Paris can take study tours in Shenzhen, Guangdong province, and vice versa.
As Shenzhen is a national entrepreneurial hub, HEC Paris' Dean Peter Todd said that the alliance will "allow greater mobility and networking between France and China for students, faculty members and startups".
New York University Shanghai, which was founded in 2012, accepts students from NYU's New York and Abu Dhabi campuses as part of an internal rotation. Its summer and winter courses are open to non-NYU students.
This year's summer course wrapped up in late June. About 23 non-NYU students enrolled in the course, many more than in previous years.
According to Yu Lizhong, chancellor of NYU Shanghai, the role of the Shanghai campus started to change in 2016. The transition is helping to "strengthen communication between people in China and the United States, especially in terms of cultural and educational exchanges, and to pass on China's messages for globalization", he said.
China Europe International Business School admits students from 23 countries and regions, and in the past three years between 30 percent and 35 percent of its students have come from overseas, according to the school's Associate Dean and MBA Director Juan A. Fernandez.
Fernandez said China's growing global influence is one reason the school is seeing an increase in overseas applicants. More and more Chinese companies want to expand overseas, and an increasing number of international students want to play their part in that expansion, he said.
Therefore, international students who want to master doing business in China will choose to study in China, according to Fernandez.
"They know that this will give them an advantage over other job seekers who do not have their depth of China knowledge," he said.
In addition to studying, short-term internships and training are also attracting overseas students, according to Sheng Jianxue, secretary-general at China Education Association for International Exchange.
"There are signs that such demand has surged and will become the new growth point in terms of educational exchange in China," he said.
Shanghai-based Hujiang Education Technologies Co Ltd was chosen to become one of Harvard Business School's FIELD Global Partners earlier this year. A total of 157 companies and organizations have been chosen this year to host 930 students from the school.
CCtalk, Hujiang's interactive online teaching platform, hosted a two-week internship in May for a team of six students from Harvard Business School. By interviewing 50 teachers that provide online lectures via the platform, these students helped to optimize the process to register new independent teachers on CCtalk.
According to Kong Wei, president of CCtalk, experience in an emerging industry such as online education has big appeal.
"With the internship at CCtalk, hopefully these students will have learned something about Internet Plus education in China, which is the most advanced in the world. We also hope they can understand the industry standards we have created," she said.
According to Kong, there are 170 million registered Hujiang users, and given China's large population, the most advanced technology must be adopted to ensure every student can have tailor-made education.
The company has used artificial intelligence and big data to meet demand from a wide variety of students with higher efficiency, she said.
"What they have seen here is the global industry leadership that cannot be learned in classrooms in the United States. Such experience and understanding is universal and will be of great help to these students, whether they want to set up their own businesses or join other corporations," she said.
Meanwhile, the China experience will be of great importance to these students if they want to seek higher positions in their future careers.
"When people talk about globalization, they cannot look at one single market, but rather look farther. As Shanghai is one of the most advanced cities in the world and CCtalk is a world-leading online education service provider, such experience will be indispensable for a business school student with a global perspective," Kong said.