Electric vehicle startups seek stock market cash for bold plans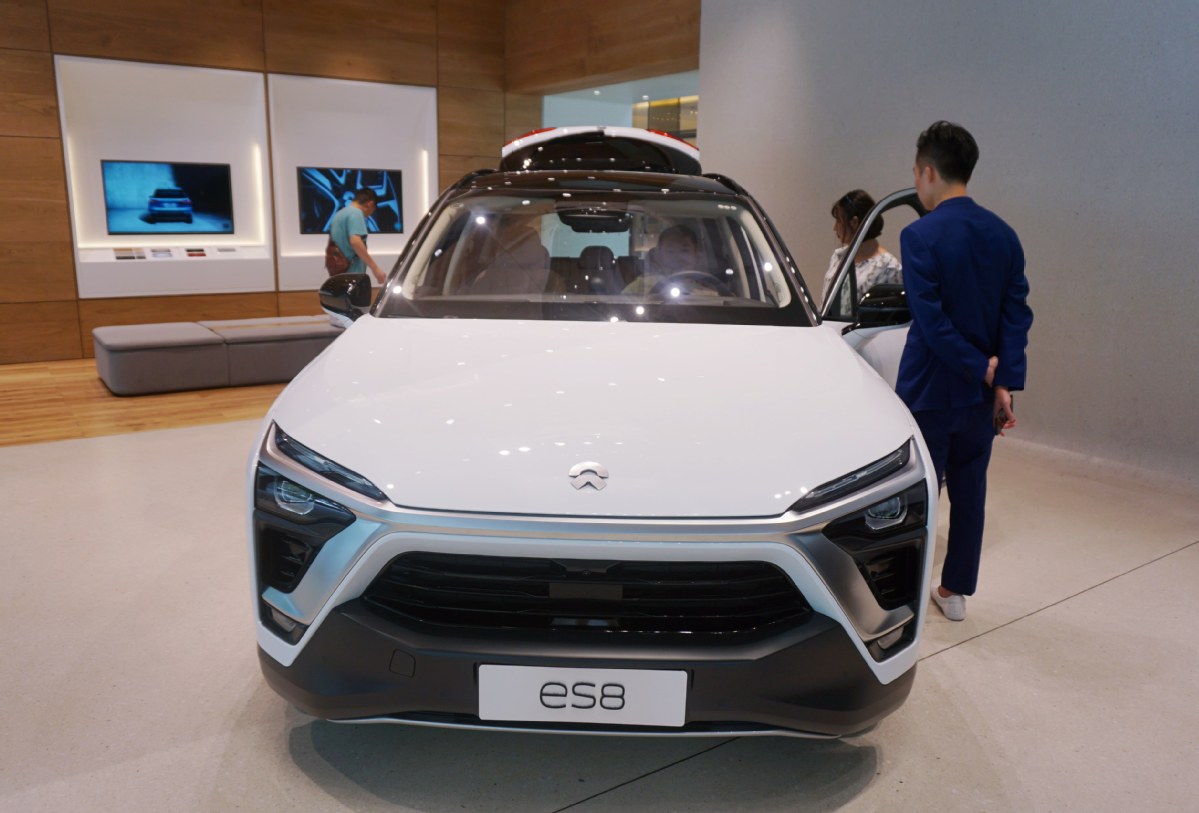 Players promise big on models despite few deliveries, Li Fusheng and Cao Yingying report.
Nio and Faraday Future, two well-known electric vehicle startups, have stirred up controversy with their bold business plans, which analysts say are more targeted at success in the capital market than the car market.
Last Monday, Nio filed for a $1.8 billion initial public offering on the New York Stock Exchange, making it the biggest US listing by a Chinese automaker to date.
The move came just weeks after the Tencent-backed company began deliveries of its first model, the ES8 SUV, in China, which has taken it four years and cost billions of yuan.
Founded in Shanghai in late 2014, Nio has raised at least 15 billion yuan ($2.2 billion) in previous rounds of investment, according to the Automotive Business Review magazine.
Nio's filing with the US Securities and Exchange Commission gave a rare insight into how the startup has fared in the past two years.
The startup incurred a net loss of 3.3 billion yuan in the first six months of 2018, which was 1.3 billion more than in the same period last year, despite making 46 million yuan in revenue. Its combined net losses since 2016 stand at 10.9 billion yuan.
Nio's total loss for 2018 might exceed 5 billion yuan, this year, but the company's CEO and founder William Li told the China Business Journal newspaper that he would see the loss as an investment as the carmaker is just four-year old.
In its IPO filing, Nio said that it had delivered 481 ES8 SUVs by the end of June and it had unfulfilled orders for an additional 17,000, of which 4,989 had non-refundable deposits.
Li said Nio would deliver 10,000 ES8 SUVs by the end of this year, a goal which has been derided by many including Xpeng Motors' Chairman He Xiaopeng.
"None of the startups can deliver 10,000 cars this year," He said.
"Delivery at scale will be several times harder than product launches.
"Both Nio and Xpeng are working toward the goal step by step, but the time and money needed will be much, much more than what I expected," he said.
John Zeng, managing director of LMC Automotive Shanghai, said: "It is not easy for vehicle startups to mass produce, though Nio has gotten off to a good start."
"Its IPO can be seen as an effort to give an answer to its investors after losing so much money in a short time."
While Nio is searching for funds from the US market, California-based Faraday Future, founded by embattled Chinese entrepreneur Jia Yueting, is dreaming of success in China.
The startup is still struggling to come up with its first model, the FF91, which Jia vows to mass produce in early 2019 and is expected to sell for 2 million yuan in China. In June, Faraday Future persuaded property developer China Evergrande Group to take a 45 percent stake for HK$6.75 billion ($859.94 million).
In a filing on the Hong Kong Stock Exchange last Tuesday, Evergrande said Faraday Future has set up its Chinese operating headquarters in Guangzhou, which will be responsible for research and development, production and management of its operations in the country.
Among ambitious goals, Faraday Future will build plants in five different regions across the country, with a combined annual production capacity reaching 5 million vehicles in 10 years' time, covering luxury and volume models, according to the company.
The 5 million-unit goal has blown many industry insiders' wildest estimates out of the water. By comparison, China's plan for total sales of new energy cars in 2025 is 7 million units, and so far no established carmakers have ever released 10-year plans about new energy cars because the sector is evolving so fast.
Zeng at LMC said the investment from Evergrande has breathed new life into Faraday Future, but it is hard to discern its future in the short term.
Yale Zhang, managing director of consultancy firm Automotive Foresight, has a bleaker outlook. "Like Nio, the ultimate purpose of Faraday Future is to raise funds," he said.
When they can't convince private investors as easily as before, it may be a simpler way to find finance in the capital market, said Zhang.