BYD's e-trucks lead in US market
Share - WeChat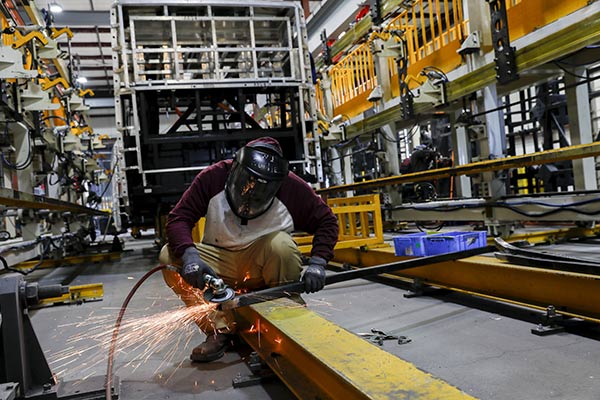 Emerging competition, stricter emission norms to test firm's resilience
BYD, the Shenzhen, Guangdong-headquartered electric vehicle manufacturer, is expanding into the US market where it will make and sell electric short-haul trucks.
Outside of a few startups, BYD will likely face few challengers in the near term in the US.
BYD's US arm, which is based in Lancaster, California, began its operations in 2011 with electric buses. It offers medium and heavy-duty trucks designed for short hauls, and vehicles for seaport and railyard businesses.
Its customers include BNSF Railway and tenants of the ports of Los Angeles, Long Beach and San Diego.
In November, BYD-which stands for "Build Your Dreams" and is backed by Warren Buffet-delivered its first electric automated sideloader garbage truck to the California city of Palo Alto, in electric automaker Tesla's backyard.
The truck has a range of 76 miles (122 kms) per charge and the city projects fuel and maintenance cost savings of more than $16,000 annually.
"BYD is the only original equipment manufacturer (in the class 8 market) that is actively selling electric semitrucks in the United States," said Andy Swanton, vice-president of truck sales at BYD.
The company may face some competition from Missouri-based startup Orange EV, which exclusively focuses on terminal trucks but does not build them from the ground up, instead retrofitting its electric motors into diesel truck bodies.
Another competitor could be Los Angeles-based startup Chanje Energy Inc, which exclusively sells medium-duty electric delivery vans, and builds them in China.
In December, Chanje began to deliver 125 of the vans to Ryder System Inc, and they are now available for lease or rent.
Long-haul electric trucks may not be manufactured in the US until 2019 because of heavy batteries and the hours-long charging requirements, which limit freight carried and distance traveled.
Price is also a problem. A medium-duty electric truck costs about $70,000 more than an equivalent diesel truck, according to the professional services firm Deloitte.
Trucks must meet stricter US emissions standards through 2027 under rules that went into effect in 2016. China is also tightening emissions standards
Diesel-powered short-haul trucks cause disproportionate levels of pollution because of stop-and-go driving. More than 6 percent of greenhouse gas emissions emitted in the US in 2015 came from medium and heavy-duty trucks, according to a report issued in July 2017 by the Environmental Protection Agency.
Vehicle manufacturers have a prime sales market in California because the state has the nation's strictest air-quality rules.
In 2016, the San Bernardino Associated Governments used $9.1 million in funds from proceeds of the state's cap-and-trade system to buy 27 BYD trucks to replace diesel-powered tractors.
The trucks will be used by freight hauler Daylight Transport at its Fontana transfer facility and by BNSF Railway at rail yards in San Bernardino and Commerce.
According to website Trucks, the aim of the two-year project is to collect data on performance and operating costs and to reduce air pollution in disadvantaged communities, which state officials have said are disproportionately affected by diesel truck emissions.
Several companies will soon join BYD in the electric truck market.
For instance, in December, Tesla sold 125 pre-ordered trucks to United Parcel Service Inc, one of the largest known orders so far. The package delivery company is expanding its fleet of alternative-fuel vehicles.
In the same month, Anheuser-Busch also ordered 40 Tesla heavy-duty semitrucks, as part of its goal to reduce its operational carbon footprint by 30 percent by 2025. The trucks won't be available until 2019 or later.
Tesla has also received preorders from such major companies as Walmart, fleet operator J.B. Hunt Transport Services Inc and food service distributor Sysco Corp
Companies will most likely use Tesla trucks for short hauls in the range of about 20 to 250 miles, Jerry Hirsch, editor of Trucks told CNN last November.
US-based truck manufacturer Navistar and Volkswagen said last year that they would launch an electric medium-duty truck in North America by late 2019, and develop hardware and systems to connect trucks to the internet.
Tesla, Thor, and Cummins are aiming to produce battery-electric trucks by 2019 or later.
Therefore, success, or lack thereof, in the US market would determine how BYD's "go-global" strategy will pan out.