Adding fire of technology to gasoline trade
Share - WeChat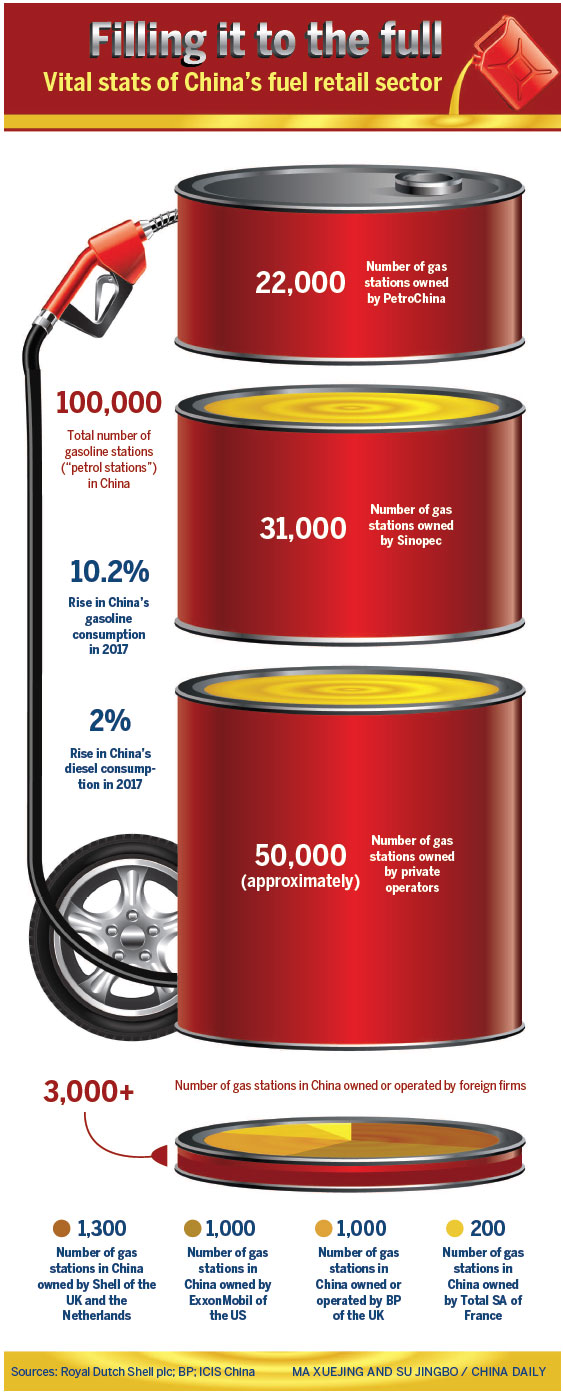 Anticipated entry of MNCs to herald quantum leap in gas stations' offerings
Insiders of China's fuel retail industry are an excited lot these days, and they use an analogy to describe what they see as the coming epochal change.
Imagine, they said, an old banger morphing into a glamorous, irresistible, state-of-the-art mean machine, and it would help you to visualize plain-Jane filling stations transforming into shiny, gleaming modern metal-and-glass structures.
They would offer not just eye-pleasing design and architecture but an array of enhanced products and value-added services - stuff that could potentially alter lifestyles, transform the industry and support economic growth.
China's 100,000-station gasolene retail sector is set to transition to the digital age on the back of deepening reform and opening-up, industry insiders said.
Conceivably, cars will run on better-grade, additive-enriched, mileage-boosting, if pricier, gasolene. Instead of a dreary ambience and uninspiring staff, filling stations will sport bright looks and might unleash shapely and energetic vehicle cleaners with foam sprayers and sponge mops the moment motorists roll into their premises.
What's more, there will be convenience stores, fast-food kiosks, shopping arcades, even mini cinemas. Oh, there will be fuel too. And the time and distance between any two fuel outlets could shrink substantially as they mushroom all over.
Details are still hush-hush, but what insiders see coming are entry of multinationals, mega investments and stiffer competition. As a larger number of players vie for the same pie, consumers may benefit in terms of services getting cheaper and better. All this will likely compel State-owned oil behemoths to shape up or ship out.
Global energy giants Royal Dutch Shell plc and BP are expected to invest more in gas stations in China as the government lifted restrictions on foreign investments in the sector on June 28.
The removal of policy barriers is part of the National Development and Reform Commission and the Ministry of Commerce's new "negative list" that eased restrictions in various sectors including banking, automotive, commodities and agriculture.
Opening up of the fuel retail sector is considered a landmark event in the energy sector. Out of the nearly 100,000 filling stations countrywide, more than half are owned by two State-owned oil giants: China National Petroleum Corp, or PetroChina, the nation's largest oil and gas producer by annual output, and China Petroleum and Chemical Corp, or Sinopec, the world's largest refiner.
In contrast, only around 3,100 or 3.1 percent are currently operated by foreign companies, mostly joint ventures with Sinopec or PetroChina. The jointly owned gas stations sell products from their Chinese partners or their joint venture refineries.