Guideline proposes stringent new rules for automakers
Share - WeChat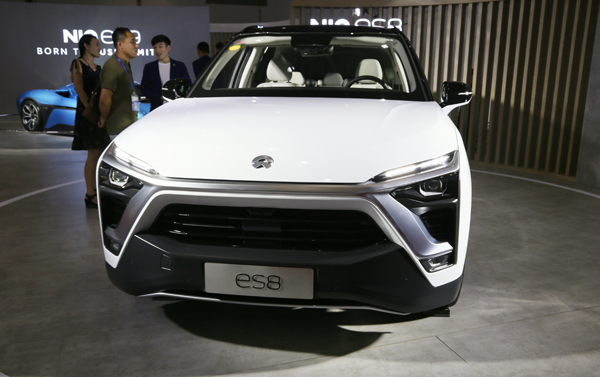 China emboldens push to reduce conventionally fueled vehicle production
China is planning to curb new gasoline and diesel car projects and raise the threshold for electric car manufacturing, as the world's largest car market opens its door wider and wider to international players.
In a proposed guideline released last Wednesday, the National Development and Reform Commission said the move is designed to prevent low-end excessive production capacity and boost the growth of the budding new energy vehicle sector.
The guideline, which is now soliciting public opinions, came days after the commission's announcement that the 50:50 equity cap is to be removed for foreign electric carmakers from late July and for foreign passenger carmakers from 2022.
The commission proposed in the guideline that the authorities do not approve of establishing any new company that is dedicated to producing conventionally fueled cars, including hybrids and plug-in hybrids.
If any existing automaker would like to expand its capacity, it must meet a number of criteria, ranging from its current capacity being better used than industry average for two years in a row to a higher than industry average percentage of new energy cars in its total production.
Should the criteria be met, any new plant's capacity should be no less than 150,000 cars a year, and the plant should be located in provinces where overall car production capacity has been better used than average in the country.
The guiding principle of the guideline is to help shift car manufacturing to regions that already have a better basis and industrial chain, according to the commission.
However, the idea has provoked opposition from some industry insiders.
Dong Yang, executive-vice president of the China Association of Automobile Manufacturers, said in his blog that the move may be unfair.
"I wonder if the authorities should allow some regions to develop the sector while forbidding others from doing so. The strong get stronger is the law of the market, but I don't think it should serve as the rule for the authorities to manage the sector."
Electric carmakers are to meet similar, if not stricter criteria, to produce their models, according to the commission's guideline.
One rule is that their plants should be located in provinces that boast a more competitive manufacturing basis and also have more new energy vehicles on their roads than the country's average.
Another prerequisite for an electric carmaker to build new facilities is that all existing plants for electric cars in the same province must have used at least 80 percent of their designed capacity.
And should the automakers overcome all these hurdles, shareholders will be prohibited from selling their shares before the new plants reach their designed capacity, which should be no less than 100,000 passenger cars a year or no less than 5,000 commercial vehicles.
Before building a plant, the shareholders should have research and development facilities, obtain the intellectual property for the key components of the vehicles they would like to make, including control units, electric motors and batteries.
The combined expenditure on development in the past two years before filing an application to build a plant should be no less than 200 million yuan ($30.12 million).
After the plant is built, it is not allowed to produce models for others, which means if one carmaker wants to produce cars it should build its own plants. Currently some startups including Nio are leveraging traditional carmakers' plants to produce cars before their own are built.
Analysts said the stringent new requirements may help to cool the overheated sector that is filled with both serious players and bogus ones.
Besides established carmakers, there are currently around 50 startups who have vowed to charge into the new energy vehicle sector.
And one thing that may disappoint carmakers such as Toyota as well as China's BYD and SAIC Motor is that plug-in hybrids have been categorized in the guideline as conventional cars whose production will be curbed. In other government documents, plug-in hybrids, together with electric cars and fuel cell cars, are defined as new energy vehicles.
Cui Dongshu, secretary-general of the China Passenger Car Association, said that gasoline cars currently account for 98 percent of passenger cars sold in China and it will take quite a long time for them all to be replaced by electric ones.
"For at least the next 20 years, plug-in hybrids will be crucial to cutting gasoline consumption. They cannot be deemed as temporary makeshifts between gasoline cars and electric cars; they are an important pillar of new energy vehicles," said Cui.